Wild Bill Hickok was a famous gunslinger, American frontiersman, soldier, scout, lawman, cattle rustler, gambler, showman, and actor. He was born in Troy Grove, Illinois, on May 27, 1837, and died in Deadwood, Dakota Territory, on August 2, 1876.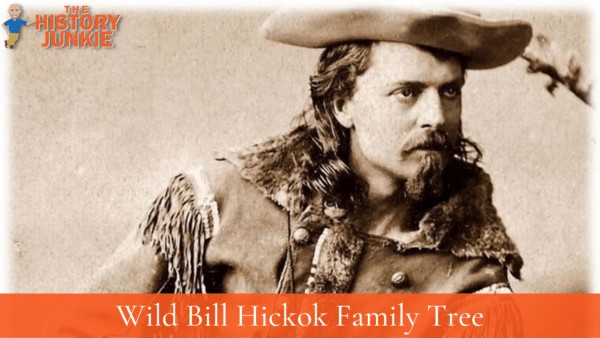 Hickok's early life was marked by adventure and violence. He ran away from home at the age of 18 and joined the Union Army during the Civil War.
After the war, he worked as a scout and a stagecoach driver in the frontier territories of Kansas and Nebraska. He also became involved in gambling and gunfights, and he soon earned a reputation as a dangerous man.
Jump to:
In 1869, Hickok was appointed sheriff of Hays City, Kansas. He quickly earned a reputation as a tough lawman who was not afraid to use his gun. He also served as marshal of Abilene, Kansas, and helped to tame those two lawless towns.
In 1876, Hickok went to Deadwood, Dakota Territory, to work as a gambler. On August 2, 1876, he was playing poker in a saloon when he was shot and killed by Jack McCall, a drunken gambler.
Wild Bill Hickok was holding two black aces and two black eights in his hand at the time of his death. These cards have since become known as "the dead man's hand."
Wild Bill Hickok was a larger-than-life figure who was both feared and admired. He was a true American hero who helped to tame the Wild West.
His life and legend have been told and retold in books, movies, and television shows. He remains one of the most popular and iconic figures of the American Wild West.
Family Overview
Wild Bill Hickok had a unique family.
He came from a traditional family. His father was a devout abolitionist from the North, and his mother was an influential member of his childhood.
He had five other siblings, with each moving west throughout their life.
His marriages seem complicated. There is no record of his marriage to Calamity Jane, just an oral tradition.
He was married to two other women, one being a Native American and the other marrying him shortly before his death.
He had at least two children.
Family Tree Chart
Parents:
William Alonzo Hickok (1801 - 1852) - He was a staunch abolitionist and part of the Underground Railroad. He and his wife had six children.
Pamelia Butler (1804 - 1878) - She was born in Vermont and died in Illinois as the family continued west. Her son would become notorious.
Spouse:
Martha Jane Canary (1852 - 1903) - She was known as Calamity Jane and was a frontier legend. She married Wild Bill, and they had a daughter who claimed their relationship in 1941. However, the details of their marriage are questionable.
Anna Wilson (1847 - 1885) - Born about 1847 in Cherokee Territory. She had tuberculosis and was in poor health. She had been coming into Ellsworth as the wife of Wild Bill Hickok.
Agnes Mersman (1832 - 1907) - She was the second wife of Wild Bill. The two married in 1876, and he was killed that year. She lived until 1907.
Children:
Willie Wilson (1867 - 1878) - He was the son of Wild Bill and "Indian Annie." His death was sudden, and he was known for his active personality who played sports with friends in the street. In his obituary, Wild Bill is not mentioned, but his mother is. It is assumed he was raised by his mother.
Jean H. Hickok (1873 - 1951) - She was the daughter of Jane "Calamity Jane" Cannary and James Butler "Wild Bill" Hickok. Many people knew that Jane had a "crush" on Hickok, but few, if any, knew that they were married. This was claimed after he was killed during a poker game on Aug. 2, 1876.
Siblings:
Oliver Cromwell Hickok (1830 - 1898) - He and his wife had three children together. He migrated to California, where he would die.
Lorenzo Butler Hickok (1832 - 1913) - His migration west ended in Illinois, where he lived until his death. It is unclear if he had a wife or any children.
Horace Dewey Hickok (1834 - 1916) - He also migrated to Illinois and would marry and have six children.
Celinda Hickok (1839 - 1916) - The first daughter of her parents. She grew up and married twice and eventually migrated to North Dakota.
Lydia Hickok (1842 - 1916) - She had three children and was married once. She died in Kansas in the early 20th century.