William Latham was eleven years old when he came over on the Mayflower as John Carver's indentured servant. After the Carver's died, he finished his time with William Bradford.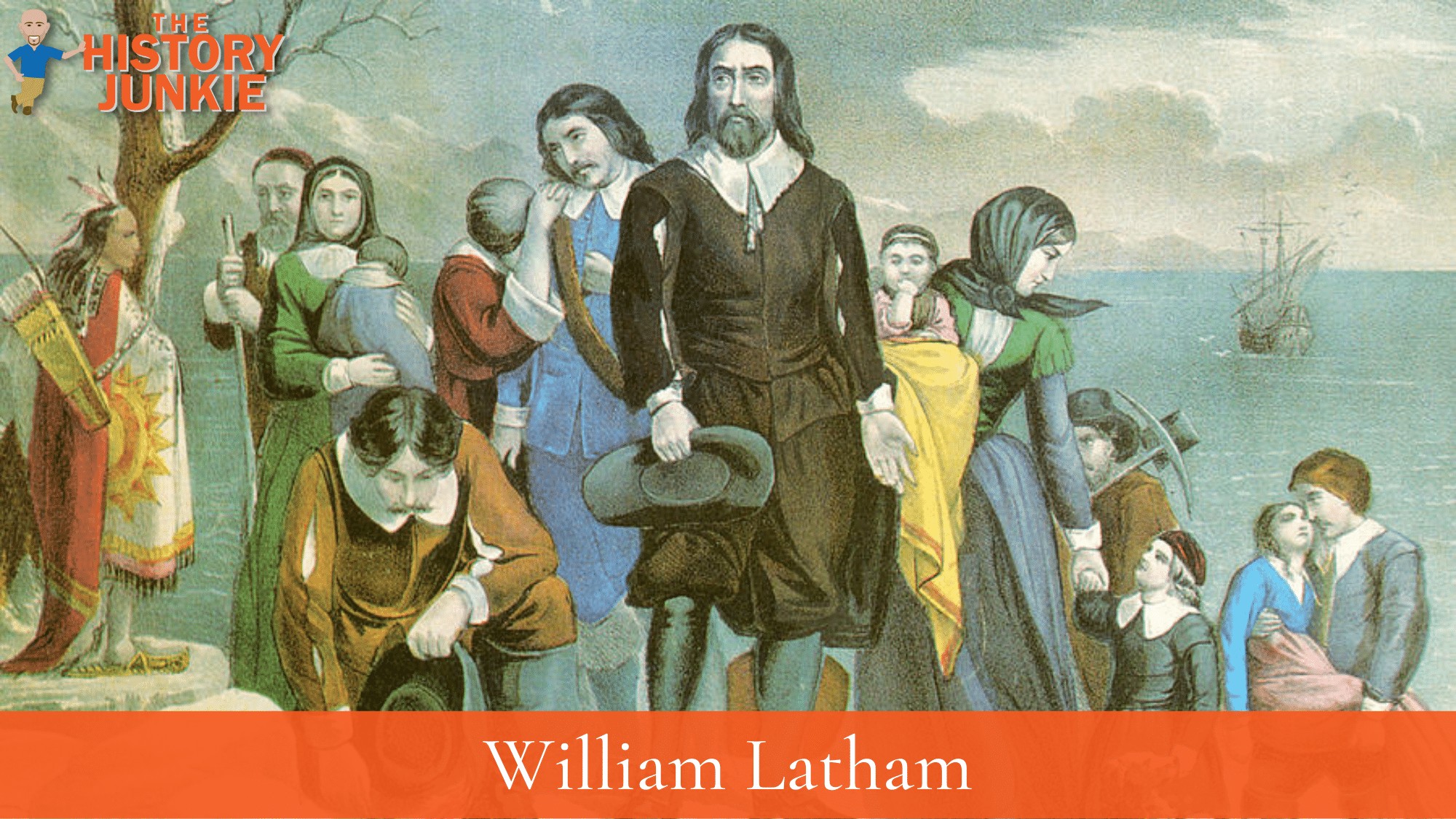 After finishing his term, he lived on his own and paid the lowest taxes, which meant he remained poor for a time. He had managed to survive the first winter with the rest of the Pilgrims but seemed to struggle financially and socially afterward.
Jump to:
He seemed to be a bit of a troublemaker, according to MayflowerHistory.com:
In 1638, William Latham had a couple of brushes with the Plymouth Court. On June 5, he was fined 40 shillings for the "entertaining of John Phillips into his house contrary to the act of the Court" and for "lavish and slanderous speeches." Jonathan Brewster was a witness against him. By September, Latham had only paid half the fine. On December 4, 1638, Latham still owed 11 shillings and was ordered not to depart Plymouth Colony without first obtaining a license. The debt was paid on 6 January 1639. On 6 July 1638, William Reynolds sold half of his share of a black cow to John Phillips, and John Phillips then sold William Latham all his crop of Indian corn. On 26 December 1639, William Latham sold his house and property in Duxbury and apparently moved to Marblehead in the Massachusetts Bay Colony. In 1641, he deposed he was about 32 years old and testified in a lawsuit between John Moses and Thomas Keyser. About 1643, he moved to Marshfield, where he was found on the 1643 list of men able to bear arms.
When he left Plymouth Colony, he came under the jurisdiction of the Puritans and Governor John Winthrop. At this point, he was married to a woman named Mary, whose name appears in Winthrop's records for adultery. His wife would be hanged for the act in Massachusetts Bay Colony.
It would be Edward Winslow who would send her back to Massachusetts Bay:
Whereas divers and sundry complaints have come into me from Weymouth sent and delivered by godly and credible persons against Mary the wife of William Latham late of Marblehead but now at Marshfield for adultery committed upon the body of the said Mary by one James Brittain of Weymouth. And having apprehended the said Mary and examined her, have sent her with the examination according to my duty to that Government where the fact was committed.
The last record of William was when his house burned down, and he left the colony with William Sayles to the Bahamas to found a new colony with religious freedom. The colony failed, and Latham reportedly starved to death in 1648.
Thus ending the troubled life of William Latham.
Family Overview
William Latham was most likely born in Amsterdam to William Latham and Elizabeth Johnson. While this is the parents put forward by the Mayflower historian Caleb Johnson, there are some who say he was the son of Hugh and Eline Latham of England and was raised in the same area as Myles Standish.
He came to Plymouth with John Carver and his wife. After he died, he finished his time with William Bradford.
He married a lady who was born in Plymouth named Mary. The two did not have any children.
There are no siblings that are known.
William died in the Bahamas after a troublesome life in the colonies.
Family Tree Chart
Parents:
William Latham (???) - possibly Hugh Latham from England, but most likely William Latham from Amsterdam.
Elizabeth Johnson (???) - possibly Eline Johnson from England, but most likely Elizabeth Johnson from Amsterdam.
Spouse:
Mary Latham (1625 - 1644)
Children: None
Siblings: Unknown