William Penn came from a noble background and was believed to follow in his father's footsteps. His father was Admiral William Penn, who would eventually be knighted by King Charles II.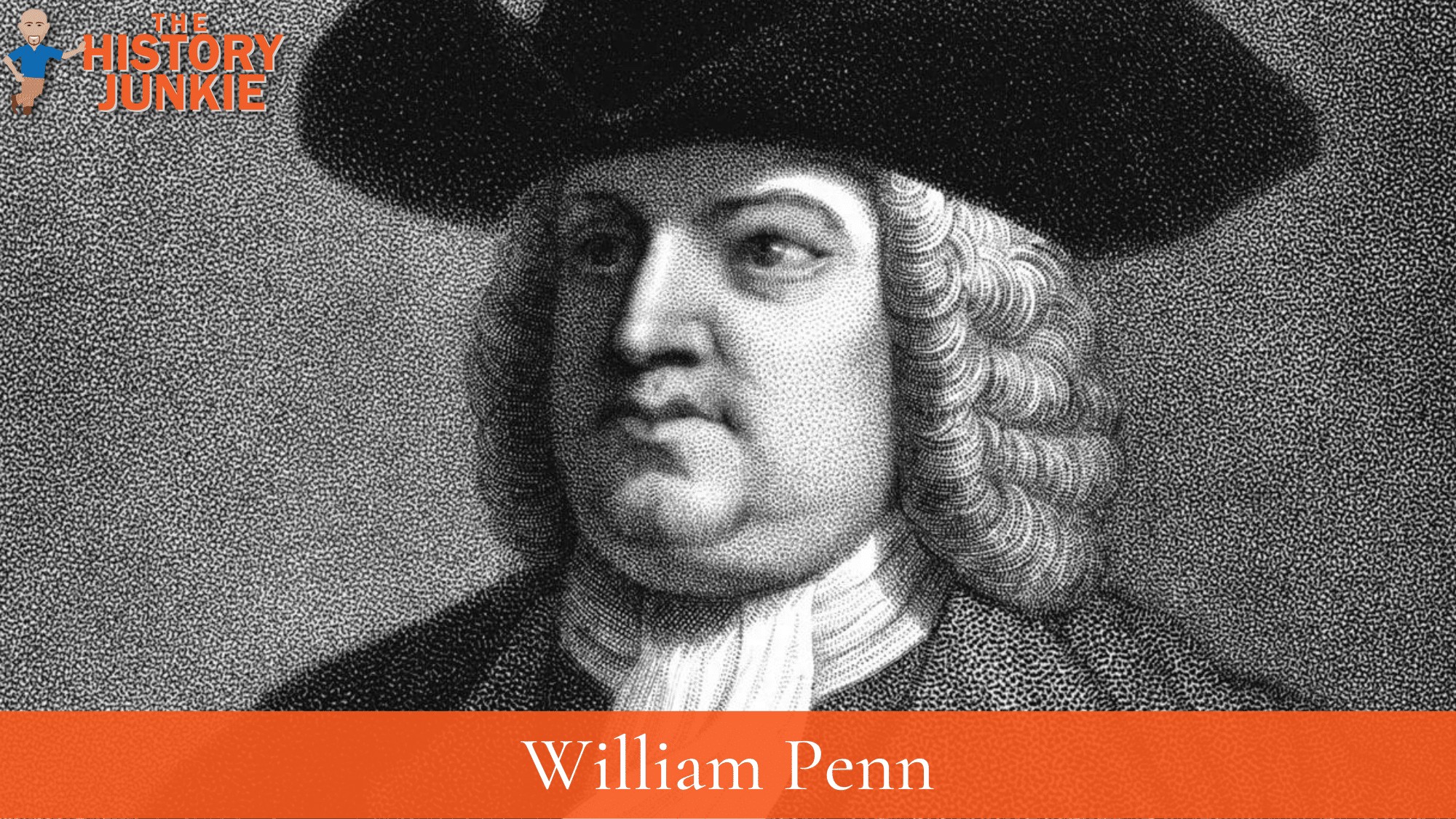 His mother, Margaret Jasper, was the daughter of a wealthy merchant. This gave William significant family ties on both sides of his family.
Despite his family's background in the military and his upbringing as an Anglican, he joined the Religious Society of Friends or Quakers at 22 years old. This would put him at odds with the government and his parents due to his disregard for authority and pacifism.
Jump to:
After Oliver Cromwell's death, William Penn and his friend George Fox (founder of the Quakers) became suspects in treason. The Quaker's refusal to take sides and not take an oath to Cromwell or the Crown became a significant issue.
His father's rank did not stop the English from persecuting Penn and throwing him into the Tower of London for seven months. After his imprisonment and the ongoing persecution of the Quakers, he decided a change in scenery was necessary for the Quakers.
Due to his father's prestige, he was able to petition the King directly and proposed a solution for the problem the King faced regarding the Quakers. Instead of persecuting them, allow them to migrate to the New World and begin a new colony. To Penn's surprise, the King granted the request and made him the largest non-royal landowner in the world at that time.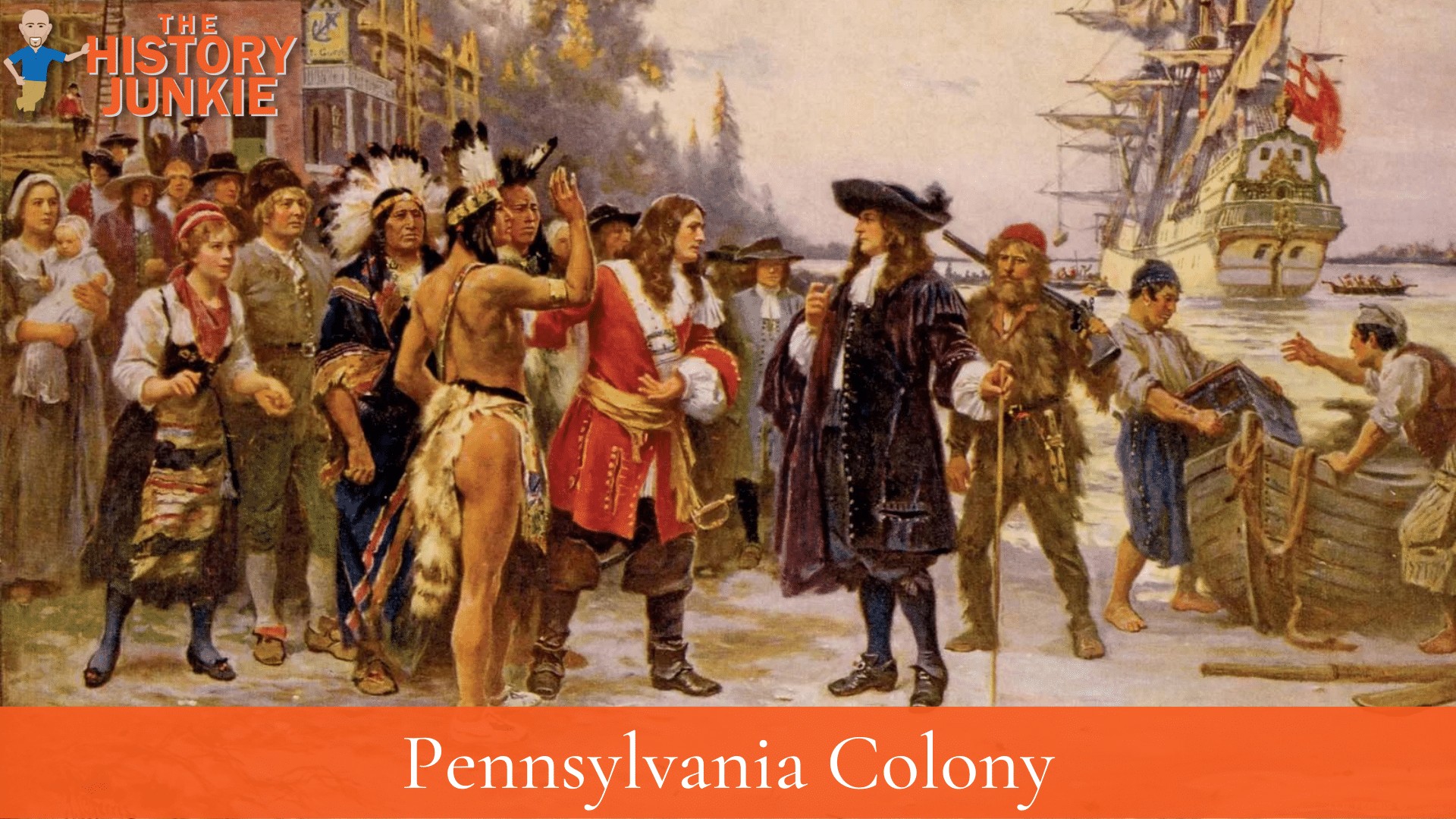 He worked hard to develop trusting relationships with the Native Americans, specifically the Lenape Tribe. These relationships would prove to be valuable during the development of the colony. At the time, the natives were no longer outgunned; they had traded for weapons, were well-armed, and employed their own tactics.
Pennsylvania was the second colony to offer religious freedom; the first was Rhode Island under Roger Williams. Penn would govern the colony until his death in 1718. During that time, it would become one of the largest colonies in Colonial America.
Family Overview
William Penn came from a prestigious line on both sides of his family. He had three siblings, but he was the only one of them to live to adulthood.
He married twice, and the story of his children is heartbreaking.
During his first marriage, the first three children his wife birthed died within their first year. The two children that came after the first three would survive until adulthood, but only one would outlive William.
His second marriage occurred after his first wife's death. They had 7 children together, but only four would survive until adulthood.
His children would spread out between England and Pennsylvania. Some never even came to America despite being a proprietor of the colony.
William Penn died penniless at his home in Pennsylvania. However, he may not have accrued a large fortune, but his influence was felt for generations.
Family Tree Chart
Parents:
William Penn (1621 - 1670) - He was a well-respected Admiral and hero of multiple wars for the Crown.
Margaret Jasper (1610 - 1681) - She was a widow who remarried William. The couple had 4 children.
Spouse:
Gulielma Maria Springetti (1644 - 1694)
Hannah Callowhill (1664 - 1726)
Children
Gulielma Maria Penn (1673) - She died shortly after being born.
Margaret Penn (1674 - 1675) - She was a twin. She died just before turning a year old.
William Penn (1674) - He was a twin. He only survived 5 months.
Springett Penn (1675 - 1696) - There is not much known of him except that he died at 21 years old and is buried with his other siblings.
Letitia Penn (1678 - 1746) - She was the first to live to an older age. She married but did not have any children.
William Penn (1680 - 1720) - He tried to follow his father as governor of Pennsylvania by claiming to be a hereditary heir but was rejected. He died in Europe in 1720.
Guielma Maria Penn (1685 - 1689) - She died at a young age in England.
John Penn (1700 - 1746) - He served the colony and traveled back and forth to England. He handled negotiations with the Lenape tribe. He never married and died in England.
Thomas Penn (1702 - 1775) - He, along with his brothers John and Richard, were proprietors of Pennsylvania after his father's death. He married and had 8 children.
Hannah Margerita Penn (1703 - 1707) - Another one of William Penn's children was taken too soon.
Margaret Penn (1704 - 1750) - She lived into adulthood, but there is no record of her marrying or having children.
Richard Penn (1706 - 1771) - He was a proprietor of Pennsylvania but never traveled to it. He was born and died in England. He married and had 4 children.
Dennis Penn (1707 - 1723) - He was born and died in England. He died at a young age and was never married.
Hannah Penn (1708 - 1709) - She did not make it to her first birthday. She was the last child of William Penn.
Siblings:
Margaret Penn (1648 - 1718) - There is not much known about her. She married Anthony Lowther, and there is no record of children.
Mary Penn (1648) - It is not known if she died the same year or lived longer.
Richard Penn (1655 - 1673) - He was 18 when he died. There is nothing known about him. His brother named a child after his brother.