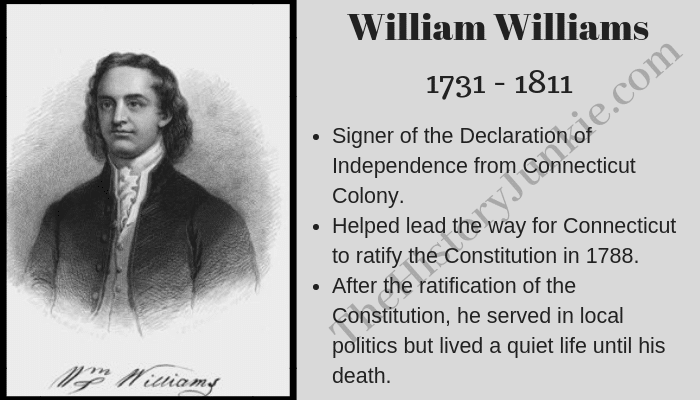 William Williams was born in Lebanon, Connecticut and the son of Solomon Williams, a popular Connecticut minister. He would go on to graduate Harvard College in 1754 and come back home to prepare for a life in the ministry.
Although ministry was his passion he would join the militia and help fight the French in the French and Indian War. On September 8, 1755, Williams suffered a loss when his uncle, who was leading approximately 1,200 men, was killed when he was shot in the head during an ambush.
American Revolution and Political Career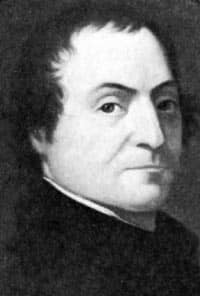 After the French and Indian War, William Williams would return home and become a successful entrepreneur. In 1771, he married the daughter of Governor Joseph Trumbull, Mary Trumbull.
This marriage would place him with one of the most influential men in Connecticut Colony and create many opportunities for him.
Although he was extremely wealthy he threw himself behind the idea of American Independence.
He was one of the 56 Declaration of Independence Signers and served on the council of safety throughout the American Revolutionary War.
During the war, he would quit his business and tirelessly work for the cause. He often opened his home for traveling soldiers and gave generously from his own means.
He was a delegate of the Connecticut State Convention of 1788 and would help ratify the Constitution.
He served as a town clerk for 45 years in Lebanon, Connecticut, was a representative of the assembly for more than 50 years, a delegate to the Second Continental Congress, delegate to the Connecticut State Convention and the father of three children.
William Williams, like many during this time, lived a life of service to his country.
Death
He would die in his hometown of Lebanon on August 2, 1811. He was 80 years old.
Charles Goodrich said this about William Williams later years in his Lives of the signers of Declaration of Independence:
The demise of his eldest son was a great affliction to the aged and infirm father. The intelligence produced a shock from which he never recovered. From this time, he gradually declined. Four days before his death, he lost the power of utterance, nor was it expected that he would again speak on this side the grave. A short time, however, previously to his death, he called aloud for his deceased son, and requested him to attend his dying parent. In a few moments he closed his life. This event occurred on the 2d day of August, 1811, in the 81st year of his age.

To this biographical sketch of Mr. Williams, we have only to add a word, respecting his character as a Christian. He made a profession of religion at an early age, and through the long course of his life, he was distinguished for a humble and consistent conduct and conversation, While yet almost a youth, be was elected to the office of deacon, in the congregational church to which he belonged, an office which he retained during the remainder of his life. His latter days were chiefly devoted to reading, meditation, and prayer. At length the hour arrived, when God would take him to himself. He gave up the ghost, in a good old age, and was gathered to his fathers.