Alexander McSween was a notable person during the Lincoln County War of the Wild West. He, along with John Tunstall, participated in cattle ranching and was a top competitor of Lawrence Murphy and James Dolan. Tunstall provided the money, while McSween provided the legal insight.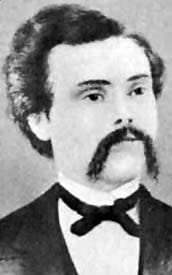 Jump to:
Early Life
Alexander McSween was born in Canada and eventually moved to the United States when he was a young boy.
In his early years, he became a preacher before attending law school and moving to Kansas and then to New Mexico Territory.
He married Susan Hummer in 1873.
He arrived in Lincoln County, New Mexico, and worked for Murphy-Dolan as an attorney, but eventually left them to work for his close friend John Tunstall. The two became business partners and competitors to the Murphy-Dolan gang.
Lincoln County War
Trouble quickly arose between Tunstall and the Murphy-Dolan faction. The Murphy-Dolans accused McSween of embezzlement, and they hired gunmen from multiple gangs to rustle Tunstall's cattle and harass him.
McSween-Tunstall reacted and hired gunmen of their own to protect their property. This included Billy the Kid, Dick Brewer, Doc Scurlock, George Coe, and Frank Coe.
However, the gunmen could not protect Tunstall, who was murdered by the Murphy-Dolan gang members William Morton, Jesse Evans, and Tom Hill. Sheriff William Brady was held responsible. This began the Lincoln County War.
The Lincoln County Regulators were formed in response to the murder of John Tunstall.
The Regulators arrested Frank Baker and William Morton and had them executed. They then ambushed Sheriff Brady and Deputy Hindman. During the ambush, Billy the Kid and Jim French were wounded, but Sheriff Brady was killed.
On April 4, 1878, there was a gun battle at Blazer's Mill between Buckshot Roberts, a bounty hunter working for Dolan, and the Regulators. Roberts and Regulator Dick Brewer was killed, Middleton and Charlie Bowdre were wounded, the Kid was grazed by a bullet, and George Coe had his trigger finger shot off.
On April 18, Billy the Kid, John Middleton, Fred Waite, and Henry Newton Brown were indicted for the murder of Sheriff Brady, while Dolan, Jesse Evans, Matthews, and others were indicted for the murder of Tunstall.
On May 15, 1878, Manuel Segovia, the cowboy who had killed Frank McNab, was captured.
Death
On July 15, 1878, the Regulators were surrounded in Lincoln at the McSween home, along with McSween and his law partner, Harvey Morris. Facing them were the Dolan/Murphy/Seven Rivers cowboys, led by Sheriff George Peppin.
On July 19, after numerous exchanges of gunfire over a four-day period, the house was set afire. As the flames spread and night fell, Susan McSween was granted safe passage out of the house while the men inside continued to fight the fire.
By 9 p.m., the Regulators and McSween made plans to break free of the house. Jim French went out first, followed by Billy the Kid, Tom O'Folliard, and Jose Chavez y Chavez. The Dolan men saw the running men and opened fire, killing Morris.
Some US Cavalry troopers had arrived by that time, with instructions to make arrests to avoid executions by the Dolan Faction, and they'd taken up position in the backyard to take those left into custody. However, a close-order gunfight erupted, and McSween was killed, as was Seven Rivers cowboy Bob Beckwith.
With McSween dead, the Lincoln County War was effectively over. McSween's widow, Susan, remarried sometime later to a businessman named George Barber, but the marriage ended in divorce.
She would purchase a ranch in Three Rivers, New Mexico, and later became one of the most prominent cattlewomen of the Old West. She sold out in 1902 to politician Albert Fall and moved to White Oaks, New Mexico, where she remained until her death in 1931 at age 85.