Billy the Kid (born as Henry McCarty and also known as William H. Bonney) was the most famous outlaw and gunslinger of the Wild West.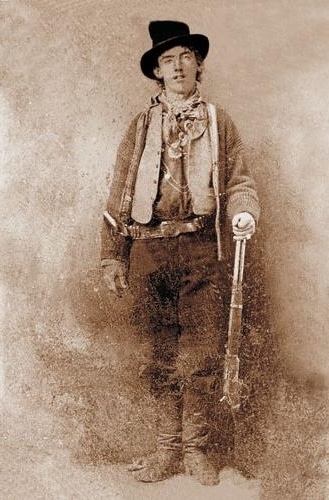 He is known for his actions during the Lincoln County War, escape from Lincoln County Jail, and the murder of eight men. He was eventually hunted down and killed by Pat Garrett at the age of 21.
Jump to:
Early Life
Billy the Kid was born to Patrick and Catherine McCarty in New York City. While his exact birth date is disputed, the 1860 census confirms that his birth year was 1859.
Billy's father died when he was young, and after his death, his mother moved him and his brothers to Indianapolis, Indiana. Here, she met William Henry Harrison Antrim.
The couple would move to the Wild West and marry on March 1, 1873, at the First Presbyterian Church in Santa Fe, New Mexico Territory.
After their marriage, the family moved to Silver City, New Mexico. Billy's younger brother Joseph began using the name Joseph Antrim.
Catherine McCarty became ill. Her disease continued to progress, and she died of tuberculosis on September 16, 1874. Billy was 15.
First Crimes
Billy the Kid got mixed up in crime early on.
He was given room and board in exchange for work. On September 16, 1875, Billy the Kid was caught stealing food. Ten days later, McCarty and George Schaefer robbed a Chinese laundry, stealing clothing and two pistols. He was charged with theft and was put in jail.
Two days later, Billy the Kid escaped and became a fugitive.
The kid then located his stepfather and stayed with him until he was thrown out. Billy stole clothing and guns from him. It would be the last time the two saw each other.
He left New Mexico Territory and traveled to Arizona Territory. While there, he worked for a well-known rancher Henry Hooker and became acquainted with John R. Mackie.
The two started stealing horses from local soldiers, and it was the first time that William McCarty picked up a nickname. He became known as "Kid Antrim" because of his age, small size, clean-shaven appearance, and personality.
August 17, 1877, Billy the Kid got into an argument with Francis P. Cahill. The argument took place at a saloon in the village of Bonita. The two exchanged words and began to scrap.
Cahill had Billy pinned to the floor and began to reach for Billy's revolver. In response, Billy the Kid grabbed his revolver and pulled the trigger. The shot mortally wounded Cahill, and Billy fled the city.
A witness said, "Billy had no choice; he had to use his equalizer."
He arrived back in Bonita a few days later and was apprehended by Miles Wood, the local justice of the peace. He was detained and held at Camp Grant but would escape.
He stole a horse and fled to New Mexico Territory. However, Billy the Kid had a run-in with the Apache Indians, who took the horse he stole. He had to walk many miles through the extreme heat to the nearest settlement. He reached Fort Stanton in Pecos Valley and was starving and near death.
He reached the home of a friend and Seven Rivers Warriors gang member, John Jones. Jones' mother nursed McCarty back to health. After his health returned, he joined a band of rustlers who raided hers owned by cattle magnate John Chisum in Lincoln County.
Lincoln County War
Prelude
In 1877, William McCarty began going by William H. Bonney.
He found work as a ranch hand for a young English businessman and rancher, John Tunstall. Tunstall and his business partner and lawyer Alexander McSween were opponents of an alliance formed by Irish-American businessmen Lawrence Murphy, James Dolan, and John Riley.
The three men had wielded an economic and political hold over Lincoln County since the early 1870s due in part to their ownership of a beef contract with nearby Fort Stanton and a well-patronized dry goods store in Lincoln.
In February 1878, McSween owed $8,000 to Dolan, who obtained a court order and asked Lincoln County Sheriff William J. Brady to attach nearly $40,000 worth of Tunstall's property and livestock.
Tunstall put Billy in charge of nine prime horses and told him to relocate them to his ranch for safekeeping. Meanwhile, Sheriff Brady assembled a large posse to seize Tunstall's cattle.
On February 18, 1878, Tunstall learned of the posse's presence on his land and rode out to intervene.
During the encounter, one member of the posse shot Tunstall in the chest, knocking him off his horse. Another posse member took Tunstall's gun and killed him with a shot to the back of his head.
This murder began the Lincoln County War.
Buildup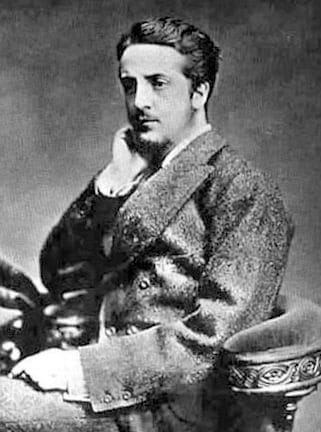 John Tunstall was murdered by Sheriff William Brady, igniting the Lincoln County War.
After John Tunstall's death, Billy the Kid and Dick Brewer swore affidavits against Brady and his posse and obtained murder warrants from Lincoln County Justice of the Peace John. B. Wilson.
On February 20, 1878, while attempting to arrest Sheriff Brady, Brady arrested Billy the Kid and the two riding with him.
Deputy U.S. Marshal Robert Widenmann, a friend of the Kid, captured Brady's jail guards and put them behind bars. Dick Brewer and Billy the Kid were then released.
The Lincoln County Regulators were then formed and began to arrest men who were accused of killing Tunstall.
On April 1, the Regulators ambushed Sheriff William Brady and his deputies. Even though Billy was wounded in the thigh, he and the Regulators managed to kill Sheriff Brady and Deputy Sheriff George W. Hindham.
On April 4, 1878, Buckshot Roberts and Dick Brewer were killed during a shootout at Blazer's Mill. Warrants were issued on both sides, and Billy and two others were charged with killing three men.
Battle of Lincoln
On July 14, Alexander McSween and a group of 50 - 60 Regulators stationed themselves throughout the town among several buildings, lookouts, bunkhouses, and McSween's House. Those involved were many, but the most notable were:
Billy the Kid
Florencio Chavez
Jose Chavez y Chavez
Jim French
Harvey Morris
Tom O'Folliard
Yginio Salazar
Marin Chavez
Henry Newton Brown
Dick Smith
George Coe
On July 16, the new Sheriff, George Peppin, tried to push into the town but failed and sent a request for assistance to Colonel Nathan Dudley, commandant of nearby Fort Stanton.
Dudley refused but eventually arrived in Lincoln with troops that turned the battle in favor of the Murphy-Dolan faction.
A shooting war broke out on Friday, July 19. McSween's supporters gathered inside his house; when Buck Powell and Deputy Sheriff Jack Long set fire to the building, the occupants began shooting. Billy the Kid and the other men fled the building when all rooms but one were burning.
During the confusion, Alexander McSween was shot and killed by Robert W. Beckwith, who was then shot and killed by Billy the Kid.
Infamous Outlaw
Billy the Kid and three other survivors of the Battle of Lincoln were near the Mescalero Indian Agency when the agency bookkeeper, Morris Bernstein, was murdered on August 5, 1878.
All four were indicted for the murder despite conflicting evidence that Bernstein had been killed by Constable Atanacio Martinez. All of these indictments except Billy's were later quashed.
On October 5, 1878, U.S. Marshal John Sherman informed newly appointed Territorial Governor and former Army general Lew Wallace that he held warrants for several men, including "William H. Antrim, alias Kid, alias Bonny, but was unable to execute them."
Wallace issued an amnesty proclamation on November 13, 1878, which pardoned anyone involved in the Lincoln County War since Tunstall's murder. It specifically excluded persons who had been convicted of or indicted for a crime and therefore excluded Billy the Kid.
On February 18, 1879, according to witnesses, Billy the Kid and friend Tom O'Folliard were forced at gunpoint to watch as attorney Huston Chapman was shot and his corpse set on fire. In response, Billy wrote the Governor, agreeing to testify to Chapman's murder in exchange for amnesty.
Wallace agreed to give him protection from his enemies and clemency if he would testify to a grand jury. Billy agreed to the terms and testified in court to Chapman's murder. However, after his testimony, the local district attorney refused to set him free.
Billy believed that Wallace had used subterfuge to trick him into testifying but never planned on giving him amnesty. He was able to escape the Lincoln County Jail.
Billy the Kid's Fame Continues to Grow
On January 10, 1880, Billy the Kid shot and killed Joe Grant. According to other contemporary sources, Bonney had been warned Grant intended to kill him. He walked up to Grant, told him he admired his revolver and asked to examine it. Grant handed it over.
Before returning the pistol, which Bonney noticed contained only three cartridges, he positioned the cylinder so the next hammer fall would land on an empty chamber. Grant suddenly pointed his pistol at Bonney's face and pulled the trigger.
When it failed to fire, Bonney drew his own weapon and shot Grant in the head. A reporter for the Las Vegas Optic quoted Bonney as saying the encounter "was a game of two, and I got there first."
In 1880, Billy formed a friendship with a rancher named Jim Greathouse, who later introduced him to Dave Rudabaugh. On November 29, 1880, Billy the Kid, Rudabaugh, and Billy Wilson ran from a posse led by sheriff's deputy James Carlyle. Cornered at Greathouse's ranch, Billy told the posse they were holding Greathouse as a hostage.
Carlyle offered to exchange places with Greathouse, and Billy accepted the offer. Carlyle later attempted to escape by jumping through a window, but he was shot three times and killed. The shoot-out ended in a standoff; the posse withdrew, and Billy the Kid, Arkansas Dave Rudabaugh, and Wilson rode away.
A few weeks after the Greathouse incident, Billy, Rudabaugh, Wilson, Charlie Bowdre, Tom Pickett, and O'Folliard rode into Fort Sumner. Unknown to Billy and his companions, a posse led by Pat Garrett was waiting for them. The posse opened fire, killing O'Folliard; the rest of the outlaws escaped unharmed.
Billy the Kid began to become a national figure. Newspapers wrote stories of him as far as New York, and he became more of a legend than a man.
The government had hired a new person to hunt him down, and Pat Garrett was relentless in his pursuit. Making things more difficult was the fact that Billy the Kid's bounty was raised to $500 by Governor Wallace, which increased the number of Bounty Hunters.
Capture and Escape
Billy the Kid and his posse were captured by Pat Garrett at the siege of Bowdre.
Billy was tried and convicted in a Santa Fe Court for the murder of Sheriff William Brady, the only person to be convicted of a crime that participated in the Lincoln County War. When the judge passed his sentence to Billy, he was reported as saying that he would hang until he was "dead, dead, dead," to which Billy responded, "You can go to hell, hell, hell." However, the historical record suggests that he did not say anything when he was sentenced.
Following his sentencing, Billy was moved to Lincoln, where he was held under guard on the top floor of the town courthouse. On the evening of April 28, 1881, while Garrett was in White Oaks collecting taxes, Deputy Bob Olinger took five other prisoners across the street for a meal, leaving James Bell, another deputy, alone with Billy at the jail.
Billy asked to be taken outside to use the outhouse behind the courthouse; on their return to the jail, Billy, who was walking ahead of Bell up the stairs to his cell, hid around a blind corner, slipped out of his handcuffs, and beat Bell with the loose end of the cuffs.
During the ensuing scuffle, Billy grabbed Bell's revolver and fatally shot him in the back as Bell tried to get away.
Billy, with his legs still shackled, broke into Garrett's office and took a loaded shotgun left behind by Olinger. Billy waited at the upstairs window for Olinger to respond to the gunshot that killed Bell and called out to him, "Look up, old boy, and see what you get." When Olinger looked up, Billy shot and killed him.
Billy the Kid then freed himself from his shackles with an Ax and rode out of Lincoln on a horse. Many said he was singing as he left town.
Death
Billy the Kid went on the run again, and Governor Wallace placed a new $500 bounty on his head. This time, it would not take long for Garrett to catch up to him.
Accounts vary as to the course of events; according to the canonical version, as he entered the room, Billy failed to recognize Garrett due to the poor lighting. Drawing his revolver and backing away, Bonney asked "¿Quién es? ¿Quién es?" (Spanish for "Who is it? Who is it?").
Recognizing Billy's voice, Garrett drew his revolver and fired twice. The first bullet struck Billy in the chest just above his heart, killing him.
A few hours after the shooting, a local justice of the peace assembled a coroner's jury of six people. The jury members interviewed Maxwell and Garrett, and Billy's body and the location of the shooting were examined.
The jury certified the body as Billy's, and according to a local newspaper, the jury foreman said, "It was the Kid's' body that we examined." Bonney was given a wake by candlelight; he was buried the next day, and his grave was denoted with a wooden marker.
There have been many legends that Billy the Kid survived and that it was staged for Billy to escape the law. These legends have been disproved.