Cole Younger was a famous gunslinger and would become a significant part of the James-Younger Gang that would gain notoriety after the Civil War. He rose with his cousin Jesse James and lived wild for many years. At the end of his life, he converted to Christianity and turned himself around.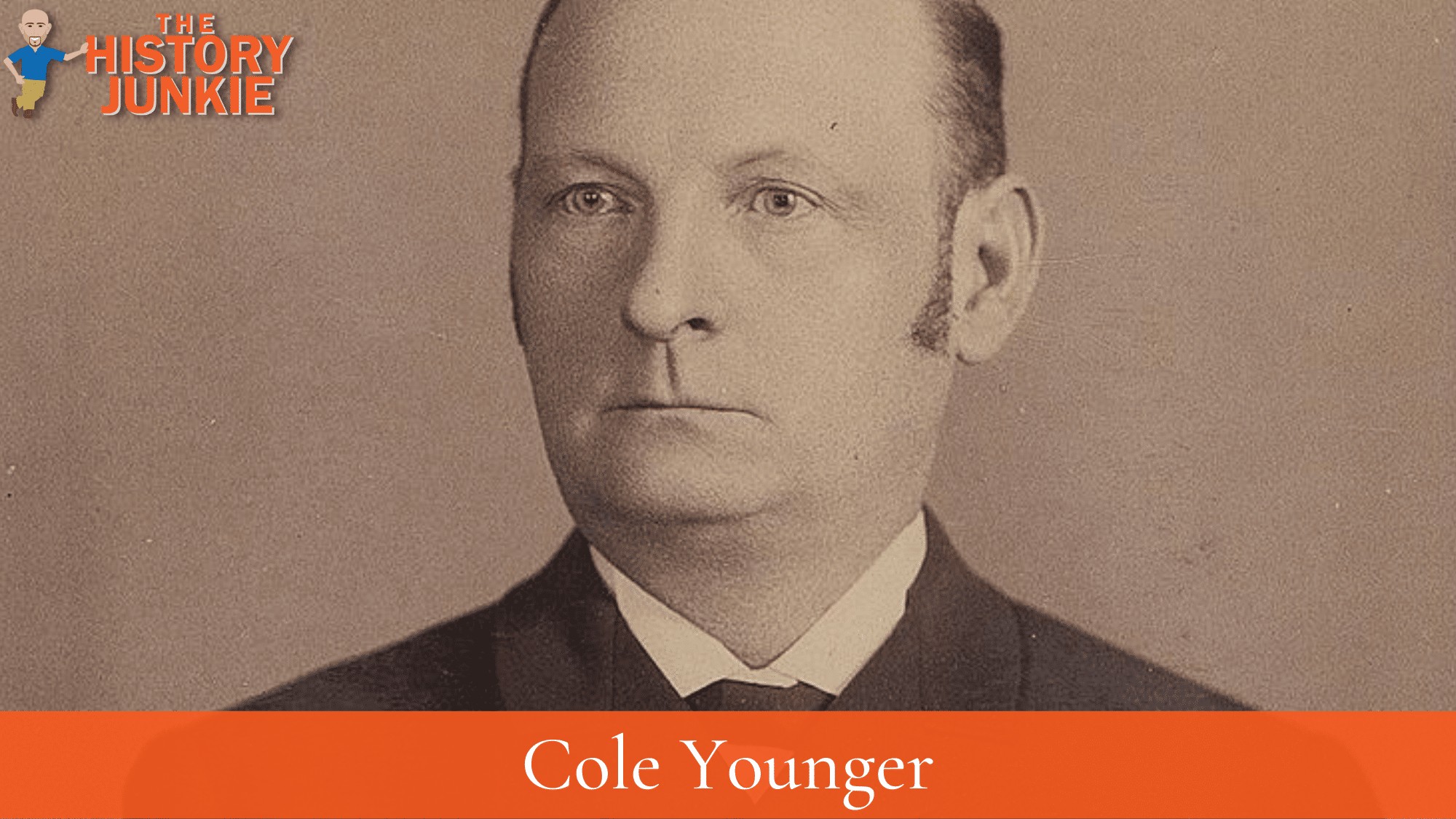 Thomas Coleman Younger was born in 1844 and was one of William Quantrill Confederate raiders during the Civil War.
Later in life, Cole Younger and Frank James toured in a Wild West show called The Great Cole Younger and Frank James Historical Wild West Show.
Jump to:
The Civil War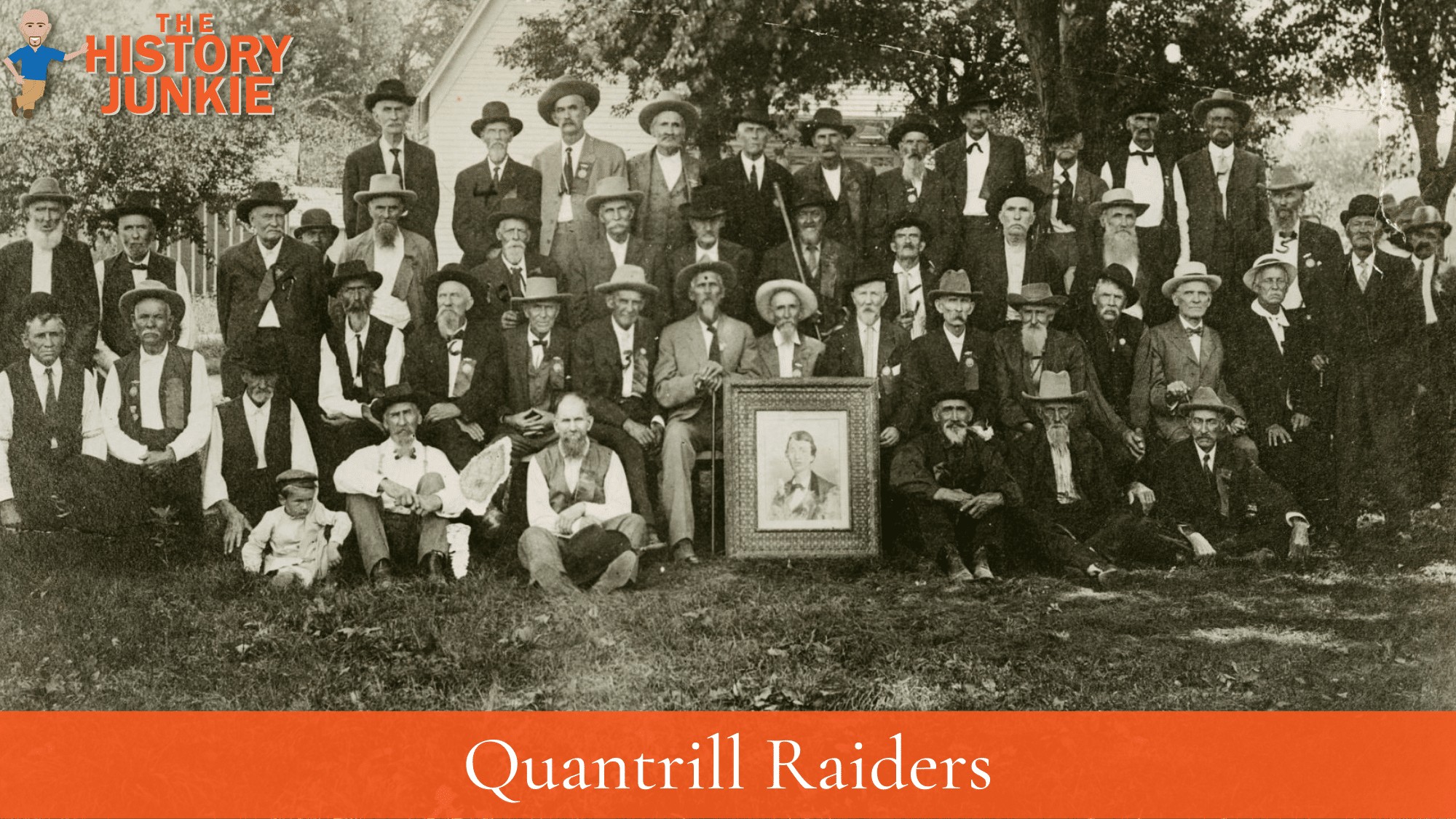 Cole Younger became involved in the Civil War after a tragedy and, because of that tragedy, went on to participate in some of the worst violence in the war.
After Cole's father was killed, his sister was assaulted, and his mother's house was burned down, Cole Younger then joined William Clarke Quantrill and his Confederate raiders to fight the Union forces.
On August 21, 1863, he took part in the infamous Lawrence, Kansas, massacre, killing of 200 men and boys at Lawrence, Kansas.
He was only 18 at the time. Cole Younger left William Quantrill's renegades and joined the regular Confederate Army, where he attained the rank of Captain.
He led his own company and served in Louisiana and later California. At the end of the war, Cole returned home and went to work on his mother's farm.
Read Article: Famous Civil War Generals
Wild West Outlaw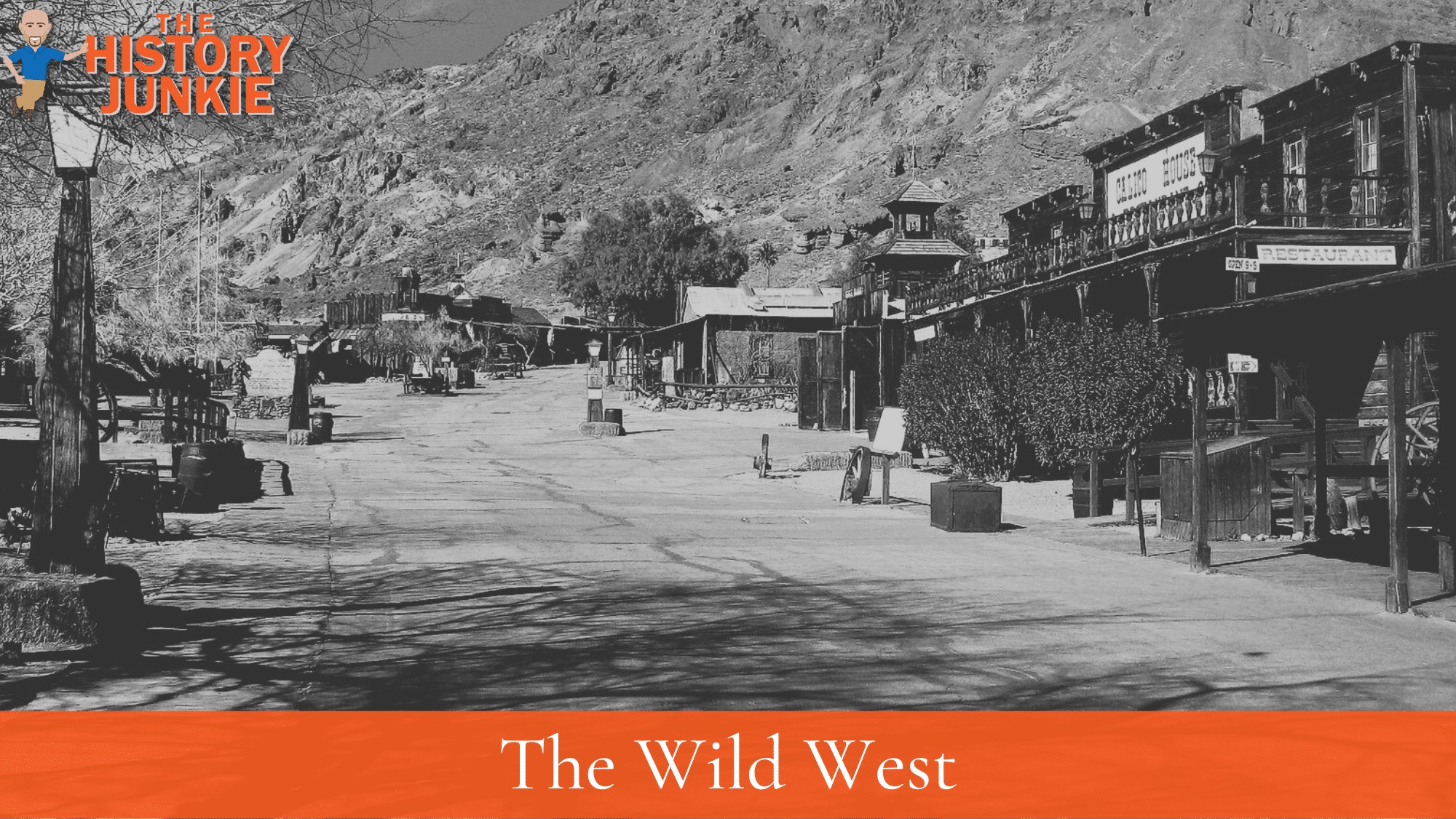 Cole Younger was soon robbing banks, trains, and stagecoaches in the Wild West with Jesse James and, at other times, with his brothers. Cole Younger would sometimes hide out at the Myra Maybelle Shirley "Belle Starr" family farm; he knew Belle from childhood. Belle would later turn to crime herself.
They carried out robberies over the next few years, robbing banks and stagecoaches in Missouri and Kentucky. On July 21, 1873, they derailed a locomotive on the Rock Island Railroad in Adair, Iowa, robbing the train.
Cole Younger and his brothers also held up stage coaches, banks, and trains in Missouri, Kentucky, Kansas, and West Virginia.
The Pinkerton National Detective Agency began to pursue the James and Younger brothers. There was a gunfight between two agents, Louis Lull and John Boyle and John and Jim Younger, on a Missouri road on March 17, 1874. John Younger and Louis Lull were killed.
At the same time, another Pinkerton agent, W.J. Whicher, who was pursuing the James brothers, was abducted and later found dead in Jackson County, Missouri.
After this, some Younger families changed their last names to Jungers so they would have no family association with the Younger name.
The famous gunslingers evaded arrest longer than most, but their luck would eventually end.
On September 7, 1876, the James Younger Gang attempted to rob a bank in Northfield, Minnesota. During the gunfight, they killed two townspeople and escaped but with no money.
A posse was formed, and the outlaws separated. The James brothers made it back to Missouri. The Younger brothers and another gang member, Charlie Pitts, were cornered; there was a gun battle, and Charlie Pitts was killed.
Cole, Jim, and Bob Younger were all wounded and captured.
On November 18, 1876, Cole, Jim, and Bob Younger were sentenced to life in prison at the Stillwater Prison. On September 16, 1889, Bob Younger died in prison of tuberculosis. Cole and Jim were paroled on July 10, 1901. Jim Younger passed away suddenly in St. Paul, Minnesota, on October 19, 1902.
Cole wrote a book called The Story of Cole Younger, in which he said he was a Confederate avenger more than an outlaw; he only admitted to one crime, which was the attempted bank robbery at Northfield.
In 1903, Cole Younger and Frank James toured in a Wild West show, "The Great Cole Younger and Frank James Historical Wild West Show."
In their show, among other things, Cole and Frank demonstrated their raids and gave lectures on how crime does not pay.
Later in life, Cole Younger said that he had become a Christian and repented his criminal past. Frank James died on February 18, 1915.
Cole Younger died March 21, 1916, in Lee's Summit, Missouri, and is buried in the Lee's Summit Historical Cemetery next to his brothers Jim Bob and his mother Bersheba.
He was the last member of the James-Younger gang to die.
Family Overview
Cole Younger came from a large family. He not only had 13 other siblings, but his father had many siblings as well. The Younger family was a well-known family in that part of the United States.
His father was from a line of soldiers. He had members in his family that fought in the Revolutionary War and the War of 1812.
However, his untimely death caused an unfortunate turn of events for his children. He was a wealthy businessman, and if still alive after the war, his influence could have stopped the destruction that came to his sons.
Cole never had any children and never married. Despite the numerous Younger offspring, Cole's bloodline would end with him.
Family Tree Chart
Parents:
Henry Washington Younger (1810 - 1862) - He was a wealthy businessman in Missouri and was assassinated. His death set forward a chain of events that would change his large family forever. He was the son of a military veteran and the grandson of a Revolutionary War veteran.
Bursheba L. Fristoe (1816 - 1870) - After the assassination of her husband by federal troops in July 1862, Bursheba was burned out of her family home in Cass County, Missouri. Later that year, three of her daughters were imprisoned in Kansas City, Missouri. The building they were being held in collapsed causing the death of several females, two of which were her own nieces, and the permanent injury to her own three daughters.
Spouse:
It does not seem as though Cole Younger ever married. He did seem to have a connection with Belle Starr, but the two never married.
Children:
Despite coming from a large family, Cole Younger did not have any children.
Siblings:
Lauren Helen Younger (1832 - 1924) - She married and had children. She lived in the same state as her parents and many siblings. She died at the age of 92.
Frances Isabelle Younger (1833 - 1902) - She married Richard Hall from Jackson, Missouri. She died at the age of 69 and had six children.
Martha Ann Younger (1835 - 1918) - She was the first Younger sibling to die outside of Missouri. She married and resided in Texas. She married and had six children.
Charles Richard Younger (1838 - 1860) - Eldest son of the Younger children, he Attended Chapel Hill College and owned a livery/blacksmith shop with his father. Died of appendicitis in 1860 at the age of 22 years.
Mary Josephine Younger (1840 - 1869) - She married John Jarette, who rode with the Quantril Raiders and later with the James-Younger Gang. Rumors speculated that she and John perished in a fire with their children, but never been proven.
Caroline Younger (1841 - 1868) - She was the apple of her father's eye, and the family lovingly referred to her as "Duck". Sadly, on August 14, 1863, she suffered many injuries after the building collapsed that Union Brig. Gen Thomas C. Ewing had imprisoned her and over 100 other young girls/women during the Civil War. Caroline married George M. Clayton in the year 1860, and together, they had 2 children, Leola & Augustus Bennett. On Jan 20, 1868, Caroline died from an infection three and a half months after giving birth to her third and last child, Mary Matilda.
Sarah Ann Younger (1846 - 1925) - She married Jephthah Duncan, and the couple had six children who all lived to adulthood. It seems as though she and her husband avoided the drama and activity that surrounded the Younger family. She died in Kansas at 78 years of age.
James Hardin Younger (1848 - 1902) - He joined the Confederate Army during the Civil War and served with Quantrill's Raiders. In 1864, he was captured by Union troops and imprisoned until the end of the war. After the war, he worked on various ranches until he joined the James-Younger Gang in 1873. He participated in the group's banditry until his brother was killed at Roscoe, Missouri, in 1874. He left the gang and went west where he worked a ranch in San Luis Obispo, California. In 1876, he returned to the gang and was a part of the Northfield, Minnesota, bank robbery. During that robbery, he was shot, captured, and sentenced to life imprisonment. Paroled in 1901, he became engaged to his long-time lover Alix Mueller, but due to the terms of his parole, he couldn't marry; he passed away suddenly in 1902.
Alphae Younger (1850 - 1852) - There is not much known about the child and why they died so young.
John Harrison Younger (1851 - 1874) - He ran with the James-Younger Gang and was one of their first casualties. He was shot by Pinkerton Detectives at the Roscoe Gun Battle.
Emily Jane Younger (1852 - 1907) - She married Kitt Rose, who was a Quantril Raider and an abusive husband. The two had six children together. However, their marriage went sour, and Emily tried to shoot Kitt, who fled. She was arrested and then released but swore to kill her husband, who had abused her for 16 years. The couple divorced, and she remarried in 1905. She, unfortunately, died in a streetcar incident in 1907.
Robert Ewing Younger (1853 - 1889) - After serving in the Confederate Army during the Civil War, he tried his hand at ranching before turning to a life of banditry. For the next years to come, he robbed banks, trains, and stagecoaches across Missouri, Kansas, and other nearby states before he joined his brother Cole as a member of the James-Younger Gang in 1873. In September 1876, the gang attempted to rob the First National Bank in Northfield, Minnesota. The townspeople fought back, and in the ensuing shootout, Bob was shot, along with all three of his Younger brothers being captured. He was convicted and sentenced to life imprisonment in Stillwater, Minnesota, where he died from tuberculosis at age 35.
Henrietta Virginia Younger (1857 - 1915) - She was the youngest of the Younger siblings and was devoted to her brothers. Her occupation was a school teacher, as were many of the Younger family members. She married Alexander Bledsoe Rawlins, a prominent landowner and cattle rancher, on April 1, 1894.