Notorious is probably the best word to describe Jesse James.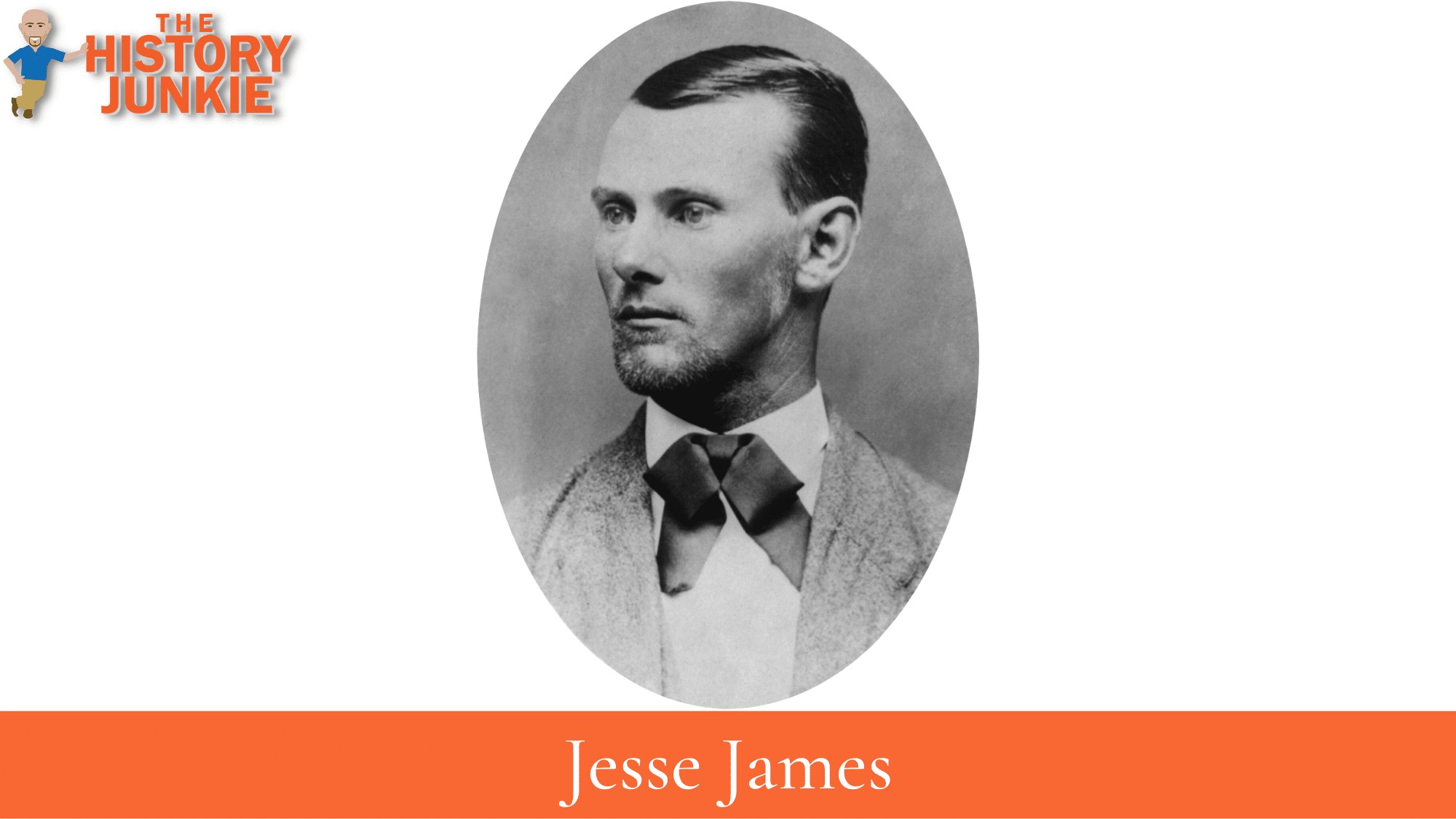 He was a notorious outlaw in the Wild West shortly after the end of the Civil War, but prior to the Civil War, Jesse was known as a quiet religious boy. 
His dad was a Revivalist who died when Jesse was a young boy. His mother remarried twice, with the first husband being abusive toward Jesse and Frank. She left him and married Dr. Reuben Samuel, who seemed to be a more relaxed man and decent man toward Jesse and his other siblings. 
Jump to:
Jesse served in Captain William Quantrill's Partisan Rangers under Lieutenant "Bloody Bill" Anderson and Lieutenant Archie Clement after the Centralia Massacre from 1864-5. He was wounded during the surrender at the end of the Civil War.
He and his brother Frank were part of a group called "bushwhackers," Confederate guerillas in the states of Missouri and Kansas during the US Civil War.  Jesse was known as being the "keenest and cleanest" fighter in Anderson's group.
The Outlaw
After Lee's Surrender at Appomattox and the beginning of Reconstruction, the James brothers became criminals. As former Confederates, they had Southern sympathies and hated the Union's presence in their home state.
They began robbing banks, stagecoaches, and trains across the Midwest. These crimes gave them a lot of notoriety due to their cruelty and success. However, success ended when many members of their gang were captured or killed in Minnesota, but Jesse and Frank made a clean getaway.
They experienced increased trouble, though, as law enforcement cranked up their efforts to capture the group. The brothers moved their families to Tennessee for a time, Frank James living under the name Woodson and Jesse under the name Howard.
Here is a collection of their criminal activity:
Feb 14, 1866: Clay Co Savings Bank: $60,000.00
Oct 1866: Alexander Mitchell Bank
March 1867: McLain Banking House
Mar 4, 1867: Richmond, MO: $4,000.00
1868: Southern Banking Co, Russellville, Logan Co KY (his father's home) $14,000.00
1868: Daviess Co Savings Bank: $7,000.00
1868: Missouri State General Bank
June 3, 1871: Corydon, Wayne Co, Iowa
July 21, 1873: Pacific Express train: $2,000.00
Jan 31, 1874: Iron Mountain Express train: $10,000.00 from passengers.
1874: Texas stagecoach
1874: Kansas Bank
1874: Tishimingo Brothers Bank, Corinth MS
Sep 6, 1876: Northfield, Minnesota: 1st National Bank. Almost died, and the Younger brothers were caught and imprisoned.
Oct 1879: Chicago and Alton Train: $40,000.00
Sept 1880: Wells Fargo Stage in Mammoth Cave, KY: $11,400.00
1880: Muscle Shoals Alabama: Paymasters office: $3,000.00
1880: Sexton Bank, Riverton, Iowa: $5,000.00
1881: Chicago Rock Island and Pacific Railroad: $500.00
1881: Chicago and Alton Rail Road: $1,500.00
By 1882, Jesse and his brother Frank were taking a lot of heat. They moved from Tennessee. Jesse went to St. Joseph, Missouri, while Frank moved to Virginia. They both intended to give up crime.
With his gang nearly annihilated, James trusted only the Ford brothers, Charley and Robert. Although Charley had been out on raids with James, Bob Ford was an eager new recruit. For protection, James asked the Ford brothers to move in with him and his family.
James had often stayed with their sister Martha Bolton and, according to rumor, he was "smitten" with her.
By that time, Bob Ford had conducted secret negotiations with Missouri Governor Thomas T. Crittenden, planning to bring in the famous outlaw.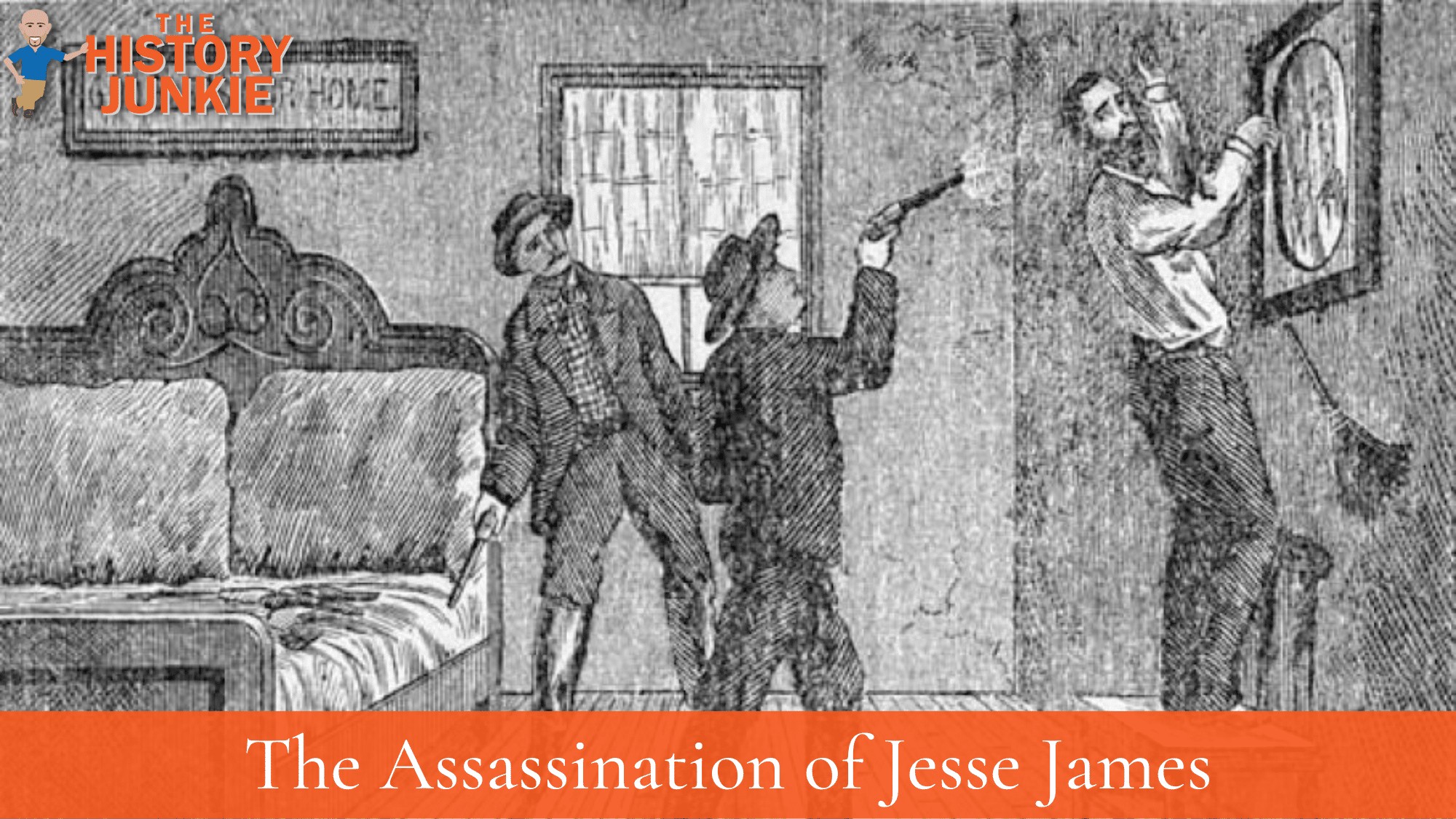 On April 3, 1882, after eating breakfast, the Fords and Jameses went into the living room before traveling to Platte City for a robbery. From the newspaper, James had just learned that gang member Dick Liddil had confessed to participating in Wood Hite's murder.
He was suspicious that the Fords had not told him about it. Robert Ford later said he believed that James had realized they were there to betray him. Instead of confronting them, James walked across the living room and laid his revolvers on a sofa.
He turned around and noticed a dusty picture above the mantle and stood on a chair to clean it. Robert Ford drew his weapon and shot the unarmed Jesse James in the back of the head.
James's two previous bullet wounds and partially missing middle finger served to identify the body positively.
His death would send shockwaves across the nation, and the legend of Jesse James had just begun.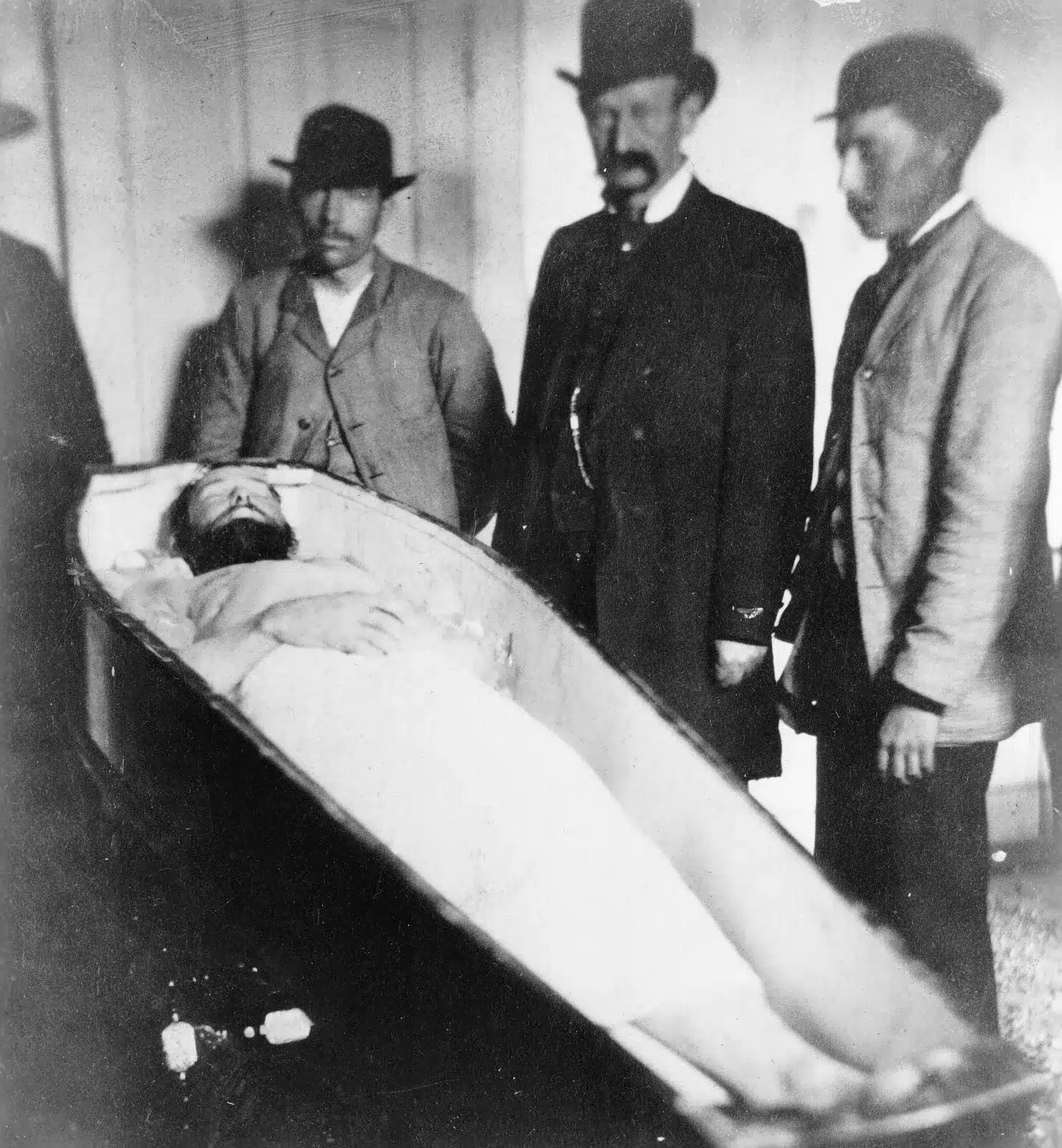 Family Overview
As stated previously, Jesse James' father was a Reverend who went to California to prospect for gold and preach to the masses. His grand plans were cut short when he became sick and died.
His father's death most likely played a role in what he became. He would have been 2 or 3 years old when he last saw his father and probably did not remember much about him. His next stepfather was abusive toward him, and his mother fled him.
The third husband seemed to treat him and his siblings well.
His mother was passionate and a survivor. She survived her arm being blown off and would capitalize on her son's notoriety by giving tours of her home.
Jesse had four children with his wife, Zerelda. They had a set of twins who did not survive until adulthood and two other children who witnessed their father's assassination.
Myth
There is a questionable connection that has never been proven, but it often shows up when studying James' genealogy.
It is said he had a wife/lover named Maggie Wabash and that the two had a son, Joseph Jesse Chase, in 1870. This has been denied, and there is no proof of this ever occurring.
Maggie would have been of Sioux ancestry.
Due to his notoriety and probably his rough lifestyle prior to getting married, there were many people who claimed to be descended from him. None have been proven to be true.
Family Tree Chart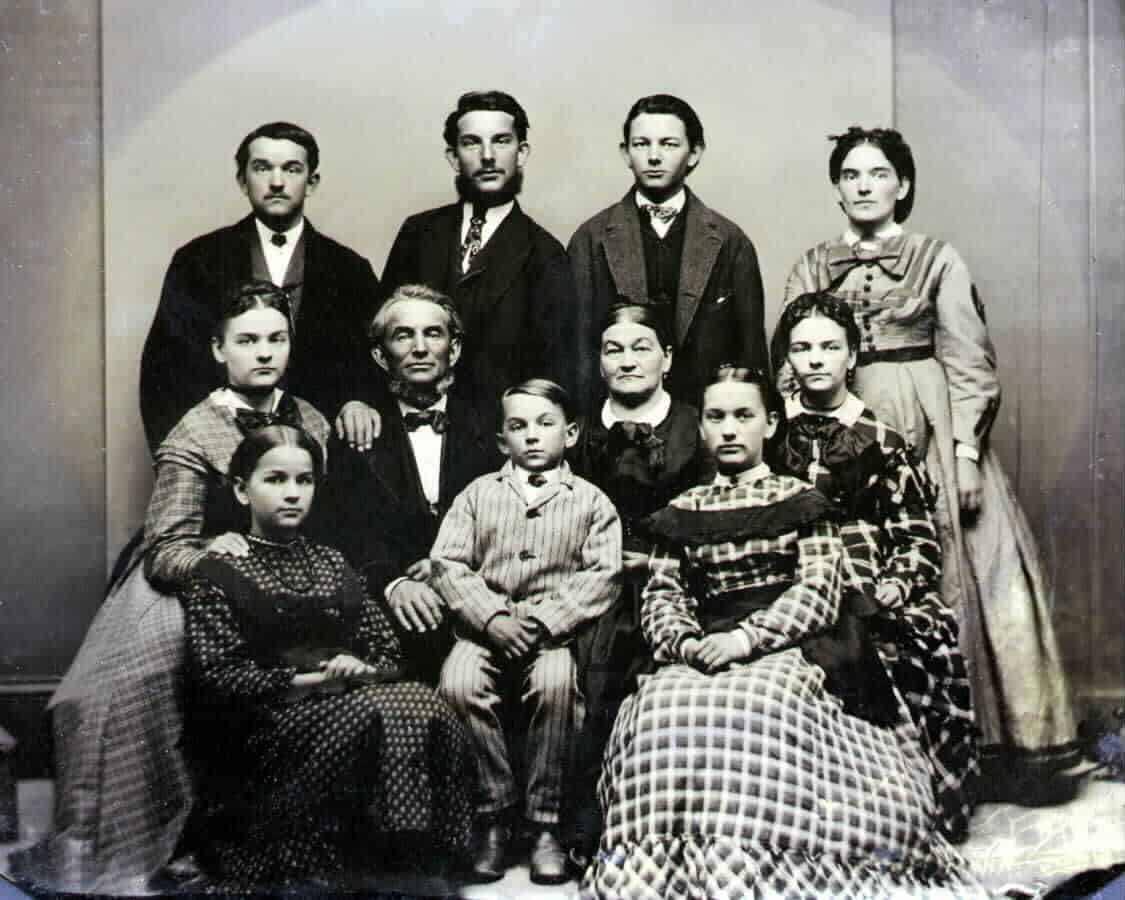 Parents:
Robert Sallee James (1818 - 1850) - He was a Reverend and helped found William Jewell College in Liberty, Missouri. He left for California during the Gold Rush and planned to prospect for gold as well as preach to the masses. He contracted cholera and died.
Zarelda Elizabeth Cole (1825 - 1911) - She remarried twice after her first husband's death. She had her arm blown off during a Pinkerton raid of her house and eventually made her house into a tourist destination where she made a comfortable living. 
Spouse:
Zerelda Mimms (1845 - 1900) - She was the first cousin of Jesse James and his wife. The two had four children, with 2 surviving to adulthood. She married Jesse at the height of his criminal activity.
Children:
Jesse Edward James (1875 - 1951) - He often went by the alias of Tim Edwards or Tim Howard, as the family was often in hiding. He was reportedly at the home when his father was assassinated by Robert Ford in 1882. He eventually moved to California, where he would die.
Montgomery James (1877 - 1878) - He died as an infant
Gould James (1878 - 1880) - He died at a young age in Tennessee.
Mary Susan James (1879 - 1935) - She and her brother, Jesse Edward James, were born in Nashville under the names of Mary & Tim Howard. Both were in the home when their father was assassinated by Bob Ford in 1882. She married and had four children. 
Siblings:
Alexander Franklin James (1843 - 1915) - Known as Frank James. He was the older brother and partner of Jesse James. He eventually turned himself in and served his time, then lived a longer life than other famous gunslingers.
Robert Reuben James (1845) - He died a few days after his birth.
Susan Lavenia James (1849 - 1889) - As the sister of the infamous outlaws, she often provided cover for them. There is an eyewitness account of the James brothers eating dinner at her house with their pistols on the table and a lookout with a shotgun. She died during childbirth.
Sarah Louise Samuel (1858 - 1915) - She lived into the 20th century, married, and had a son. She married William Nicholson.
Fannie Quantrill Samuel (1863 - 1922) - She seemed to have a normal life. She married one man, had children, and lived to a decent age. Her son Jesse Franklin Hall had many children.
Archie Peyton Samuel (1866 - 1875) - He was born mentally retarded and had a rough short life. He was killed when Pinkertons surrounded the Samuel house and threw a bomb in through the window, killing him and blowing off his mother's arm.