Unlike his brother Jesse James, Frank James didn't care as much for the glitz and glamour of outlaw life. He preferred a nice book and his family, but he lived 20 years as an outlaw in the Wild West, which would make him a legend.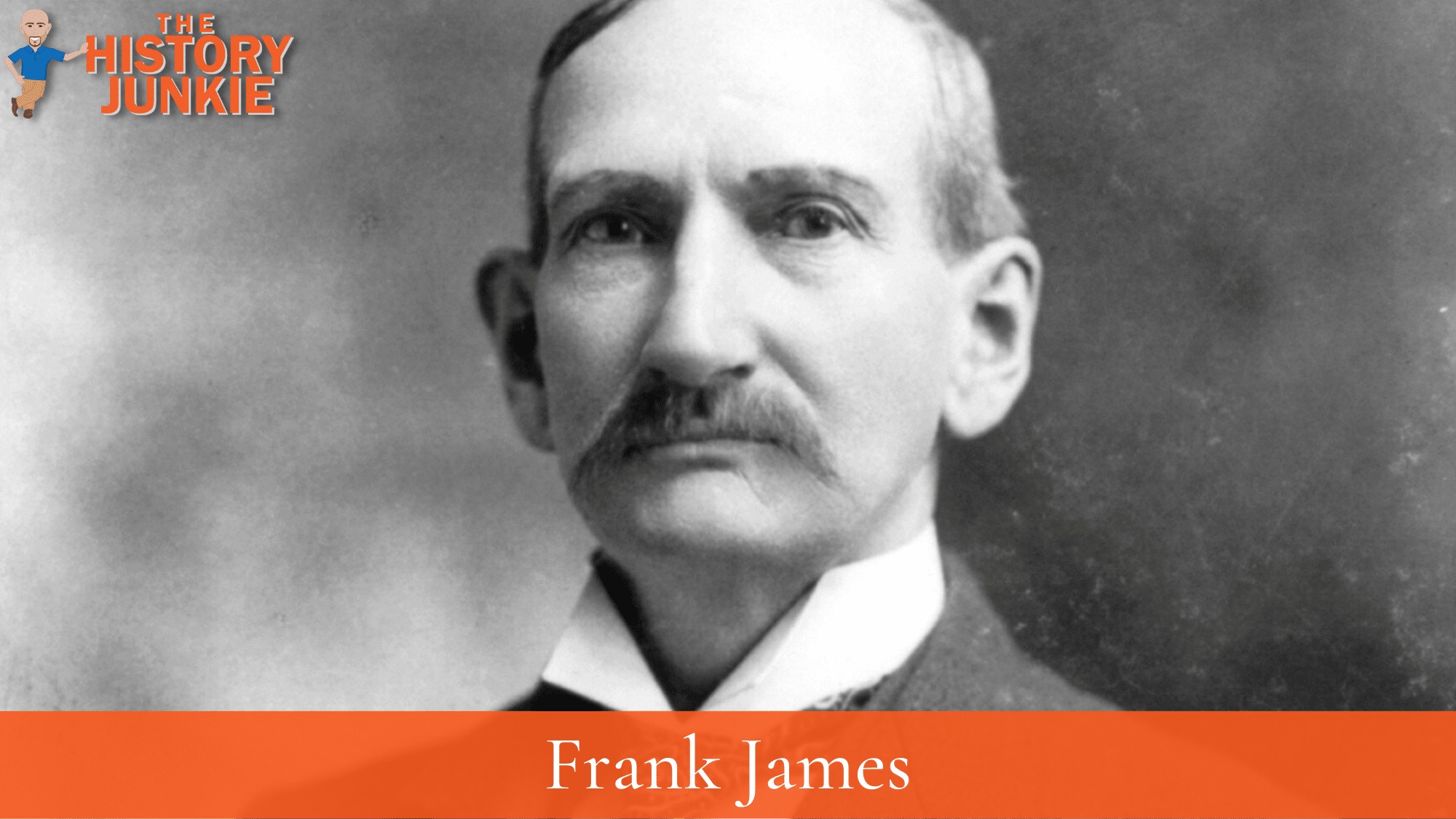 James was born in Kearney, Missouri, to Baptist minister Reverend Robert Sallee James and his wife Zerelda (Cole) James. The couple came from Kentucky. He was of English, Welsh, and Scottish descent.
Jump to:
Frank was the oldest of three children. His father died in 1851, and his mother remarried Benjamin Simms in 1852. After his death, she married a third time to Dr. Reuben Samuel in 1855, when Frank was 13 years old.
Also Read: 30 Famous Outlaws of the Wild West
As a child, James showed interest in his late father's sizable library, especially the works of William Shakespeare.
Frank participated in the Civil War when he was 18 years old. He was involved with the Quantrill company and saw some of the vilest actions of the war.
Missouri was a hotbed of resistance as it was a border state. There were various Union and Confederate militia, and the citizens of the state saw some horrific scenes. James participated in the Lawrence Massacre, where approximately 200 unarmed civilians were killed by Confederates.
He eventually made parole and would then become one of the most infamous criminals of his time.
It was believed that he was guilty of participating in gunfights, bank robberies, and many other things that outlaws did during this time period. He killed and stole for many years, but after the death of his brother, it seems that Frank changed.
He turned himself in and would serve his time. Once he was out, he would use his notoriety to make money, and he focused on his wife and children. He lived a long life, unlike his brother.
Family Overview
As stated previously, Frank James' father was a Reverend who went to California to prospect for gold and preach to the masses. His grand plans were cut short when he became sick and died.
His father's death most likely played a role in what he became. He would have been 2 or 3 years old when he last saw his father and probably did not remember much about him. His next stepfather was abusive toward him, and his mother fled him.
The third husband seemed to treat him and his siblings well.
His mother was passionate and a survivor. She survived her arm being blown off and would capitalize on her son's notoriety by giving tours of her home.
Frank married Annie Ralston when they eloped. She was afraid her father would not accept Frank, and she was right. He eventually came around and enjoyed his son-in-law.
Family Tree Chart
Parents:
Robert Sallee James (1818 - 1850) - He was a Reverend and helped found William Jewell College in Liberty, Missouri. He left for California during the Gold Rush and planned to prospect for gold as well as preach to the masses. He contracted cholera and died.
Zarelda Elizabeth Cole (1825 - 1911) - She remarried twice after her first husband's death. She had her arm blown off during a Pinkerton raid of her house and eventually made her house into a tourist destination where she made a comfortable living.
Spouse:
Ann Ralston (1853 - 1944) - The two eloped, and Frank was not an approved suitor for her. However, her family did eventually learn to like him, and he was a loyal husband. The couple had one child.
Children:
Robert Franklin (1877 - 1959) - He was the only child of Frank James and would live to be 82 years old. He married twice but did not have children.
Siblings:
Robert Reuben James (1845) - He died a few days after his birth.
Jesse Woodson James (1847 - 1882) - The infamous outlaw who became one of the most popular outlaws of the Old West in American History. He rode with Frank and the Younger brothers.
Susan Lavenia James (1849 - 1889) - As the sister of the infamous outlaws, she often provided cover for them. There is an eyewitness account of the James brothers eating dinner at her house with their pistols on the table and a lookout with a shotgun. She died during childbirth.
Sarah Louise Samuel (1858 - 1915) - She lived into the 20th century, married, and had a son. She married William Nicholson.
Fannie Quantrill Samuel (1863 - 1922) - She seemed to have a normal life. She married one man, had children, and lived to a decent age. Her son Jesse Franklin Hall had many children.
Archie Peyton Samuel (1866 - 1875) - He was born mentally retarded and had a rough short life. He was killed when Pinkertons surrounded the Samuel house and threw a bomb in through the window, killing him and blowing off his mother's arm.