John Bell Hood was a famous Civil War General who was known for his aggression. He was a young man during the war, and unfortunately, his life would end in tragedy.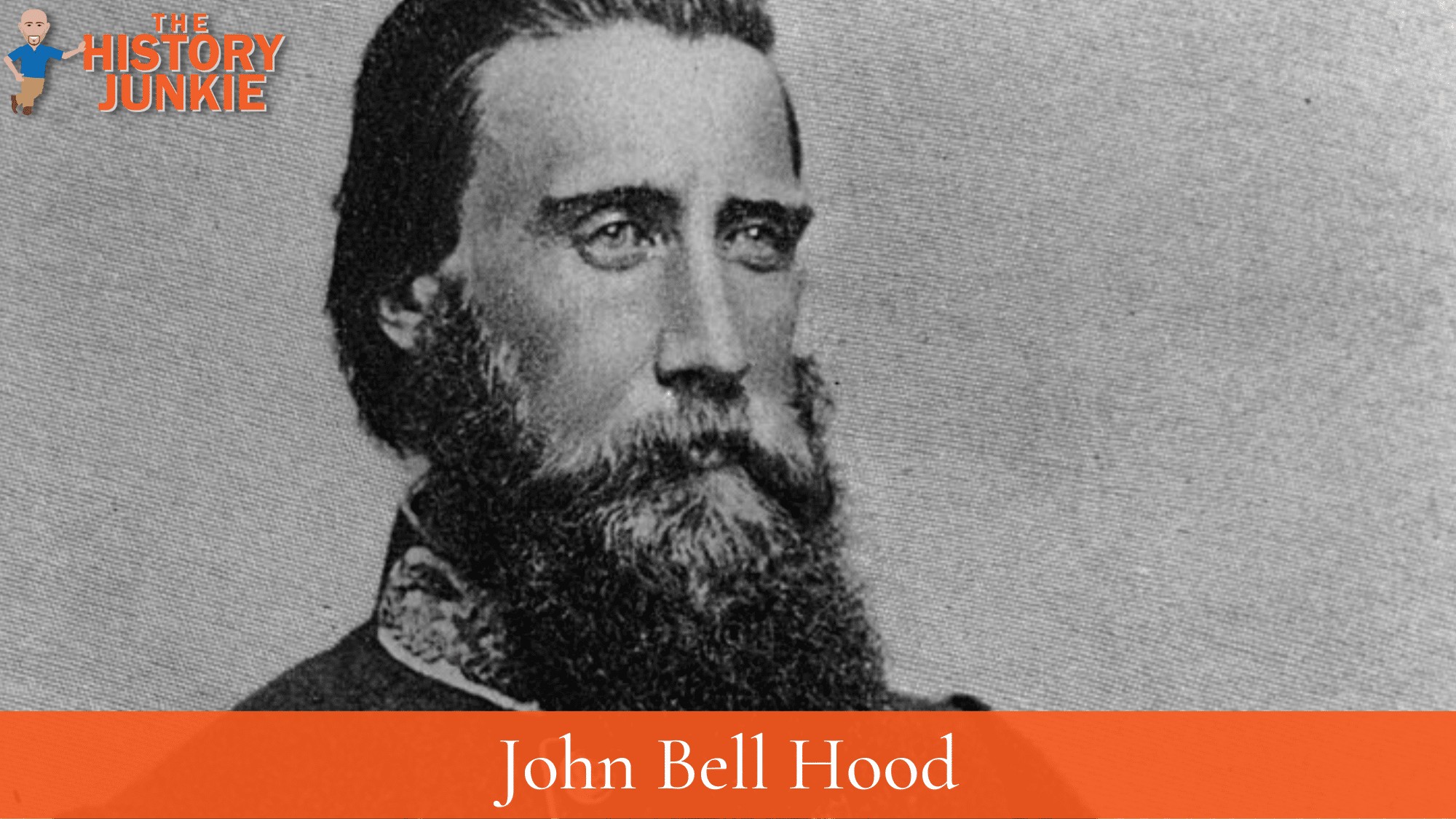 A cousin to Confederate General G. W. Smith. A nephew to U.S. Representative Richard French. A graduate of the U.S. Military Academy.
He graduated 44th out of 52. He almost didn't graduate because of excessive demerits.
Jump to:
John Bell Hood was one of the best brigade and division commanders, with a reputation for bravery and aggressiveness bordering on recklessness.
While serving under General James Longstreet, he was severely wounded at Gettysburg and lost the use of his arm. He suffered a fractured femur at Chickamauga and had his leg amputated.
Jefferson Davis promoted him to command of the Army of Tennessee because he wanted someone who would fight. At Atlanta, he dissipated his army in a series of bold but fruitless assaults. He had to evacuate the city.
At the battle of Franklin, Tennessee, he made a massive frontal assault without the support of artillery and lost 12 generals. He tried to besiege Nashville, Tennessee, but was decisively beaten.
He lost 23,500 men out of 38,000 soldiers, 20,000 at Atlanta alone.
After the war, he moved to Louisiana and became a cotton broker and life insurance business. He fathered 11 children but was ruined by the Yellow Fever epidemic of 1878-79.
Family Overview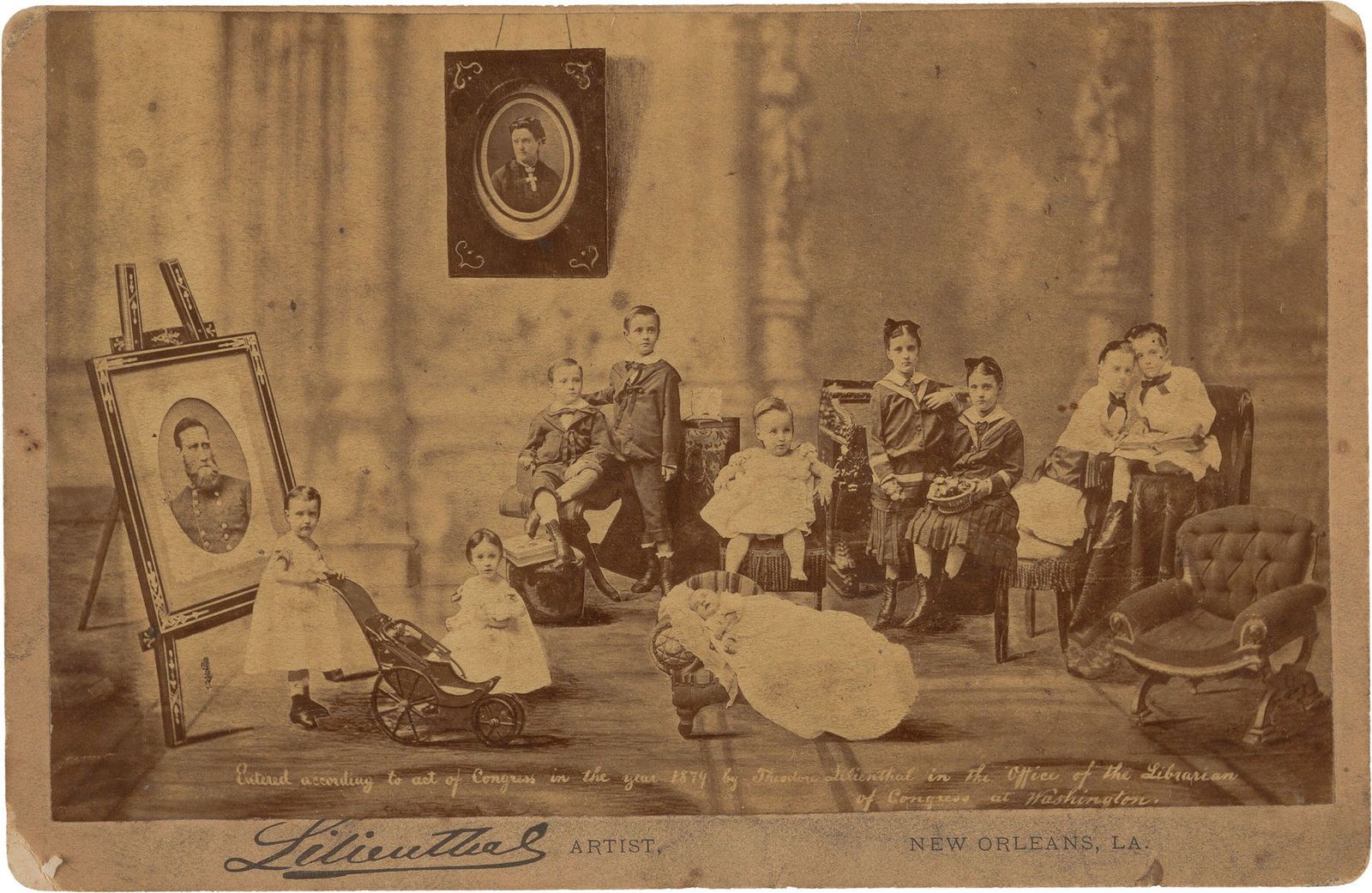 John Bell Hood had ancestors who fought in the French and Indian War and the Revolutionary War. His family had a strong military tradition, but his father chose the path of medicine instead.
Hood was a young man when the Civil War broke out, and he chose to serve in the Confederacy. After the war, he married and had 11 children.
Tragedy struck Hood's family when a Yellow Fever epidemic ran through New Orleans, forcing him to leave the city to protect his family. The move would destroy his business and leave his large family in poverty.
In 1879, another epidemic of Yellow Fever would come through the city, and although it was not as bad as the previous epidemic, it did touch Hood and his family.
In rapid succession, John Bell Hood lost his wife to the disease and, shortly after, his oldest daughter. Days after the two tragedies, He lost his own life and left 10 children destitute. They would be split up and adopted by friends.
Family Tree Chart
Parents:
John Wills Hood (1798 - 1852) - He was the son of Lucas Hood, a veteran of the Indian Wars. John W., along with brothers William and Andrew, would forgo the military bent of their father and turn to the study and practice of medicine in the small Clark County, Kentucky town of Winchester.
Theodosia French (1801 - 1886) - She was the daughter of Colonel Richard Callaway, who had served under George Washington in both the French and Indian War and the Revolutionary War. In 1780, Col. Callaway, an associate of Daniel Boone was ambushed and killed by Indians near Fort Boonesborough. She and her husband had three children together.
Spouse:
Anna Marie Hennen (1837 - 1879) - She was known for her beauty and charm. She and her husband had 11 children together, but tragically, they both died during a yellow fever epidemic in 1879, along with one of their children. This left their 10 children orphaned and destitute.
Children:
Lydia Marie Hennen Hood (1869 - 1879) - She was 10 years old and living in New Orleans when a yellow fever epidemic came through. She died along with her father and mother.
Anna Bell Hood (1870 - 1934) - She lived until she was 63 years old. There is no record of marriage or children.
Ethel Genevieve Hood (1870 - 1956) - The first set of twins of her parents. She was only 9 years old when she lost both of her parents and her older sister. There is no record of marriage or children.
John Bell Hood Jr. (1871 - 1947) - He was 8 years old when his parents passed. He would go on to marry and have two sons, with one surviving into adulthood.
Duncan Norbert Hood (1873 - unknown) - His life is mysterious. He served in the military during the Spanish-American War and would disappear from history in the 1920s.
Lillian Marie Hood (1873 - 1956) - She married and had three children. She died the same year as her sister Ethel. She was half of the second set of twins.
Marion Marie Hood (1874 - 1891) - She tragically died while in France at 17 years old. She was only 5 when her parents passed, and was adopted by family friends.
Odile Musson Hood (1876 - 1919) - She was part of the third set of twins for the Hood family. She married into the Holland family and had two children.
Ida Richardson Hood (1876 - 1961) - She was adopted with her twin sister. She would be the oldest surviving child of General Hood. She sailed on the Lusitania a year prior to it being torpedoed by a German U-boat in World War 1.
Oswald Hood (1878 - 1929) - He was the youngest son of his father and was a year old when his parents passed away. He married and had one son.
Anna Gertrude Hood (1879 - 1880) - She survived the yellow fever epidemic that killed her parents and oldest sibling, but after she was adopted, she passed away a year later.
Siblings:
Fanny Hood (1829 - 1833) - She was only four years old when she passed. There is not much known of her young life.
William A. Hood (1831 - 1908) - He was the twin brother of John and would outlive him. He married and had a daughter.
Olivia Keziah Calloway Hood (1838 - 1913) - She was the youngest of her siblings. She met and married George Graves, and the two had a happy marriage that produced four children.