John Wesley Hardin was a notorious outlaw and famous gunslinger in the Wild West. He was born in Bonham, Texas, in 1853, and he began his life of crime at a young age.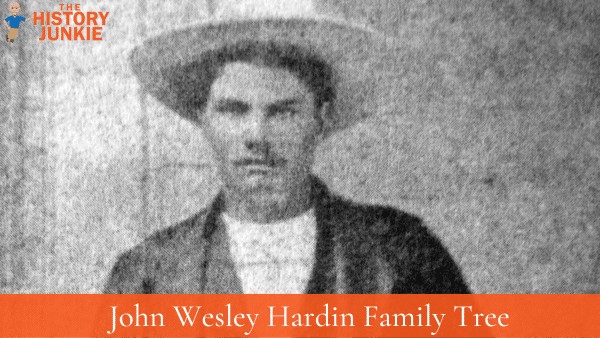 He killed his first man at the age of 15, and he was eventually sentenced to 24 years in prison for murder.
He committed the first murder with two of his cousins and his brother Joe. Although the law did not catch up with him, they did catch up with the other three and lynched them.
Also Read: 30 Famous Outlaws of the Wild West
Jump to:
While in prison, Hardin studied law and wrote an autobiography. He was well known for exaggerating or fabricating stories about his life, and he claimed credit for many killings that cannot be corroborated.
Hardin was released from prison in 1894, and he was killed by John Selman in an El Paso saloon just one year later.
John Wesley Hardin had a good relationship with Wild Bill Hickok and was impressed with his marksmanship, but that and his children are about the only positive of his life.
Hardin was sadistic and had a thirst for violence at a young age. He may not have committed every murder he tried to take credit for, but those men he "allegedly" killed had mothers, wives, and children who read about their dead loved ones in his autobiography.
He was not a Robin Hood, but instead a serial killer who, if put to death in prison, would have saved many lives.
Some folks are foolish, some wise, and some are just evil. John Wesley Hardin would fall comfortably in the evil category.
Family Overview
John Wesley Hardin was named after the founder of the Methodist church, John Wesley. His father was a Methodist preacher but seemed to have a difficult time with his sons.
Each of his sons committed murder, and it seems as though violence followed them. John Wesley Hardin's sisters seemed to turn out fine, and they all married, with some having many children.
He grew up and married another woman like himself, and the two had three more children. He had one son, which kept his line alive, and two daughters, each having more children.
He would not have been there for his children since he was running from the law or in jail for much of his life.
Family Tree Chart
Parents:
James Gibson Hardin (1823 - 1876) - He was a reverend who moved from Tennessee to Texas. He became the head of Comanche College, but when his son committed a murder there, he left the area.
Mary Elizabeth Dixson (1826 - 1885) - She married and had seven children. Her son was a hot head and had issues that would result in the death of some of her nephews. 
Spouse:
Jane Ann Bowen (1856 - 1892) - She was also an outlaw, and the marriage between the two seemed to work. She had three children with her husband before her death.
Carolyn L. Lewis (1979 - 1963) - She was only married to John for a short period. By the time he died, they had already separated. 
Children:
Mary Elizabeth Hardin (1873 - 1938) - She was the eldest child of John Henry Hardin and would go on to have 12 children with her husband.
John Wesley Hardin Jr. (1875 - 1931) - He was his father's only son. He married and would have three children, which continued his father's line.
Jane Hardin (1877 - 1931) - Jennie managed a cafe she opened early to feed those who had to start work early. One morning, she dropped dead in the back of her restaurant. She was married with no children.
Siblings:
Joseph Gipson Hardin (1850 - 1874) - He married but was killed after his brother committed a murder. He was associated with his brother in the murder, and he and two of his cousins were caught and lynched.
Elizabeth Hardin (1855 - 1930) - She did not participate in her brothers' outlaw ways. She married and had many children.
Martha Ann Hardin (1857 - 1949) - She lived a long life. She married and had six children. 
Jefferson Davis Hardin (1861 - 1901) - He was born at the beginning of the Civil War and named after the Confederate President. He married but died young in a violent death over a dispute. He left many children behind.
Nannie Dixon Hardin (1870 - 1953) - She remained a devout Methodist like her father. She also married, but there is no record of children. She died at 82 years of age. 
James Barnett Hardin (1874 - 1918) - Similar to his other brothers, he was hot-headed. In a dispute with his best friend, who happened to be a sheriff, he shot and killed him. He was sentenced to 35 years but then received a lighter sentence. He and his wife separated shortly after. He signed up for World War 1 but died when he was smashed by box cars. He had two children.