Joseph E. Johnston was a career U.S. Army officer who fought in the Mexican-American War and the Seminole Wars. He was also a famous general in the Confederate Army during the Civil War.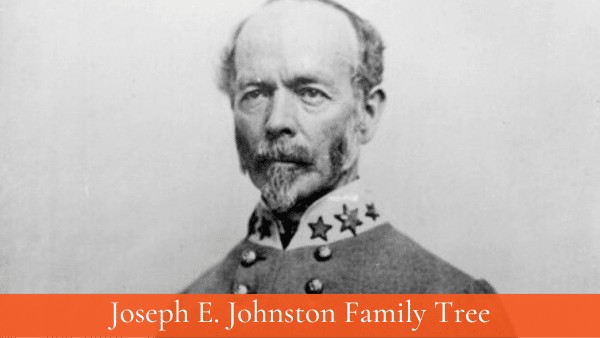 He was unrelated to Albert Sidney Johnston, another high-ranking Confederate general.
Johnston was born in Farmville, Virginia, on February 3, 1807. He graduated from the U.S. Military Academy at West Point in 1829 and served in Florida, Texas, and Kansas.
Jump to:
He fought with distinction in the Mexican-American War and, by 1860, had achieved the rank of brigadier general as Quartermaster General of the U.S. Army.
When his native state of Virginia seceded from the Union, Johnston resigned his commission and joined the Confederate States of America.
He was appointed a full general and given command of the Confederate Army of the Potomac. He led the army to victory at the First Battle of Bull Run but was later defeated at the Seven Days Battles and the Battle of Antietam.
In 1864, Johnston was given command of the Confederate Army of the West. He led the army in a series of successful defensive battles against Union General William Tecumseh Sherman.
However, he was criticized by Confederate President Jefferson Davis for his cautious tactics.
In 1865, Johnston surrendered the Army of the West to Sherman. He was the highest-ranking Confederate general to surrender his army during the war.
After the war, Johnston served as a railroad executive and a U.S. congressman.
He died in Washington, D.C., on March 21, 1891, after he participated in the funeral of General Sherman, in which he did not wear a hat and caught a cold.
In the memoirs of Grant and Sherman, Joseph E. Johnston was praised as one of the best generals in the Confederacy.
Family Overview
Joseph E. Johnston comes from a prestigious family in Virginia. His grandfather had migrated to Virginia from Scotland and would serve in the House of Burgesses. He would have come to know many of the influential Virginians and helped found a local college.
Many of his children went on to become influential within Virginia, which included the father of Joseph E. Johnston.
His father was a Revolutionary War Veteran who married and had many children. Despite having many children, his children did not.
Joseph married into the Wood family, and the two never had any children. It would be through his older brother and sisters that the line continued.
Family Tree Chart
Parents:
Peter Johnston (1763 - 1831) - He left college at the age of seventeen to join the army as a private. He became a lieutenant in Light Horse Harry Lee's Legion and was promoted on the field for gallantry. At the close of the Revolutionary War, he returned home, studied law, and practiced his profession in Prince Edward and adjoining counties. He would eventually serve as a Judge in Virginia.
Mary Wood (1769 - 1825) - She had deep ties to Virginia and was the niece of Patrick Henry. She and her husband had nine children, all surviving to adulthood.
Spouse:
Lydia McLane Johnston (1822 - 1887) - She was the daughter of a Delaware politician who had served during President Andrew Jackson's presidency prior to marrying Johnston. The two did not have any children despite their 42-year marriage.
Children: None
Siblings:
John Warfield Johnston (1790 - 1818) - He studied medicine and became a local doctor. He married and had one child despite dying at the young age of 27.
Thankful Johnston (1791 - 1868) - A little unsure about this sibling. She is listed as being born in Connecticut, but most Johnstons were born in Virginia. It is possible her parents had traveled there for his work. She married and had children.
Peter Carr Johnston (1793 - 1877) - He served as an officer in the War of 1812 and would become a renowned geologist afterward. He never married.
Charles Clement Johnson (1795 - 1832) - He was a US Congressman. Elected as a Jacksonian to represent Virginia's 22nd District in the US House of Representatives, he served from 1831 until his death.
Edward William Johnston (1799 - 1867) - He died at the age of 68, and there is not much known about him. His siblings seemed to all gravitate towards the military and politics. He never married.
Algernon Sidney Johnston (1801 - 1852) - He was the 2nd youngest son of the Johnston family. He did not marry or have any children.
Jane Wood Johnston (1811 - 1892) - She was noted in her obituary for being fluent in 4 languages and was known as a highly conversational person. She married a well-known Southern gentleman, and they had three children together.