Henry Lee III, also known as Light Horse Harry Lee, was an officer in the Continental Army that served under George Washington during the American Revolutionary War. His nickname "Light Horse Harry" was given to him due to his ability on the horse. Henry Lee III was part of the Lee family of Old Virginia and related to Richard Henry Lee and Francis Lightfoot Lee, both signed the Declaration of Independence during the Second Continental Congress, and was the father to infamous Confederate General Robert E. Lee.
Early Life and Family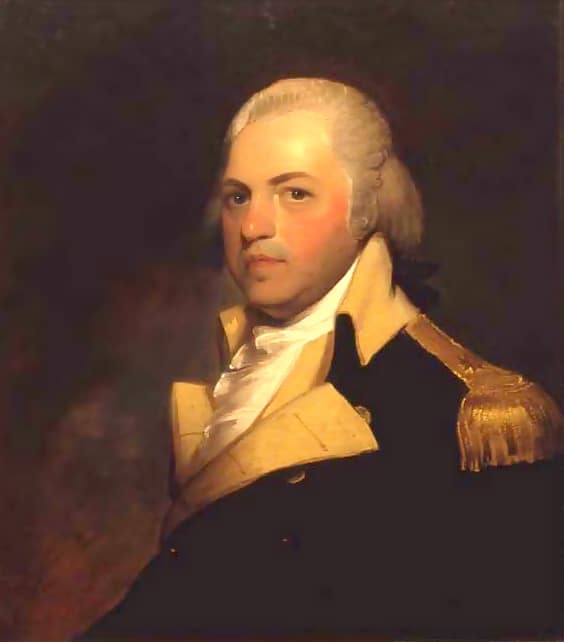 Lee was born on Leesylvania Plantation in Prince William County in the Colony of Virginia. He came from a long line of Virginians:
He was the son of Col. Henry Lee II (1730–1787) of "Leesylvania" and Lucy Grymes (1734–1792).
His father was the first cousin of Richard Henry Lee, twelfth President of the Continental Congress.
His mother was an aunt of the wife of Virginia Governor Thomas Nelson, Jr.
His great-grandmother Mary Bland was also a grand-aunt of President Thomas Jefferson.
He was the grandson of Henry Lee I, a great-grandson of Richard Bland
He was a great-great-grandson of William Randolph.
He was also a descendant of Theodorick Bland of Westover and Governor Richard Bennett.
He would attend the College of New Jersey in 1773 which is now Princeton University. At that time the most influential person at the college was John Witherspoon who was an advocate for independence from Britain.
Henry Lee III graduated from the College of New Jersey (now Princeton University) in 1773, and began pursuing a legal career.
American Revolution
Lee joined the Continental Army as a captain in 1776. Due to his ability he quickly rose in rank and in 1778 was promoted to Major and given the command of a small irregular corps. These irregular troops would gain a reputation under Lee and his ability as a leader and as a horseman gave him the famous nickname "Light Horse Harry" to which many called him the rest of his life.
His greatest exploit was the brilliant surprise against the British fort at Paulus Hook, New Jersey, on 19 August 1779 — for this feat he received a gold medal, a reward given to no other officer below general's rank in the whole war.
In 1780 he was promoted to lieutenant colonel and sent to the southern theater to serve under Horatio Gates and Nathanael Greene. Here he served with distinction at the Battles of Camden, Guilford Courthouse, and Eutaw Springs. He participated in Cornwallis's retreat to Yorktown and witnessed the surrender that gave America its freedom.
The war took a toll on Light Horse Harry Lee and after the surrender at Yorktown he retired from the military and returned to his plantation.
Public Life
After recuperating, Light Horse Harry Lee ventured into politics. He would serve from 1786 – 1788 in the Congress of the Confederation and helped put the Articles of Confederation in place.
After it was clear that the Articles of Confederation was not going to work, Light Horse Harry Lee became an advocate for the Constitution. He supported the document and was influential in Virginia ratifying the Constitution.
He was elected Governor of Virginia in 1791 and served until 1794. He also participated in helping suppress the Whiskey Rebellion during President George Washington's term. During the presidency of John Adams, Lee was promoted to Major General, to which he served until 1800.
During the presidency of Thomas Jefferson he served Virginia in Congress until 1801.
Later Years and Death
George Washington died in 1799 and Lee would delivered the Funeral Oration which contained the famous quote about the Father of the United States:
first in war, first in peace, and first in the hearts of his countrymen
Towards the end of his life, Light Horse Henry Lee participated in the War of 1812. During one sequence he was wounded and received injuries that he never recovered from.
After unsuccessful treatment at home, he sailed to the West Indies in an effort to recuperate from his injuries. On his way back to Virginia, he died on March 25, 1818, at Dungeness, on Cumberland Island, Georgia, cared for by Nathanael Greene's daughter Louisa.
Light-Horse Harry Lee was buried with full military honors, provided by an American fleet stationed near St. Marys, Georgia, in a small cemetery at Dungeness. In 1913, his remains were moved to the Lee family crypt at Lee Chapel, on the campus of Washington & Lee University in Lexington, Virginia.