The Nanticoke tribe was a northeast tribe located around Delaware. They later moved to Canada and Oklahoma.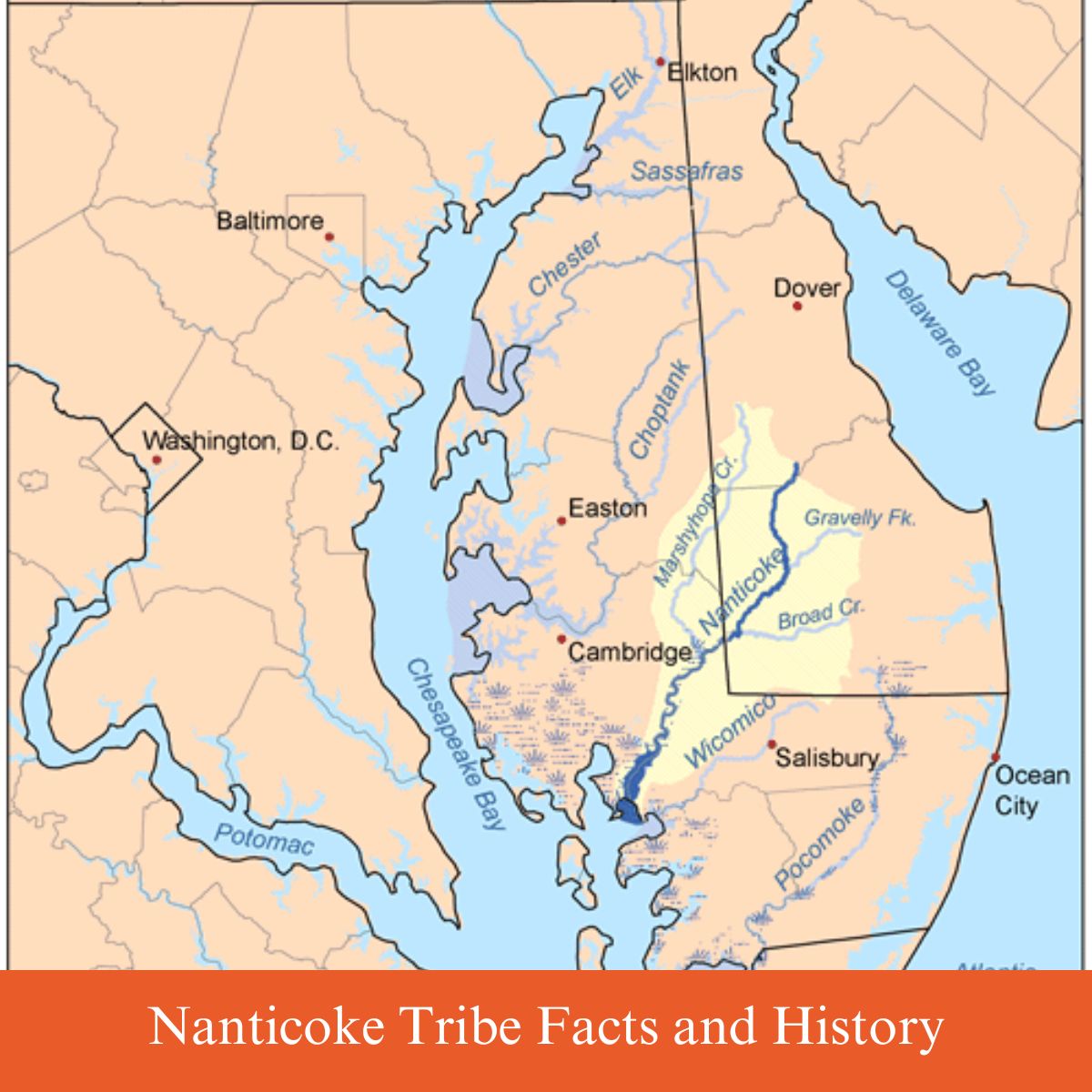 The Nanticoke tribe was a people group that consisted of several tribes:
Nanticoke proper
Choptank
Assateague
Piscataway
Doeg
Nanticoke proper History
The Nanticoke Tribe can trace its origins to Labrador, Canada, where they migrated through the Great Lakes region into the Ohio Valley and then to the east. This was a similar migration pattern to the Shawnee and Lenape tribes.
The English sought to establish a colony in the New World, and after failing in Roanoke, they were successful at Jamestown in 1605. Three years after Jamestown was founded, Captain John Smith came into contact with the Nanticoke tribe.
The Nanticoke quickly saw the English as powerful allies and created an alliance. They also traded beaver pelts with the colonists.
In the mid-17th century, the Nanticoke tribe signed a peace treaty with the Maryland Colony, which again helped them increase their security among many more powerful Native American tribes.
In 1684, the Nanticoke and English governments came to an agreement as to how to share the land among the natives and colonists
In 1742, the tribe met with neighboring tribes in nearby Wimbesoccom Neck to discuss a Shawnee plot to attack the local English settlers, but the gathering was discovered, and the leaders involved were arrested.
Some moved up to Pennsylvania in 1744, where they gained permission from the Iroquois Confederacy to settle near Wyoming, Pennsylvania, and along the Juniata River.
They moved upriver a decade later. They joined the Piscataway tribe and were both under the jurisdiction of the League of the Iroquois.
The reservation on Broad Creek was sold in 1768.
The Nanticoke tribe stayed neutral during the French and Indian War but allied with the British during the American Revolutionary War.
After the war, the British helped the Nanticoke tribe relocate to Ontario, Canada and gave them land to compensate for what was lost.
Some Nanticokes remained behind and settled in New York, while some joined the Lenape and migrated to Kansas.