Around the 1600s, The Ottawa Indian tribe lived along the Ottawa River in eastern Ontario and western Quebec.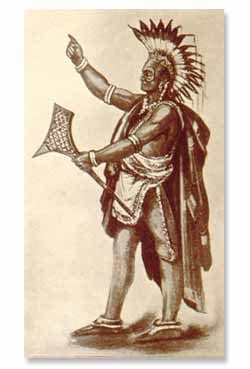 They were an Algonquian-speaking Indian and, therefore, related to the Lenape tribe and enemies of the Iroquois and Wyandot. They originally lived in Upper Michigan but migrated to northern Ohio around 1740. They were residents of the area when the first pioneers began to settle in Ohio.
Jump to:
Ottawa Indian Tribe: Early History
According to Anishinaabeg tradition and from recordings in Wiigwaasabak (birch bark scrolls), the Ottawa people came from the eastern areas of North America or Turtle Island and from along the East Coast (where there are numerous Algonquian-language peoples).
The Anishinaabe people moved inland along the Saint Lawrence River at the "Third Stopping Place" near what is now Detroit, Michigan. The southern group of Anishinaabeg is divided into three groups: the Ojibwe, Ottawa, and Potawatomi.
The Ottawa, Ojibwe, and Potawatomi had a long-term alliance known as the Council of Three Fires.
The Council of Three Fires was often at odds with the Iroquois Confederacy
Samuel de Champlain met with 300 men of the nation during his expeditions.
The Ottawa tribe was allied with the French until they moved into Northern Ohio to participate in the fur trade with the British. However, the British had a different mentality. The French wanted to trade, but the British wanted to build forts and towns.
Ottawa Indian Tribe: Early America
The most famous Ottawa Indian Tribe leader was Pontiac.
In 1763, he led many American Indians against the British in an attempt to drive the British from their lands.
They managed to destroy nine British forts around the Great Lakes but could not defeat the British at Detroit and Pittsburgh.
British Colonel Henry Bouquet led a large army from Fort Pitt into Ohio and defeated Pontiac. He forced the tribes to make peace with the British.
A little over a decade later, the Ottawa Indian tribe allied themselves with the British during the American Revolutionary War.
After the British surrendered, they no longer supported their native alliances, but the Ottawa tribe continued to fight the Americans despite a lack of support.
General Anthony Wayne defeated the Ottawa tribe and other Ohio country Indian nations at the Battle of Fallen Timbers in 1794.
After the Ottawa tribe was conquered, they signed the Treaty of Greenville and ceded the United States many of their lands.
In 1804, they signed the Treaty of Detroit, which gave up more lands to the United States.
After the passage of the Indian Removal Act of 1830, the United States removed the Ottawa tribe from Ohio to Kansas.
Related Pages