Patrick Ferguson was a Scottish officer in the British Army who fought in the Seven Years' War and the American Revolutionary War. He was an early advocate of light infantry and designed a breech-loading rifle called the Ferguson rifle.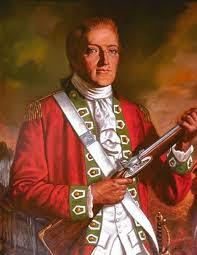 He aggressively recruited loyalists during the Southern Campaign and could be cruel to those citizens who supported the Patriot cause.
Ferguson was a primary leader for Cornwallis, but he and his loyalist unit fell into an impossible situation at the Battle of Kings Mountain, where he was killed.
Jump to:
Early Life
Patrick Ferguson was born at Pitfour in Aberdeenshire, Scotland, on May 25, 1744. He was the second son and fourth child of advocate James Ferguson of Pitfour and his wife, Anne Murray.
Ferguson's parents were influenced by the Scottish Enlightenment and the writings of David Hume. Young Patrick read many of Hume's writings at an early age.
Seven Years War
Patrick Ferguson began his military career when he was still a teenager. He served briefly in the Holy Roman Empire with the Scots Greys until a leg ailment forced him to return to Scotland.
He recovered from his ailment and purchased a command of a company in the 70th Regiment of Foot, under the Colonelcy of his cousin Alexander Johnstone, and served with them in the West Indies. He seemed to be making a name for himself until his leg ailment flared up again. He again had to return home to Scotland.
When he returned home in 1772, he participated in light infantry training and grabbed the attention of General William Howe. It would be during this time he developed the Ferguson rifle. It was a breech-loading flintlock weapon based on Chaumette's earlier system.
The rifle was quicker than a traditional rifle and still maintained its accuracy. However, it cost much more than a musket and made it too expensive to mass-produce.
American Revolution
The American Revolution began in 1775 with the Battles of Lexington and Concord and the Battle of Bunker Hill. During this time, General Thomas Gage was the primary British commander in Colonial America, but he would be replaced with General William Howe.
Howe arrived in 1775, was driven out of Boston, and then defeated General George Washington in New York.
1777: Patrick Ferguson arrived in the American colonies in 1777 to command an experimental unit with his new rifle.
He saw immediate success, but he was shot through the right elbow joint at the Battle of Brandywine on September 11, 1777, in Pennsylvania. Shortly before, he had had the chance to shoot a prominent American officer, accompanied by another in distinctive hussar dress, but decided not to do so, as the man had his back to him (Ferguson) and was unaware of his presence.
A surgeon told Ferguson in the hospital that some American casualties had said that General Washington had been in the area at the time. Ferguson wrote that, even if the officer were the general, he did not regret his decision.
For some months after being wounded, Ferguson was at risk for amputation of his arm. During this time, he received news of his father's death. Ferguson eventually recovered, although his right arm was permanently crippled.
1778: In May 1778, Patrick Ferguson resumed his military duties in May 1778 under General Henry Clinton.
In October 1778, Ferguson was assigned to lead a raid in southern New Jersey to suppress privateers who had been seizing British ships. They were based around the Little Egg Harbor River, which empties into the Great Bay. Ferguson attacked their base in what is known as the Battle of Chestnut Neck.
About a week later, Ferguson was notified by a Hessian defector, Lieutenant Carl Wilhelm Juliat, who had returned to the British side after a furious argument with the American Lieutenant Colonel Carl Von Bose, that a detachment of Count Pułaski's troops, under Von Bose's command, was located nearby.
Ferguson marched his troops to the site of Bose's infantry outpost, which comprised fifty men and was a short distance from Pulaski's main encampment.
At first light on October 15, 1778, Ferguson ordered his men to use bayonets to attack the sleeping men of the American force. Pulaski reported that Ferguson's Tories killed, wounded, or took prisoner about 30 of his men in what the Americans called the Little Egg Harbor massacre.
Ferguson's own account (under the pen name Egg-Shell) expresses his dismay at Pułaski's lack of preparations and failure to post look-outs. He said in his official report that little quarter could be given, and his men took only five prisoners.
Ferguson reported that he did not destroy the three houses that sheltered the Americans because they were the dwellings of inoffensive Quakers, who were innocent civilians.
Pułaski eventually led his mounted troops (Pułaski's Legion) forward, causing Ferguson to retreat to his boats, minus a few men who had been captured.
Ferguson reported his losses as two killed, three wounded, and one missing
1779 - 1780: In 1779, Patrick Ferguson did not see any engagements but was promoted to Major.
In 1780, he began to see quite a bit more combat.  He was appointed an inspector of the militia and one of General Cornwallis' most dependable officers. He began to recruit loyalists throughout the Carolinas aggressively.
Battle of Musgrove's Mill: the Patriots surprised Ferguson and took about 70 of his men. The battle was a minor skirmish but was part of the guerilla-style warfare that took place in the Carolinas.
The pursuit of Isaac Shelby: Musgrove's Mill helped raise the morale of the Patriots after the devastating loss at Camden by Horatio Gates. Ferguson pursued Shelby after the surprise attack, but Shelby stayed ahead of him. After Shelby reached safety, he and others began to prepare to attack Ferguson.
Battle of King's Mountain and Death
When Major Ferguson reportedly threatened to invade the mountains beyond the legal limit on westward settlement unless the colonists there abandoned the cause of American independence, the Overmountain Men first mustered at Sycamore Shoals and organized a militia to eventually fight Ferguson and his British Loyalists at King's Pinnacle, an isolated ridge on the border between North Carolina and South Carolina.
On 7 October 1780, the two armies clashed during the Battle of King's Mountain. The battle went badly for the Loyalists positioned high on the mountain ridge, and during the fighting, Ferguson was shot from his horse. With his foot still in the stirrup, he was dragged to the rebel side.
According to Rebel's accounts, when a Patriot approached the Major for his surrender, Ferguson drew his pistol and shot him as a last act of defiance. Other soldiers retaliated, and Ferguson's body was found with eight musket holes in it.
Patriot accounts said their militia stripped his body of clothing and urinated on him before burial.
They buried him in an oxhide near the site of his fall.
One of Ferguson's mistresses, 'Virginia Sal,' was also killed in the battle and was buried with the officer.
Ferguson's personal correspondence reveals a man of intelligence, humor, and charm.
He also wrote several articles, satirical in tone, for publication in Rivington's Royal Gazette under the pseudonyms Egg-Shell, Memento Mori, and John Bull.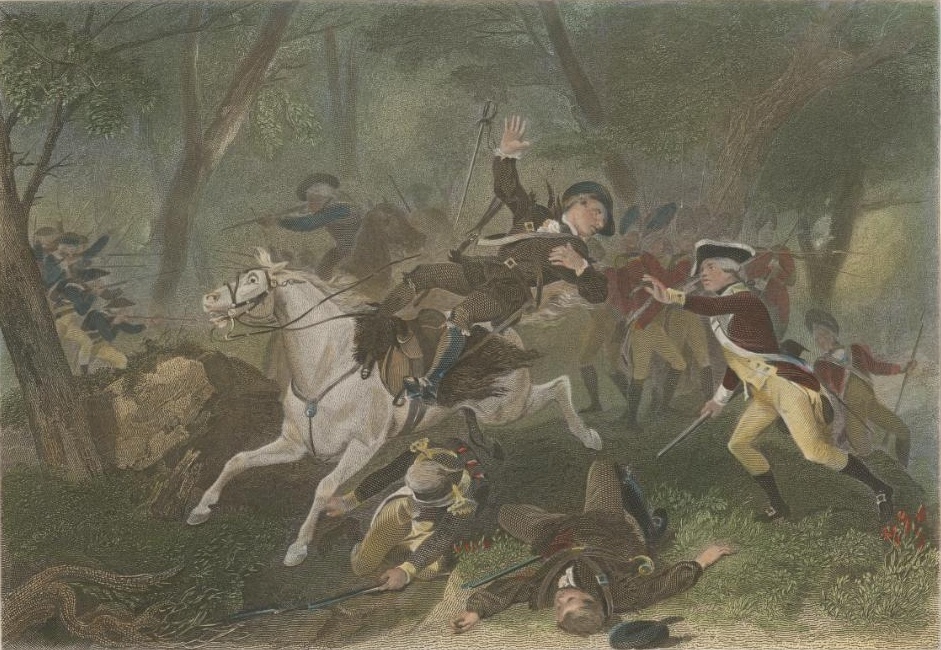 <- Return to American Revolution Guide