Peter Browne was a passenger on the Mayflower and a Stranger who came over with the Separatists to Plymouth Colony. While not a Pilgrim, he did seem to get along with them well.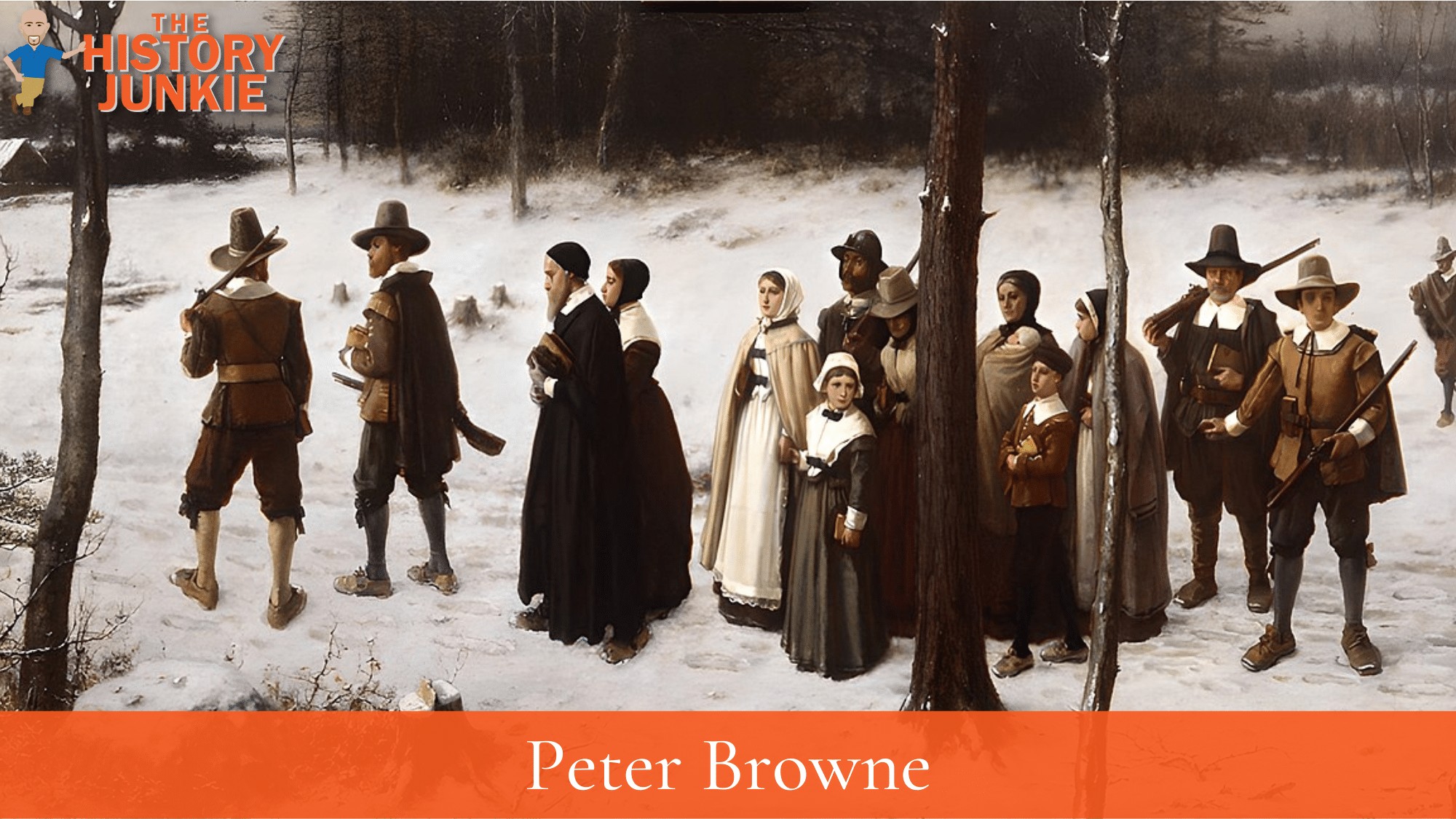 He was most likely born in England, and after his father died in 1605, he and his siblings were apprenticed to others around them. He most likely heard of the Mayflower from the Mullins family. The Mullins were a financial supporter of the Mayflower expedition, and Peter had connections with them through various marriages.
Jump to:
He left with the Separatists and was identified by William Bradford as a Stranger. A Stranger was someone who was not upper class or a servant but came to America to seek a new opportunity.
Upon his arrival in Plymouth, he signed the Mayflower Compact and quickly ran into some issues.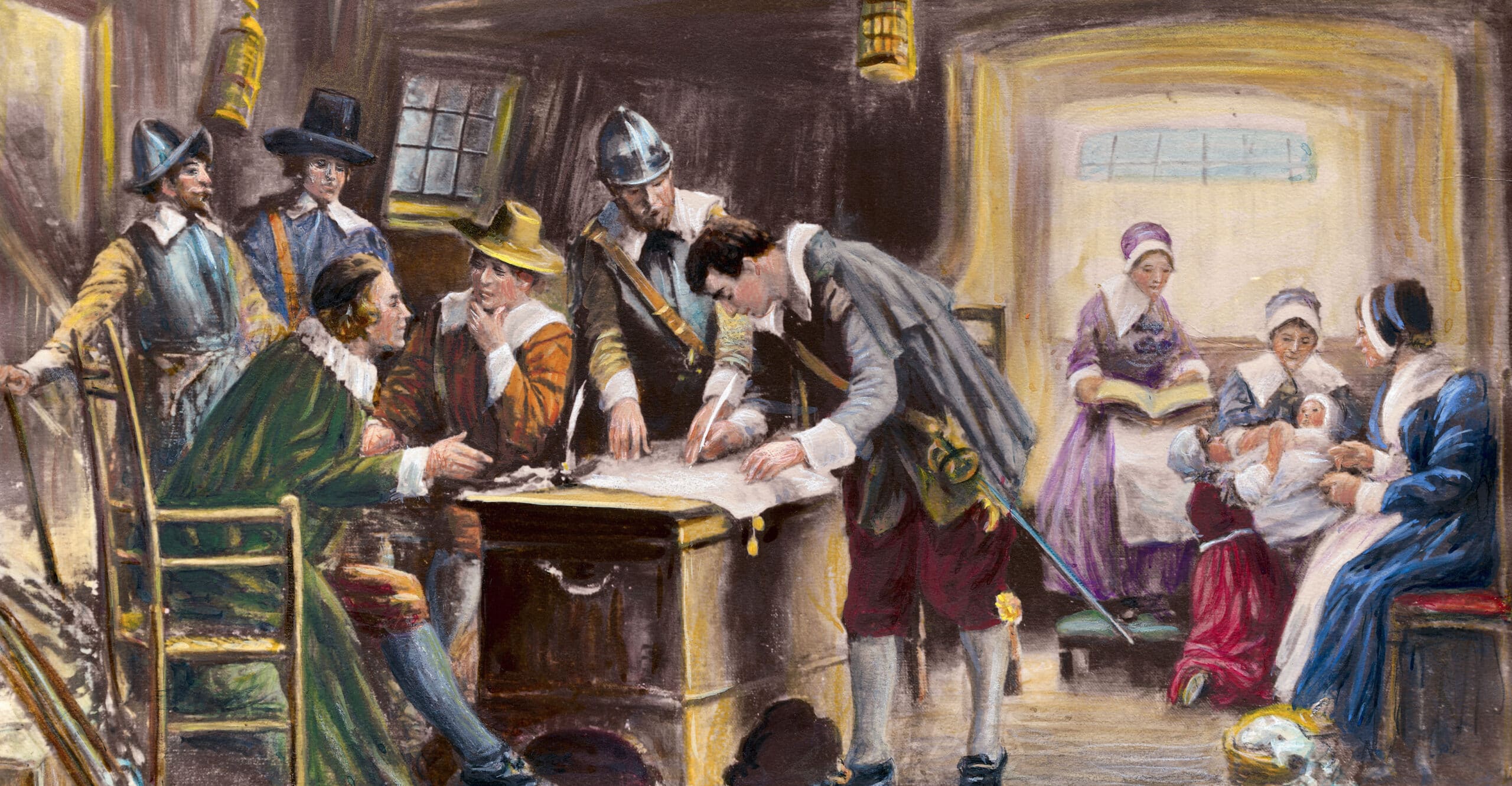 He, along with John Goodman, became lost while searching for supplies. It made the Pilgrims worried because the weather was extremely cold and unforgiving. They did not have sufficient shelter. They became worried that the Native Americans had captured them or that a wild animal had overtaken them. The men eventually made it back to everyone's excitement.
He was given an acre of land to cultivate. He lived near Samuel Fuller and Dr. Samuel Fuller.
He married twice. The first marriage was in 1626, and the second around 1630. His first wife most likely died during childbirth, and the second would outlive him.
Peter Browne died of an illness in 1633.
Family Overview
Peter was the son of William Browne of Dorking, England. There is little known about his birth family except that he had 5 siblings and that his father died when he was young. His father's death would have put him in a situation where he and his siblings would have been sent to apprenticeships around the area.
His first marriage was to Martha Ford, who arrived in Plymouth with her husband on the Fortune. Her husband passed away, and she remarried Peter. The couple had two daughters until Martha's death.
He remarried Mary, and the couple had two children together.
In 1633, Peter Browne became sick and was taken care of by Dr. Samuel Fuller. He died while in his care. Mary inherited his estate and lived until 1647.
Family Tree Chart
Parents:
William Browne (1570 - 1605) - His wife died prior to his death. His kids were young when he passed.
Unknown Mother
Spouse:
Martha Ford (1580 - 1630) - She came to America with her husband after the Mayflower. After his death, she remarried Peter and died during childbirth.
Mary Browne (1605 - 1647) - Her surname is unknown. She and Peter had two children together before his death.
Children:
Mary Brown (1626 - 1689) - She became an indentured servant after her father's death. She married and had 9 children.
Prisilla Browne (1629 - 1698) - She was also indentured and would marry later on. There are not any known children of hers.
Rebecca Browne (1631 - 1699) - She came from Peter's second marriage. She married into the Snow family and had 9 children.
Unknown Browne (1633 - 1647) - The child's name is not known, and they perhaps lived past 1647.
Siblings:
There were three younger siblings that are not listed but do appear in the records. However, their names and vital records are unknown.
John Browne (1600 - 1684)
James Browne (1603 - 1644)