President John Adams was probably the most qualified person to be President of the United States. He was a leading voice for Independence and one of the first to speak it. served as a diplomat to France, England, and the Dutch Republic, and he served as Vice-President to George Washington for eight years. It would be difficult to find anyone with more experience than him.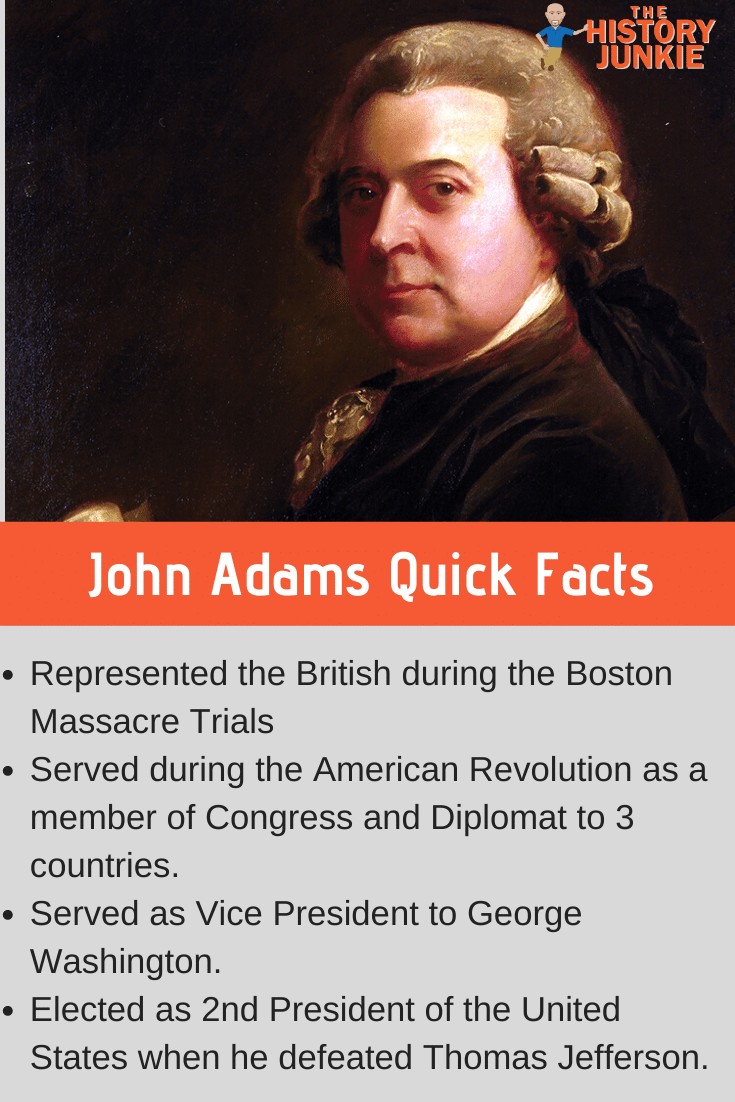 Jump to:
President John Adams: Timeline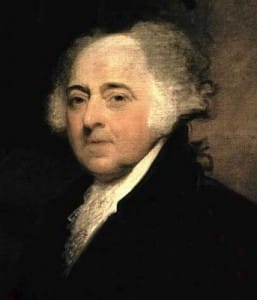 March 4, 1797: John Adams delivers Inaugural Address.
April 30, 1797: The French had a negative reaction to the U.S. British Jay Treaty and began seizing American ships and cargoes, and they refused the U.S. minister, Charles Pinkney.
January 8, 1798: The 11th Amendment to the Constitution of the United States was passed. The amendment says that federal courts cannot decide cases involving individuals from other states.
May 3, 1798: Congress establishes the Department of the Navy.
May 28, 1798: Congress empowers President Adams to enlist 10,000 men for possible war with France.
June 18, 1798: A new Naturalization Act was passed that required foreign-born residents to live in America for 14 years before they naturalize.
June 25, 1798: The Alien Act is passed that allows the President to deport any foreigner that deems potentially dangerous.
July 2, 1798: Adams appoints George Washington as commanding general of the U.S. military. Washington was too old for the appointment and places Alexander Hamilton, whom Adams disliked, in charge.
July 6, 1798: The Alien Enemies Act is passed, which gives the government the power to arrest any citizen of an enemy power who resides in or visits the United States in times of declared war.
July 14, 1798: The Sedition Act is enacted, which virtually nullifies the First Amendment freedoms of speech and press.
November 16, 1798: The Kentucky legislature adopts the Kentucky Resolution, which was authored by Thomas Jefferson. This resolution argues that states have the right to override federal powers not outlined in the Constitution.
February 9, 1799: The Constellation captures a French ship near the island of St. Kitts in the first American victory of a secret Quasi-War.
March 30, 1799: John Adams sends an envoy to France after France agrees to meet them.
February 1, 1800: The USS Constellation defeats another French vessel.
May 7, 1800: Congress divides the Northwest Territory into two parts.
September 30, 1800: The Quasi-War ends with France and American diplomats sign the Treaty of Mortfontaine.
November 1800: Adams moves into the White House, and Congress has its first sessions in the new capital.
November 11, 1800: Thomas Jefferson wins the Presidency. John Adams is bitter over his defeat.
January 20, 1801: The Judiciary Act reduces the number of Supreme Court justices to five, creating 16 circuit courts. Adams used this law to make 200 Midnight Appointments the night before Jefferson's inauguration.
March 3, 1801: Adams leaves Washington, D.C., and does not attend Jefferson's inauguration.
President John Adams: Key Appointments
First Lady: Abigail Adams
First Term: Presidential Election of 1896
Vice President:
Secretary of State:

Timothy Pickering
John Marshall

Secretary of Treasury:
Secretary of War:

James McHenry
Samuel Dexter

Attorney General:
Postmaster General:
Secretary of the Navy:
Supreme Court Appointments:

Bushrod Washington
Alfred Moore
John Marshall

5th Congress:
6th Congress:

Senate: 19 Federalists; 13 Democratic-Republicans
House: 64 Federalists; 42 Democratic-Republicans
Related Pages: