President John Tyler was the first president to become president without being elected. After the death of William Henry Harrison, he was sworn in. Considering that Harrison had not been able to do anything, John Tyler came in with his own ideas, and they would not be in line with the Whigs.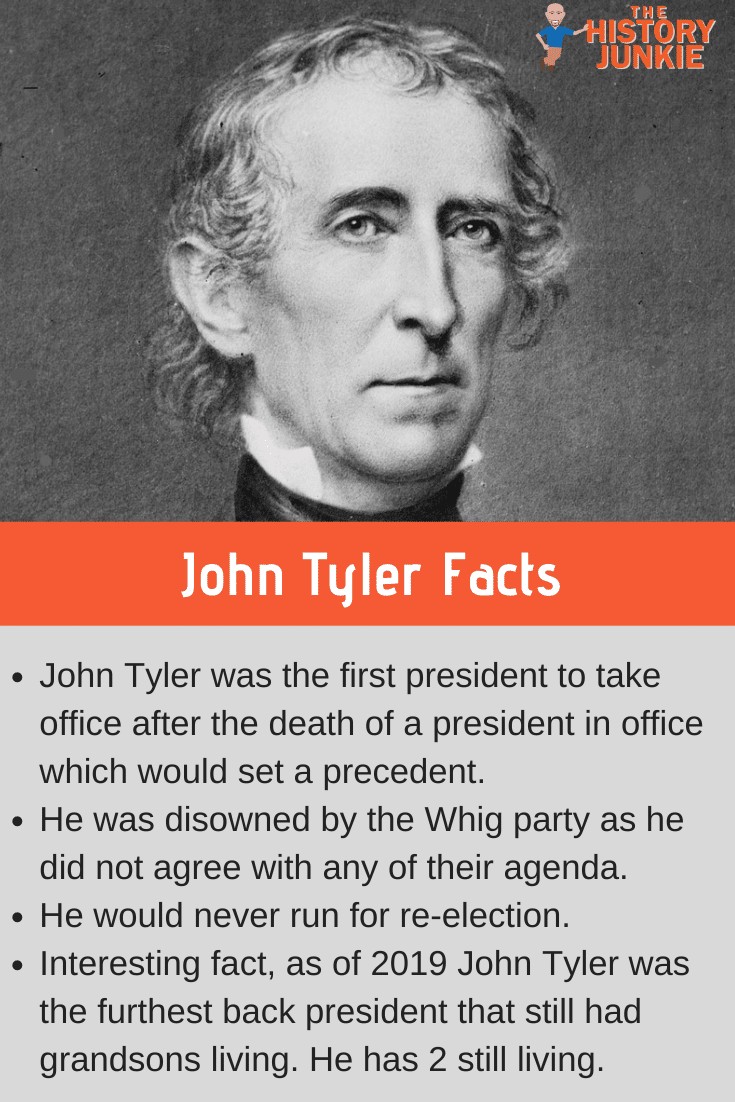 John Tyler became known for his actions, and he would set a precedent for future presidents who were thrust into a similar position as him.
Jump to:
John Tyler's Term
April 4, 1841: John Tyler assumes the presidency after the death of William Henry Harrison
April 9, 1841: Tyler announces his fiscal policy, which conflicts with the Whigs and what Harrison had planned on doing. Immediately, there was a rift in the party.
June 12 - August 16, 1841: The Whigs had been planning to reinstate the Bank of the United States since it was eliminated by Andrew Jackson. The bill passes Congress, and Tyler vetoed it. The divide deepens.
August 13, 1841: Congress repeals the Independent Treasury Act.
August 23 - September 9: The Bank Bill is revised and passed through Congress again. Tyler vetoes the bill again and destroys any chance at re-election within the first few months of his presidency. Whigs abandon him.
September 11, 1841: Tyler's entire cabinet, with the exception of Daniel Webster, resigns. Webster stays due to a delicate diplomatic mission at the U.S. and Canadian border.
March 3, 1842: Massachusetts passes the first Child Labor Laws, which restrict children under 12 years of age to no more than 10 hours a day. Also, in a landmark decision in the Supreme Court case Commonwealth v. Hunt, the courts ruled in favor of labor unions and their right to strike.
March 21 - 31, 1842: Whig Representative submits an anti-slavery bill and is censured. In frustration, he resigns but is voted back to the House a month later by his constituents. At the end of the month, Henry Clay realizes his opportunity to be President due to Tyler's lame-duck presidency and resigns from the Senate.
August 9, 1842: Daniel Webster finishes the Webster-Ashburton Treaty, which normalizes American and British relations again.
September 10, 1842: John Tyler's wife, Letitia Tyler, dies.
December 1842: The Tyler Doctrine expands the Monroe Doctrine to include Hawaii. The Hawaiian Islands had been influenced by American missionaries for 20 years, and the missionaries had influenced the Hawaiian Monarch to adopt a Constitution. Tyler reassures the Hawaiian government of their independence. However, by the end of the 1840s, American planters owned a third of the land.
March 1843: Dr. Marcus Whitman, a missionary and settler to the Oregon Territory, travels east to Washington to dispel rumors that the United States was planning on abandoning the Oregon Territory. Tyler reassures Whitman that they are not.
May 8, 1843: Daniel Webster resigns due to the possibilities of Texas Annexation. Webster would not support the cause due to his constituents.
May 29, 1843: John C. Fremont leads an expedition to the Oregon Territory and Northern California. During this expedition, he was the first to identify an independent system of rivers and lakes separated from the ocean by mountains.
June 1843: The Republican Party is founded
August 23, 1843: Mexican President Santa Anna tells the United States that if they support the annexation of Texas, then they would consider it an act of war. Tyler ignores this threat and resumes talks of annexation as soon as October.
February 18, 1844: President John Tyler escapes a tragic event when the USS Princeton guns malfunction and kill the Secretary of State Abel P. Usher, Secretary of Navy Thomas Gilmer, David Gardiner (Tyler's fiance's dad), and five other people.
March 22, 1844: President Andrew Jackson wrote a letter that was published in the Richmond Enquirer supporting Texas annexation.
April 12, 1844: President Sam Houston agrees to annex Texas when he is assured of a two-thirds majority in Congress and protection from a Mexican invasion.
April 17, 1844: Henry Clay shifts his opinion on Texas annexation and opposes it. This shift will be used by his opponents against him and will hurt him politically.
April 22, 1844: Tyler writes a letter to Congress supporting the Texas Annexation. 
April 27, 1844: Former President Martin Van Buren comes out in opposition to the Annexation of Texas. This was a political move as he did not want to upset the anti-slavery supporters in New York and New England.
May 1, 1844: The Whig Party nominates Henry Clay as their presidential candidate.
May 3, 1844: Anti-Catholic Sentiment begins to grow when Native Americans and Irish Americans have a conflict in Philadelphia. It resulted in the Native Americans setting fire to churches, homes, schoolhouses, and a rectory in Kensington.
May 29, 1844: James K. Polk defeat Martin Van Buren as presidential nominee for the Democratic Party. Polk is the first dark horse candidate in American History.
June 8, 1844: The Senate rejects the Annexation of Texas. Tyler tries to gain approval through a congressional joint approval but fails to do so.
June 26, 1844: Tyler marries Julie Gardiner in New York City.
July 3, 1844: The United States signs the Treaty of Wanghia that put the first United States trading post in China.
July 4, 1844: The U.S.Army gets involved in the Anti-catholic fighting in Philadelphia and ends it.
December 4, 1844: James K. Polk is elected as president. He plans to reannex Texas and reopen Oregon.
February 28, 1845: Congress passes a joint resolution to admit Texas as a state. Texas would accept on June 23.
March 23, 1845: Florida is admitted as a slave state, which makes it the 27th state of the union.