President Zachary Taylor took office after winning the Election of 1848.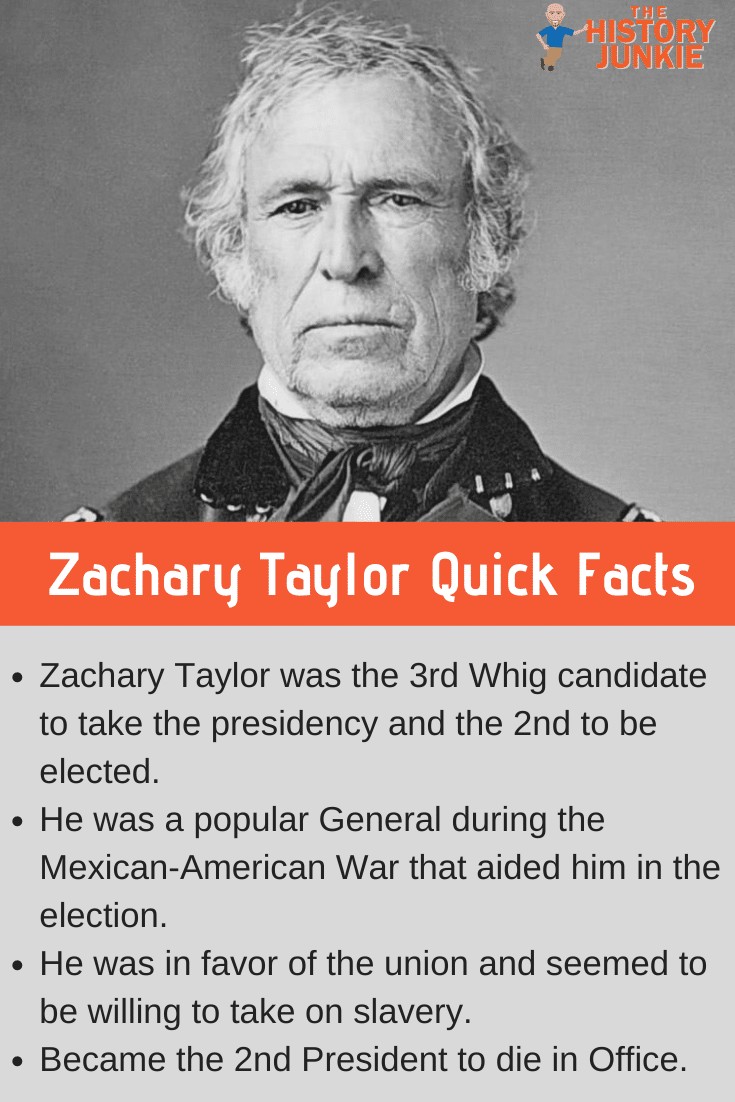 He had gained notoriety through his impressive victories during the Mexican War. He had been given the nickname "Old Rough and Ready," which went along with the American culture during that time.
When Zachary Taylor came to office, the Union was beginning to split. Slavery had become the primary issue, and slave states began speaking of secession. 
Taylor was a strong leader and was not afraid to use force against those threats. If not for his untimely death, one wonders what may have happened.
President Zachary Taylor's Term
September 1 - October 13, 1849: Slavery is banned in California during a constitutional convention.
November 13, 1849: Voters in California ratify their constitution.
December 4, 1849: In his first annual message to Congress, Zachary Taylor argues that California should be admitted as a free state since the voters chose to put a ban on slavery in their Constitution. 
February - March 1850: Taylor meets with Southern leaders who are threatening secession. Taylor promises to personally lead the army against any state that does not uphold the laws. Congress continues to debate the Compromise of 1850.
April 17, 1850: Taylor, like James Polk, wants to build a canal that connects the Pacific Ocean to the Atlantic Ocean. The British had claimed the Mosquito Coast of Nicaragua and proposed a canal zone. America tells Britain that they will not recognize their claim to the land. The British and Americans negotiate the Clayton-Bulwer Treaty. In this agreement, both nations agreed to never take exclusive control over the future canal and promise not to occupy or colonize Central America.
June 10, 1850: Delegates from nine slaveholding states meet in Nashville, Tennessee, to consider a response to the Compromise of 1850. Some radicals push for secession, while more moderates just want to extend the Missouri Compromise line to the Pacific Ocean.
July 4, 1850: President Zachary Taylor becomes ill after attending Independence Day celebrations on a hot day.
July 9, 1850: Zachary Taylor dies of gastroenteritis. Vice President Millard Fillmore is sworn in as the 13th President.