The Presidential Election of 1848 was again centered around slavery and how the potential candidate was going to deal with it.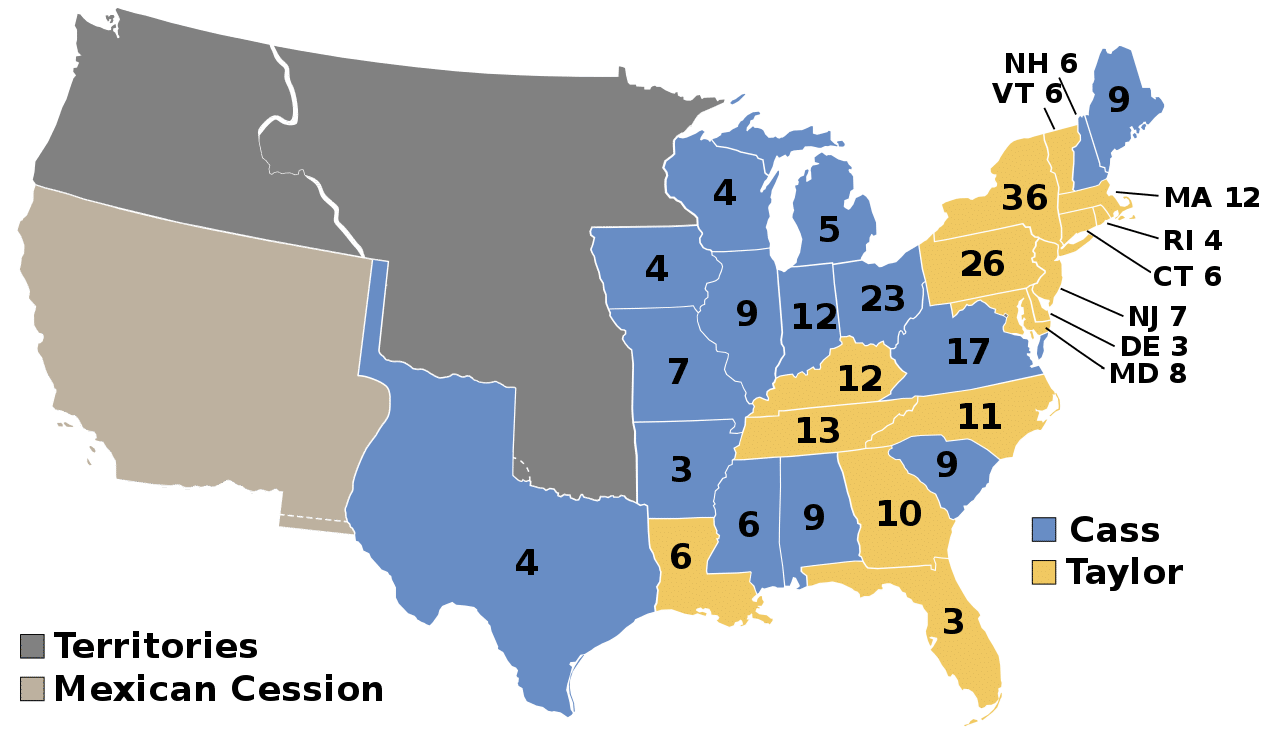 President James Polk had declined to run for a second term and would return home to Tennessee after his presidency. He would leave the United States much larger but still very divided.
Jump to:
Zachary Taylor had burst onto the scene as a populist candidate. His victories during the Mexican War had made him a celebrity. Meanwhile, Polk had left the Democrats with a positive reputation, and many Americans wanted to continue forward with Polk's vision.
A new party also emerged and would be an Anti-Slavery party. The party was called the Free-Soil Party.
The candidates for these parties are as follows:
Presidential Election of 1848: Platforms
Whigs: Zachary Taylor was a popular candidate with much enthusiasm behind him. Future presidents such as Abraham Lincoln and Rutherford B. Hayes campaigned for the General and said he was anti-Jacksonian. Taylor did not articulate what he stood for but rode on his popularity.
Democratic: Lewis Cass campaigned on a pro-expansion platform. He argued that the United States should also annex Mexico. He leaned pro-slavery, which divided the Democratic party.
Free Soil Party: Was formed from anti-slavery voters who were once Whigs, Democrats, and Liberty parties. The Free Soil advocated for all states to be admitted as free states and even the abolition of slaves.
Presidential Election of 1848: Outcome
The Democrats started strong but ended up splitting the vote. Despite not taking a single state, Martin Van Buren managed to spoil the chances for the Democrats as he was able to peel off enough votes in other states that it would cause Lewis Cass to lose. The biggest example of this is what occurred in New York.
The Whigs had the advantage of highlighting Taylor's military glories. With Taylor remaining vague on the issues, the campaign was dominated by personalities and personal attacks, with the Democrats calling Taylor vulgar, uneducated, cruel, and greedy and the Whigs attacking Cass for graft and dishonesty. The division of the Democrats over slavery allowed Taylor to dominate the Northeast.
Martin Van Buren knew that the Free Soil Party had little shot of winning, but he hoped that this election would lay the groundwork for a better showing in 1852.
Zachary Taylor would win the presidency and look to become a strong President as he showed signs of opposing secession. However, his untimely death caused that not to happen, and Millard Filmore would take over the presidency.