The Presidential Election of 1824 was a hotly contested and controversial election, which seemed fitting since the Election of 1820 was abnormally peaceful.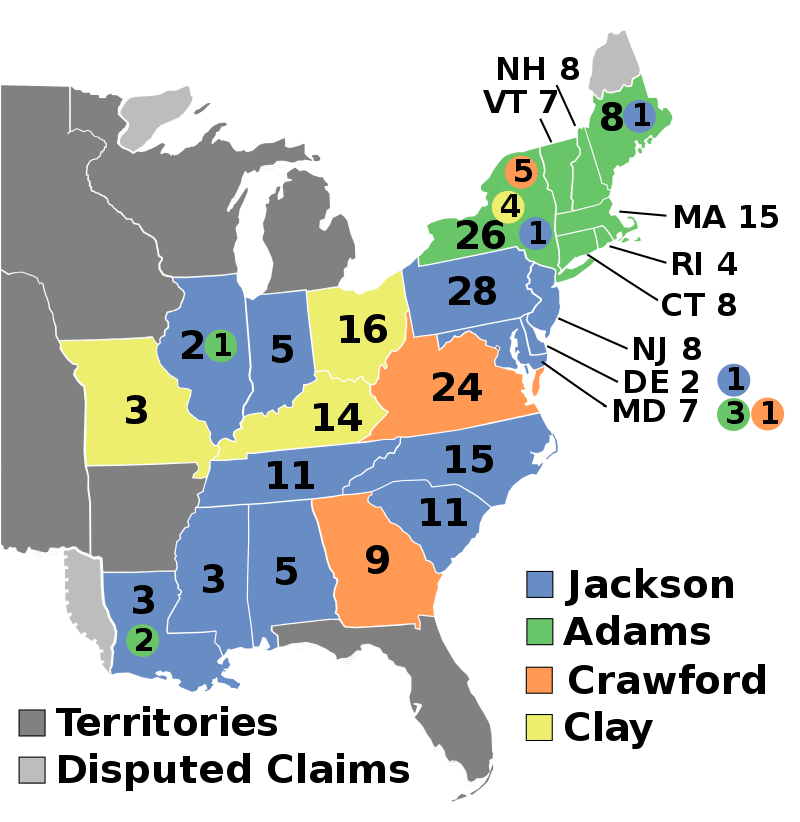 While the Democratic-Republicans were the dominant party, they were finally showing signs of trouble. Four candidates ran for President that was associated with the Democratic-Republicans, and each of the four leaned a different way.
Jump to:
The candidates were as follows:
Presidential Election of 1824: Platforms
The primary issues of the day had to do with tariffs and the Missouri Compromise. Slavery was continuing to gain traction as a significant issue.
Another primary platform was the popularity of Andrew Jackson, who was seen as a relatable candidate. Previous Presidents had been from the Revolutionary War generation and seemed to have a certain aura around them. 
Andrew Jackson, however, had made his own way and had won popularity during the War of 1812. He had many ideas for reform that worried others in the government.
Presidential Election of 1824: Outcome
The outcome was split in 4 different ways.
John Quincy Adams won most of New England, while Andrew Jackson dominated the West. William Crawford did well in Virginia and North Carolina, and Henry Clay plucked some votes from the West.
It was clear that Andrew Jackson had the widest appeal as he did well in all regions, even if he did not win the state. 
A candidate needed 131 elector electoral votes as follows:
Andrew Jackson: 99
John Quincy Adams: 84
William H. Crawford: 41
Henry Clay: 37
The election was thrown to the House to decide, similar to what occurred in the election of 1800. John Quincy Adams would emerge as the winner, and Andrew Jackson would be shocked and label the win as the "corrupt bargain."