Unlike the Election of 1800, the Election of 1804 was never in doubt.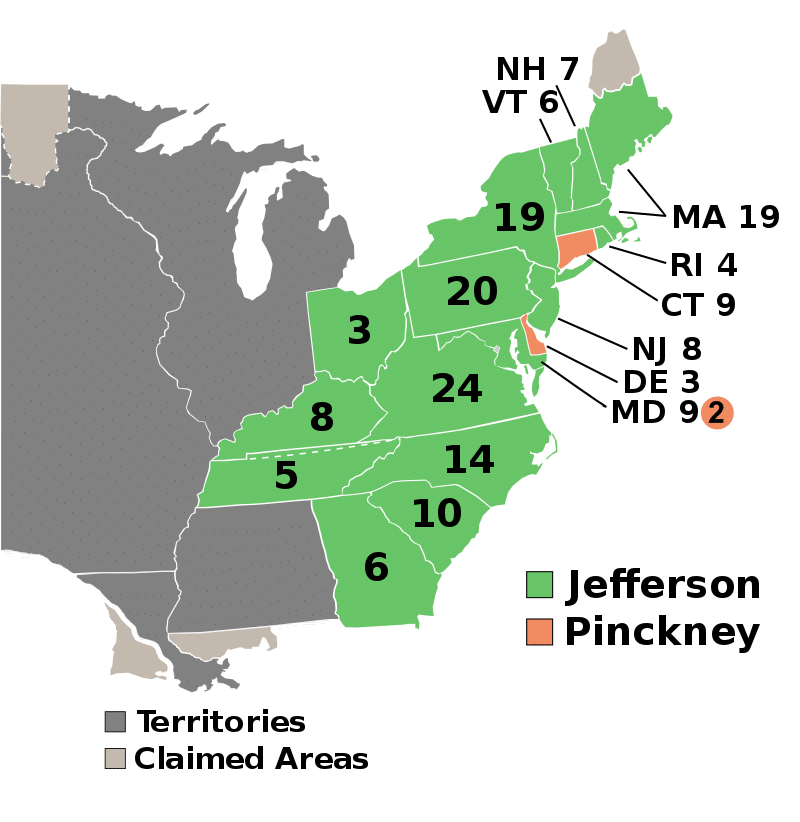 The leader of the Federalists, Alexander Hamilton, had been killed in a duel with Aaron Burr which left the party disorganized. Jefferson was also extremely popular with the people, and there was overwhelming support for the Louisiana Purchase.
Jump to:
The biggest change in this election was on the ticket. Prior to the election, the Vice President of the United States was the second-place finisher. However, in the Election of 1804, the ticket was composed of the President and Vice President.
Presidential Election of 1804: Platforms
Democratic-Republicans: Thomas Jefferson was a popular candidate. In his first term, he doubled the size of the United States, and trade was booming due to a temporary ceasefire during the French Revolutionary War. 
Federalists: Argued that Jefferson violated the constitution with the Louisiana Purchase, criticized Jefferson's gunboat navy, and even accused him of fathering a child with his slave Sally Hemmings.
Election Results
Thomas Jefferson and George Clinton won easily. Thomas Jefferson and the Louisiana Purchase made him a popular president despite his struggles in the American economy. Jefferson still remained well-known and popular due to his contributions during the American Revolutionary War.
The Democratic-Republicans took all states with the exception of Connecticut and Delaware.  This included Massachusetts, which would be devastated by Thomas Jefferson's Embargo of British goods in the second term.
Jefferson's 45.6 percentage point victory margin remains the highest victory margin in a presidential election in which there were multiple major party candidates.
His second term would be a disaster. However, the Federalist Party was now disorganized and unable to pick up the pieces after the death of their leader. 
This would be the fourth term to be won by a Virginian.