The Quinnipiac Indian Tribe was a Northeast Native American tribe that resided in the modern state of Connecticut.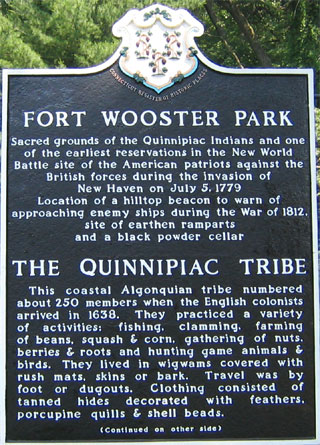 The Quinnipiac spoke the Algonquian language and would be the first tribe put on a reservation by the English in 1638. The tribe no longer exists today.
History
The name Quinnipiac is a name that the English called the tribe. The word meant long water land or long water country.
The tribe had four distinct groups:
Momauguin - Lived in New Haven
Montowese - Lived in North Haven
Shaumpish - Lived in Guilford
Totoket - Lived in Branford
These four groups lived in Connecticut and Long Island.
Each group had its own leader, which was called a sachem. The Sachem would work together to keep their groups unified and sourced. 
Within each group, there were sub-groups, and these leaders were usually hunters and trappers. 
When the Europeans (Adriaen Block is credited with the first contact) arrived, the Quinnipiac traded with them and had a peaceful relationship. However, they were devastated by diseases that were brought over by the Europeans. This disease ravaged the tribe and decreased its population to a small number.
By 1638, the settlement of New Haven had occurred, and the English bought much of the land that belonged to the Quinnipiac, and the tribe moved to a reservation that the two of them agreed on.
The Wampanoag Tribe under King Philip became embroiled in a war with the English that became known as King Philip's War. The Quinnipiacs allied with the English and lost almost two-thirds of their population.
Despite the fact that the Quinnipiac had fought with the colonists, upon return to their settlements, the Indians discovered that their English allies had built a fort around their lands, refusing any Indian to enter.
Exiled, what was left of the Quinnipiac tribe was forced to join surrounding Native American tribes, such as the Tunxis tribe of Farmington.
As of 1774, only 71 natives remained, and finally, in 1850, the last of the Quinnipiac tribe passed.
There are still natives of Connecticut that have Quinnipiac ancestors, but they are no known full-blooded Quinnipiacs left.