Robert E. Lee was the leading general of the Confederate States of America during the American Civil War and an icon of heroism and brilliant leadership. He was a career officer in the United States Army before resigning his commission at the outbreak of war and joining the Confederacy, where he commanded the Army of Northern Virginia to great effect, so much so that his tactics are still being studied today.
More than 600,000 Americans died in the short space of four years; Lee's formal surrender at Appomattox on April 9, 1865, stopped the killing for which he is regarded by many as a hero. The life he led after his surrender set an example for others to follow and did much for reconciliation between North and South.
General Lee, however, is not at the top of the greatest American field commanders. George Patton, Stonewall Jackson, and Ulysses Grant would rank higher.
Jump to:
Early Life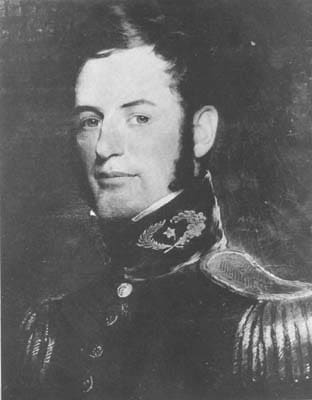 He was born Robert Edward Lee in Stratford Hall, the ancestral home of the Lees in Westmoreland County, Virginia, and the fourth child of Colonel Henry Lee III ("Light Horse" Harry Lee) and Ann Hill Carter.
His family had produced many prominent figures in American history (among them was Richard Lee, signer of the Declaration of Independence), and Lee's father had been George Washington's favorite cavalry leader during the American Revolution as well as the governor of Virginia; indeed, it was Henry Lee who delivered the famous eulogy at Washington's funeral.
Years later, Robert would continue relations with the Washington family by marrying a distant cousin, Mary Anne Randolph Custis, the great-granddaughter of Martha Washington and heiress to several plantations.
Henry Lee, unfortunately, was a spendthrift, squandering his wealth in land speculating schemes, eventually losing the Stratford home. In 1812, he discovered a friend's newspaper in Baltimore had made political enemies, and when Henry had defended him from rioters, he ended up horribly beaten and took to the Bahamas in hopes the tropical climate might restore his health.
He would die on Cumberland Island, Georgia, while on his way home six years later, his attempts at restoring his health fruitless. By this time, Robert was 11, and Henry had left Anne seven children to take care of with little more than an aristocratic name and a small endowment from her father.
Robert was already close to his mother, and from her, he learned the strength of character, high moral principles, and the ability to pinch what little money they had.
He had to due to his brothers Henry IV and Carter attending college and Smith being put to sea as a midshipman; sister Anne was continually sick, and mother was increasingly becoming invalid. This had the effect of causing Robert to grow up fast, while his poverty led him to excel at whatever task came his way.
Early Military Career
Sir
I hereby accept the appointment to the station of a Cadet in the service of the United States, with which I have been honoured by the President.
The above is the declaration of consent, which my letter of appointment instructs me should accompany my acceptance.
I remain with the highest respect, Sir
Your most obliged & most obedient Servant
R. E. LEE
Although an outstanding student at Alexandria Academy, where he excelled in mathematics, Robert was unable to afford a university education, so the only option available to him was a slim possibility of an appointment to the United States Military Academy. Through the services of the family's counselor, William H. Fitzhugh of Ravensworth, Robert obtained a letter of recommendation and personally delivered it to John C. Calhoun, then the Secretary of War.
Robert E. Lee was successful, and he was appointed on March 11, 1824, to begin studies the following year for the graduating class of 1829. His conduct at West Point during his four years there was exemplary. At the top or near it in every field of study, he would attain the unheard-of rank of cadet staff sergeant at the end of his first year and be selected adjutant, the most sought-after rank, during his final year. When he graduated in 1829, he was ranked second (behind Charles Mason) and had no demerits.
Despite his high bearing, he made friends easily, and no one of record took a dislike to him. By this time, he had become a handsome young man with manners to match; he was referred to as "the marble model" at the academy. One cadet spoke years later of Lee: "His personal appearance surpassed in manly beauty that of any cadet in the corps. Though firm in his position and perfectly erect, he had none of the stiffness so often assumed by men who affect to be very strict in their ideas of what is military".
He selected the Engineering Corps after graduation, the branch of the Army considered most elite, but his first duty station was far from it. Cockspur Island, Georgia, at the mouth of the Savannah River, where he labored for days in mosquito-infested mud building the drainage dikes and canal that became part of Fort Pulaski.
Within his first two years, he was back in Alexandria for something far more pleasant: his marriage to Mary Custis in June 1831. The marriage also gave him title to the Custis Estate at Arlington, a majestic building with a columned entrance reminiscent of classical Greek and Roman architecture.
The marriage was blissful for the first four years, and Mary gave birth to two children: George Washington Custis (nicknamed "Boo") in 1832 and Mary Custis in 1835. It was soon after that the elder Mary developed arthritis, leaving Robert stunned. "I never saw a man so changed and saddened," lamented a relative later. In spite of her affliction, Mary produced five more children: William Henry Fitzhugh ("Roonie") in 1837; Anne ("Annie") in 1839; Agnes in 1841; Robert Edward Jr. ("Rob") in 1843; and Mildred in 1846.
Mexican War
Congress approved a declaration of war against Mexico on May 13, 1846, and by the following January, Captain Lee received orders to join Major General Winfield Scott at Brazos, where he was included with the general staff in planning operations for an invasion of the city of Veracruz.
Landings began on March 9, and by March 17, Lee had placed a large number of cannons some 700 yards from the Mexican defenses, his engineering skills successful as the enemy was unaware of his placements. During the next few days, as a naval bombardment was taking place, Robert E. Lee ran his lines closer; he would open fire himself on March 24. Two days later, a truce was granted, and Veracruz capitulated.
Lee then set to work at finding a path to Mexico City over the ground, which was difficult, but not impossible, for Scott's army to pass over. A series of engagements took place on the route, among them an attack on Cerro Gordo. Scott's plan for action called for an infantry assault simultaneous with an artillery bombardment; Lee was to lead a brigade around the northern flank to cut off the enemy's retreat.
Before nightfall took place on April 18, 1847, some 3,000 Mexican soldiers had surrendered, and the remainder were in flight to the rear; the leader of the Mexican force, General Antonio Lopez de Santa Anna, had barely managed to escape.
"I am impelled to make special mention of the services of Captain R.E. Lee," Scott wrote in one of his reports. "This officer, greatly distinguished at the siege of Vera Cruz, was again indefatigable during these operations (Cerro Gordo), in reconnaissance as daring as laborious and of the utmost value."
The recognition also met that Robert was placed ahead of fellow soldiers who served with him in Mexico, among them P.G.T Beauregard, Joseph E. Johnston, and Thomas J. Jackson.
Scott would rely heavily on Lee in the next few months, as Mexico City was finally taken in September, again with Lee making observations of enemy terrain and using it to his advantage.
He would be brevetted to major before the war drew to a close and brevetted again to lieutenant colonel at its close; Scott would call him "the very best soldier that I ever saw in the field"
Peacetime
Fort Carroll in Baltimore Harbor was his next duty station for three years, followed by three years as superintendent of West Point in 1852. During his time there, he improved the course curriculum and spent much time with the cadets; he also had the pleasure of watching his son George march with the cadets, beaming with pride as he graduated first in his class in 1854.
In 1855, Lee was sent to Texas, serving Colonel Albert Sidney Johnston of the 2nd Cavalry. There, he helped protect settlers from Indian attacks. Lee was not happy to be away from his family for extended periods of time, as Mary's invalidity was increasing. On the death of his mother-in-law in 1859, he was forced to leave Texas and serve as executor of the estate.
In October 1859, a crisis erupted at the Federal arsenal at Harpers Ferry in northern Virginia; a fanatical abolitionist named John Brown and a small force of 21 men held some sixty hostages; there was the threat that Brown was hoping for a general slave revolt. As the nearest ranking officer, Lee was ordered to the area, where he commanded U.S. Marines in the storming of the arsenal, wounding Brown and capturing or killing the rest.
Robert E. Lee believed slavery to be a political and moral evil. "I can anticipate no greater calamity for the country than a dissolution of the Union," Lee said in a letter to his son. "I will sacrifice everything but honor for its preservation." Such thoughts went through his mind during the sixteen months following John Brown's raid; by April 1861, seven states had seceded over the long years of the slavery and state rights questions.
On April 18, 1861, four days after the fall of Fort Sumter, Lieutenant General Winfield Scott offered Lee command of all Union forces assembling for the insurrection. "I could take no part in an invasion of the southern states," was his reply, and Lee resigned his commission, ending more than thirty years of service. A fortnight later, Virginia herself seceded, and Lee, feeling a duty to his "native state," offered his services.
The Civil War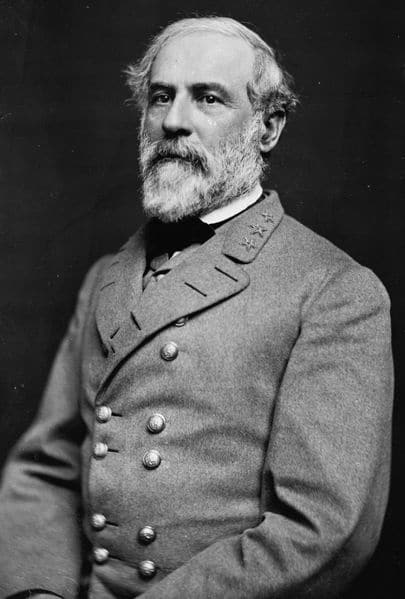 Lee was appointed commander in chief of all Confederate forces in Virginia, and among his tasks were to concentrate troops and logistics at places to repel an expected invasion. During this time, Lee was driven out of western Virginia by a Union force under Major General George B. McClellan, thus holding the area for the Union (it would eventually become the state of West Virginia in 1863).
He was also among the few on both sides to realize that, instead of a short, decisive, and relatively bloodless conflict, this would be a long, bloody affair. Lee served several rather unrewarding positions between July 1861 and June 1862, the last of which was military adviser to President Jefferson Davis; despite this, he was able to work out a coherent strategy for the Confederate defense.
During McClellan's Peninsular Campaign in May 1862, troops under Confederate General Joseph E. Johnston were being driven towards Richmond by the heavily equipped and organized Army of the Potomac. To relieve the pressure on Johnston, Lee collaborated with Thomas J. ("Stonewall") Jackson to turn several minor garrisons into a superb force that then struck at targets in the Shenandoah Valley; the surprised Federals were forced into retreating, leaving Washington under threat.
This, in turn, caused President Abraham Lincoln to withhold from McClellan a large corps by which McClellan had planned to attack Richmond; on May 31, McClellan was attacked by Johnston's forces at Fair Oaks. Although inconclusive, Johnston was wounded and had to withdraw from active duty. Davis then gave the command to Lee.
Lee Take a Field Command
Within three weeks, Johnston's former command had been transformed into a new Army of Northern Virginia. Lee transferred his headquarters to the field so as to be near his men. When Jackson arrived with his men from the valley, Lee struck at McClellan on the north bank of the Chickahominy River, defeating the right wing and descending on McClellan's supply line from his York River base.
This was the start of the Seven Days battles, in which, in a series of encounters, McClellan was forced to withdraw his army to the wharves of Berkley Plantation, getting aid from vessels of the U.S. Navy. The Seven Days was the first Confederate victory since the First Bull Run, and Lee became a major hero.
He then inflicted several defeats on the Union - some very severe – especially on August 29–30, 1862, at Manassas, Virginia, in the Second Battle of Bull Run. Lee then crossed into Maryland, in part to gather Southern sympathizers in that state and also to carry the fight to enemy territory, with which he planned on drawing the enemy out of Virginia.
Unfortunately, his battle plans fell into Union hands, and the Army of the Potomac, again under McClellan, met him at Sharpsburg, Maryland, on September 17 in the Battle of Antietam, which became, with well over 19,000 casualties, the single bloodiest day in American history. Lee lost this battle and was able to retreat back into Virginia to reorganize his army, and by December, he seized back the initiative with a decisive victory over the Union army (under Ambrose Burnside) at Fredericksburg.
The following May 1863, the battle of Chancellorsville took place, and although outnumbered by at least two to one, he divided his forces twice and circled the Federals under "Fighting Joe" Joseph Hooker in one of the most audacious maneuvers in military history. He also suffered the irreparable loss of Stonewall Jackson, mortally wounded while reconnoitering the left flank.
Again, Lee tried to draw the enemy out of Virginia; this time, he crossed the Potomac and headed north into Pennsylvania, where he hoped to resupply his men. He was met and stopped during the first week of July in a massive, three-day engagement at Gettysburg. The battle would become the storied "high tide" of the Confederacy, and after the war, Southern historians would strive to find ways to excuse Lee for the battle, blaming the devastating loss on many of Lee's subordinates (especially James Longstreet, who opposed Lee's strategy for the battle).
Although there were major failures by subordinates, most notably General A.P. Hill allowing a general engagement to occur in opposition to Lee's orders and General Dick Ewell keeping his corp deployed North of the battlefield, limiting its effectiveness, much of the blame lies with Lee himself.
General Lee gave very discretionary orders that were often misinterpreted and, during the battle, was often conspicuously absent from the action. He was also not yet comfortable with using Longstreet as a strategic advisor as Jackson had been, not agreeing with Longstreet's general defensive mindset. Although the loss was a combination of many factors, Lee showed his usual grace in accepting full responsibility for the battle.
Final Year and Surrender
In May 1864, Lee faced a proved fighter: Ulysses S. Grant, just appointed as commanding general of all Union forces, who went after Lee with enormous superiority in men, cavalry, and logistics. For his part, Grant could neither defeat nor outmaneuver Lee during the next several months. Starting with the Battle of the Wilderness, Lee and Grant met in a series of battles that made up the Overland Campaign.
Marked by heavy entrenchment that would culminate in the Siege of Petersburg, the Campaign began with the Battle of the Wilderness and continued with a series of redeployments southward as Grant attempted to move around Lee's right flank continuously.
At the battles of Wilderness, Spotsylvania Court House, North Anna, and Cold Harbor, Grant sustained heavy losses of 50,000 men. Lee would also suffer heavy losses, as well as the death of his cavalry commander, J.E.B. Stuart, at the battle of Yellow Tavern and the temporary loss of James Longstreet, wounded by friendly fire in the Wilderness.
But Grant kept after him, his losses replaced by new recruits, while Lee's army was draining in both men and supplies. Grant realized that his current line of attack was not working and made a large redeployment to Petersburg, an important rail junction South of Richmond.
Lee had no other choice but to place his starving men in defensive positions and endure a long siege; due to Lee's mastery of engineering, his field fortifications were able to hold the Federals back from June 1864 to April 1865. As his army began to dissipate due to lack of supplies and desertions, Lee realized it would only be a matter of time before the lines broke.
By the end of March, the final supply connections to Lee's armies were broken, and on April 2, Lee was forced to retreat from Petersburg.
Forced to abandon Petersburg and Richmond, Lee attempted to escape to the west and join forces with Joseph E. Johnston's Army of Tennessee in North Carolina. Several days later, his army was finally surrounded at Appomattox Court House.
On the morning of April 9, he ordered one last attempt to break out but found he had no choice but to surrender; the pain of the surrender was considerably lessened by the generous terms offered by Grant, who not only allowed the surrendered officers to retain their swords and sidearms but allowed the men to take with them their horses and mules to get a badly-needed spring crop planted if the country was to rebound from the years of war.
Robert E. Lee conceded this would have the best possible effect on the men and would do much to reconcile the country. With the formalities of surrender over, there was one order left to pass on to his men:
HDQRS. ARMY OF NORTHERN VIRGINIA, April 10, 1865.
After four years of arduous service, marked by unsurpassed courage and fortitude, the Army of Northern Virginia has been compelled to yield to overwhelming numbers and resources. I need not tell the brave survivors of so many hard-fought battles, who have remained steadfast to the last, that I have consented to the result from no distrust of them. But, feeling that valor and devotion could accomplish nothing that could compensate for the loss that must have attended the continuance of the contest, I determined to avoid the useless sacrifice of those whose past services have endeared them to their countrymen. By the terms of the agreement, officers and men can return to their homes and remain until exchanged. You will take with you the satisfaction that proceeds from the consciousness of duty faithfully performed, and I earnestly pray that a merciful God will extend to you his blessing and protection. With an increasing admiration of your constancy and devotion to your country and a grateful remembrance of your kind and generous consideration for me, I bid you all an affectionate farewell.
R. E. LEE,
General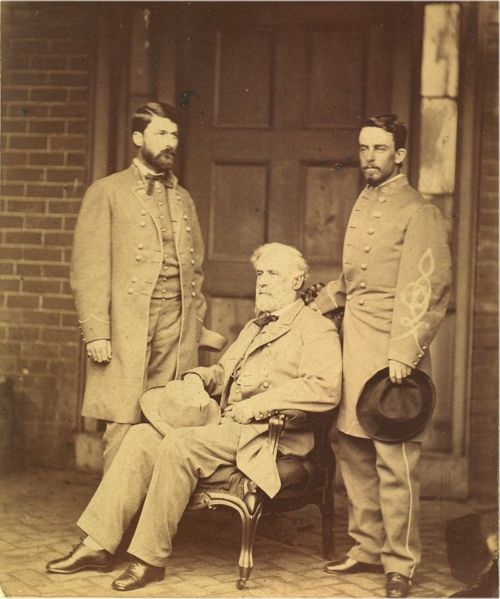 Last Years
At the age of 58, Lee was out of work. He was living in a borrowed home in Richmond, taking care of his invalid wife and three daughters. Numerous offers for income did come his way in the ensuing months, each requesting the use of his name, with the largest sum valued at $50,000.
Lee turned each of them down. He also discovered that a grand jury had assembled in Norfolk with the intention of putting him on trial for treason; only the intervention of Grant, who demanded that President Andrew Johnson respect the conditions of Confederate paroles in light of the surrender, was the trial canceled and charges quietly dropped.
Although he applied for amnesty and a full restoration of citizenship, this was not granted; his amnesty document had disappeared (possibly deliberately) within the National Archives and would not be seen again for a century.
Trusting in God to provide some means of sustenance, he had a visitor to his door in the form of Judge John W. Brockenbrough, who, to Lee's great surprise, had told him that he was unanimously elected to be president of Washington College in Lexington, Virginia.
"I consider the proper education of (the South's) youth one of the most important objects now to be obtained and one from which the greatest benefits may be expected. Nothing will compensate us for the depression of the standard of our moral and intellectual culture, and each state should take the most energetic measures to revive its schools and colleges and, if possible, to increase the facilities of instruction and to elevate the standard of living."
Even though the college itself was on hard times (it had less than a semester of financial life left when Lee took over), Lee set at once to revitalizing it. With donors from across the country, he was able to hire staff and faculty, put up additional buildings, and add more books to the library. More important was the curriculum he installed: law, chemistry, and engineering had replaced studies in the classics.
As to the rules, he insisted on one, namely, "every young man must conduct himself as a gentleman." Everything else was needless, he said.
Although they were not friends, Lee never forgot Grant's magnanimity at Appomattox and would not tolerate an unkind word to be said about him. Once, when a college faculty member did just that when Grant was running for president, the retort from an angry Lee was unforgettable: "Sir, if you dare presume to speak anything disrespectful of General Grant in my presence again, either you or I will sever your connections with this university."
But as the years went by, his own health deteriorated. His heart condition hindered his work, and his once-frequent rides on Traveller became less so. On September 28, 1870, Lee had a stroke.
He never recovered and died on October 11, 1870. His last words were the familiar command to begin the movement of his army, "Strike the tent."
Two weeks later, in memory of Robert E. Lee and his remarkable achievement of restoring new life to Washington College, the trustees changed the name to Washington and Lee University.