Horatio Gates is known for his victory at Saratoga and his disgrace at Camden, but his service in the military can not be described with only two battles. He served in the British Army for 24 years before becoming a Major General in the Continental Army.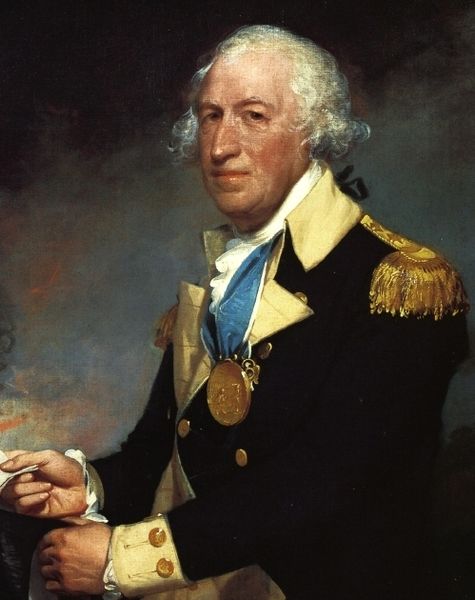 During his tenure, he participated in the Conway Cabal, which tried to overthrow General Washington based on incompetence. He is known as an ambitious and arrogant man. He was rightly depicted in the movie The Crossing.
Jump to:
Early Years
Horatio Gates was born in Essex, England in 1727. He served in the German 20th Foot during the War of the Austrian Succession. He was well-educated in European-style warfare and lived in their aristocratic system.
He would come to the Middle Colony of New York in 1754 after he purchased a captaincy of the New York troops. When the French and Indian War broke out, he would fight along the British and take part in the ill-fated march of General Edward Braddock.
During the march, he would come in contact with many future Revolutionary War Leaders such as George Washington, Daniel Morgan, Thomas Gage, and Charles Lee. However, Gates did not see as much combat as these men due to being ill.
Gates married Elizabeth Philips in 1755. The couple had a son, Robert, in 1758.
His military career began to stall after the Seven Years' War. He also became frustrated with how one rose in rank in the British military.
Unlike the 13 original colonies, in Britain, one rose through the ranks by their wealth or influence.
This class hierarchy frustrated many, and Gates was no exception.  He would go on to sell his major's commission in 1769. By 1772, he had re-established contact with George Washington and bought a plantation in the Southern Colony of Virginia.
American Revolutionary War
At the outbreak of the American Revolutionary War, Gates rode to Mount Vernon and gave his support to Washington. Washington would appeal to Congress to make Gates an Adjutant General of the newly formed Continental Army. He, along with Charles Lee, would be the only two commanders with significant experience in the British Army.
Gates was a valuable resource in the beginning stages of the army. He was an excellent administrator and organized the army's system of records as well as standardized the regiments of the various colonies.
He had a great understanding of how a professional army should appear as well as run on the back end.
During the Siege of Boston, he became a voice of caution and warned the commanders not to take unnecessary risks. In June of 1776, Gates was promoted to Major General and given command of the Canadian department.
The Canadian Department of the Army was in retreat from their assault on Quebec. Leading the retreat back to Fort Ticonderoga was Benedict Arnold.
The rest of the Summer was spent overseeing an American Fleet for the defense of Fort Ticonderoga and Lake Champlain. With this, he placed Benedict Arnold in charge, who had experience as a seaman. This fleet would engage the British in the Battle of Valcour Island, which the British won. The attack did delay Burgoyne's Northern Invasion.
Just before the Battle of Trenton, Gates advised Washington not to attack the Hessians. When Washington dismissed his advice, he claimed he was sick and could not take part in the stealth attack. Instead, he rode to Baltimore, Maryland, where Congress was meeting.
Gates believed that he should be the Commander-in-chief of the Continental Army and not Washington. He was highly critical of the General and believed him to be incompetent when it came to the military. There were many men in Congress who supported his claim. One of the most notable men who supported him was Benjamin Rush.
While in Baltimore, Congress received news that Washington had won in Trenton and Princeton. This victory cemented Washington as the General of the Continental Army. Gates would have to wait another day.
Gates avoided responsibility when it was his fault and took credit when it was not his accomplishment. This is seen when Burgoyne captured Fort Ticonderoga. Although Gates was in charge for most of the time, General Schuyler took the blame. He would conversely do this in Saratoga.
Gates took control of the Northern Army in August of 1777. He would be the commanding officer in the Battle of Saratoga. He received the credit for the victory. However, Benedict Arnold, Daniel Morgan, Enoch Poor, Benjamin Lincoln, and John Stark deserve the most credit. Nevertheless, the Battle of Saratoga gave Benjamin Franklin the influence he needed to secure a French alliance.
With his success in the Saratoga campaign, Gates once again tried to turn Congress against Washington, who was having little success in his campaigns. Gates began to insult Washington by sending reports directly to Congress instead of Washington, who was his superior officer.
Congress did not reprimand him and soon, with influence from many of his New England supporters, was appointed as head of the Board of War. This was an unprecedented conflict of interest as it made Gates, Washington's civilian superior. During this time, some in Congress wanted to replace Washington with Horatio Gates.
Washington learned of Gates' plot through a letter. Gates adjutant James Wilkinson forwarded a critical letter of Washington from General Thomas Conway to General William Alexander. Alexander then forwarded it to Washington. The President of Congress, Henry Laurens, saw the letter and exposed the Conway Cabal to Congress.
Washington's supporters rushed to his side. Gates apologized to Washington, resigned from the Board of War, and took command of the Southern Army. He and Washington's relationship deteriorated.
Gates took command of the Southern Army and fought General Cornwallis at the Battle of Camden. The Battle was a route, and Gates fled the field in disgrace. He would be court-martialed and relieved of his command. His successor was Nathanael Greene, whom Washington chose. His only accomplishment in the Southern Campaign was to cover 170 miles in 3 days on horseback.
Gates's son died in 1780, and his wife passed away in 1783. For the ambitious and arrogant Gates, the war had left his life a mess.
Final Years
After the war, Gates worked to rebuild his life. He would marry a second wife, Mary Valens, and at the urging of his friend, John Adams, he would free his slaves from his estate, Traveller's Rest.
His friendship with John Adams would end in 1800 when he supported Thomas Jefferson for President of the United States.
Horatio Gates died in New York City in 1806. His legacy would always be tainted by his actions towards General Washington and his retreat from Camden.