Ike Clanton was a famous gunslinger in the Wild West born in 1847 in Callaway County, Missouri. He was a tall, lanky man with a slender frame and a wild demeanor. He was known for his quick temper, rebellious attitude, and love of guns.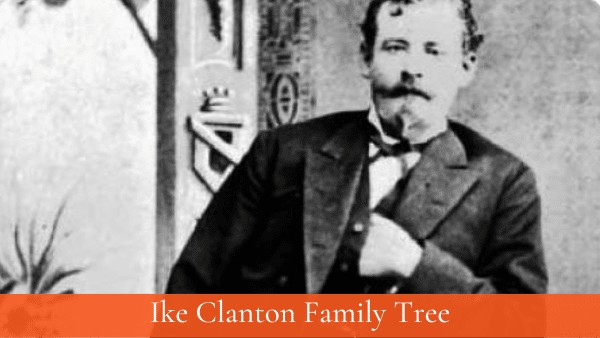 He was an avid gambler and loved to show off his gun-slinging skills. He had a penchant for heavy drinking and was known to be something of a womanizer.
Ike was also notorious for his involvement with the Cowboys, a loosely organized gang of outlaws who operated in the Arizona Territory during the late 19th century.
Jump to:
He was a close associate of the gang's leader, Johnny Ringo, and the two were often seen together.
In October of 1881, Ike and the Cowboys were involved in an infamous gunfight with a rival gang, the Earp brothers, at the O.K. Corral in Tombstone, Arizona.
The gunfight was the result of an escalating feud between Doc Holliday, Wyatt Earp, Virgil Earp, Morgan Earp, and the Cowboys.
Ike was the primary antagonist, who had been drinking much of the night and throughout the day. In his drunken stupor, he began to cause problems. His brothers heard of his behavior and arrived in town to defend their brother.
This would set off a chain of events that led to the infamous gunfight that resulted in three deaths, including Ike's brother, Billy Clanton.
After the Gunfight at the O.K. Corral, Ike Clanton continued his outlaw ways. He and his gang killed a rancher named Isaac Ellinger. This act of violence angered Isaac's brother, William Ellinger, who used his vast resources to track down and bring Ike Clanton to justice.
In April 1887, the Apache County Stock Association met and hired a Pinkerton detective to track down the outlaws. They also hired Jonas "Jake" V. Brighton as a "secret service" officer. Brighton was a constable in Springerville and a range detective.
Brighton pursued Clanton. After three days, he spent the night of May 31, 1887, at Jim "Peg Leg" Wilson's Ranch on Eagle Creek, south of Springerville.
The next morning, Clanton rode up, and Brighton recognized him. Clanton turned his horse to run and drew his rifle from his scabbard. Brighton fired his rifle first, shooting Clanton through the left side, the bullet exiting out the right.
Clanton died before he hit the dirt.
He was dead at the age of 39.
Family Overview
Ike Clanton and his family are split into two different lives.
His father was a horse thief and an awful example for his sons. His older son seemed to shun that lifestyle, or if he was involved, he gave it up quickly and settled down in California. The other sons were known for their heavy drinking and rowdy living.
The daughters of Ike's parents were all married and had children. They stayed in California, with the exception of one. They were never mentioned in any criminal behavior, although one of the brothers found work for a short time at his brother-in-law's ranch.
Ike Clanton never married or had any children. He lived a chaotic life and was known for his cowardly behavior.
Family Tree Chart
Parents:
Newman Haynes Clanton (1816 - 1881) - Nicknamed "Old Man" Clanton, he was a famous cattle thief who was killed by Mexicans. His sons followed in his outlaw footsteps and would see a similar death.
Mariah Sexton Kelso (1824 - 1882) - The mother of the rowdy and mischievous Clanton children. She and her husband had eight children, with most turning into outlaws.
Spouse: None - He never married and frequented brothels during his lifetime.
Children: None - Ike lived a wild life with drinking, rustling, and prostitutes. If he had any children, then he probably did not know.
Siblings:
John Wesley Clanton (1841 - 1916) - Unlike his brothers, it seems as though he avoided a life of crime and settled down. He enlisted to fight in the Civil War for the Confederacy, and after the war, he married and had four children. He was a farmer and teamster in California.
Phin Clanton (1843 - 1906) - While not as notorious as some of his brothers and only convicted with the testimony of a known liar, Phin was arrested multiple times and was friends with many who had run-ins with the law. He most likely engaged in similar behavior as his brother but managed to keep a lower profile. He married but did not have any children.
Elizabeth Clanton (1845 - Unknown) - There is not much known about this sister. She married.
Mary Elsie Clanton (1852 - 1916) - She married twice but only had children in her first marriage. She lived in California and Arizona prior to her death.
Esther Ann Clanton (1855 - 1919) - She avoided all the mischief of her brothers. She married and had many children and was buried alongside her husband in Los Angeles, California.
Alonzo Peter Clanton (1858 - 1870) - He died at a young age, and there is little known of him.
Billy Clanton (1862 - 1881) - He died during the Gunfight at the OK Corral in Tombstone. His brother Ike instigated the gunfight and then ran from it. He was caught in the crossfire and took a bullet from the Earp brothers.