Martin Van Buren had defeated four Whig candidates in the Election of 1836 but had a tumultuous term as President. By 1840, it was clear that he was a weak candidate, and the Whigs, under the leadership of Henry Clay, were hungry to take the White House and implement their agenda.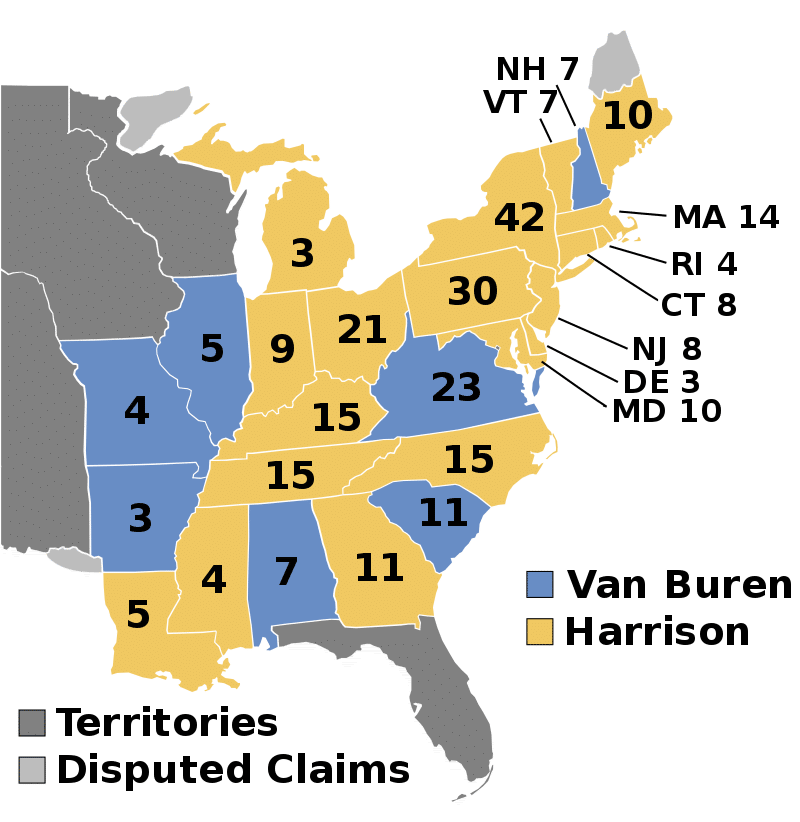 William Henry Harrison rose to become the primary candidate for the Whigs. He, like Andrew Jackson, was popular due to his victories during the War of 1812. In 1836, Harrison was the most popular Whig, and it was clear he was a rising star in politics as he appealed to the people.
Jump to:
The candidate were as follows:
Presidential Election of 1840: Platforms
Democratic: Martin Van Buren ran on the issue of states' rights. He also supported slavery, which continued to be a growing issue in each election. Van Buren also did not support the rechartering of the Bank of the United States despite the Panic of 1837. 
Whig: The primary issue for the party was the recharter of the Bank of the United States. They believed in a stronger federal government and were middle-of-the-road when it came to slavery. Abolitionists tended to vote for Whigs rather than the Democratic party.
Presidential Election of 1840: Outcome
The Democrats tried to paint Harrison as an old and senile man who was backward. The Whigs took advantage of this and portrayed William Henry Harrison as a rough pioneer and Indian fighter, which appealed to the western settlers.
This marked the first campaign where a candidate actively campaigned throughout the country to win the election. The Whigs developed a catchy slogan, "Tippecanoe and Tyler Too!" as their battle cry, and it caught on. 
Harrison easily defeated Van Buren to gain the presidency, and the Whigs now had control of the Executive and Legislative branches. With this, they planned to recharter a new Bank of the United States.
Unfortunately, their dreams were short-lived as William Henry Harrison died a month in office, and John Tyler took over who was more a Democrat than a Whig.