Richard Warren is a name that students do not study but is well-known in genealogical circles. This is because his family has a claim to the largest number of Mayflower descendants. He has more than John Howland, who also has quite a few.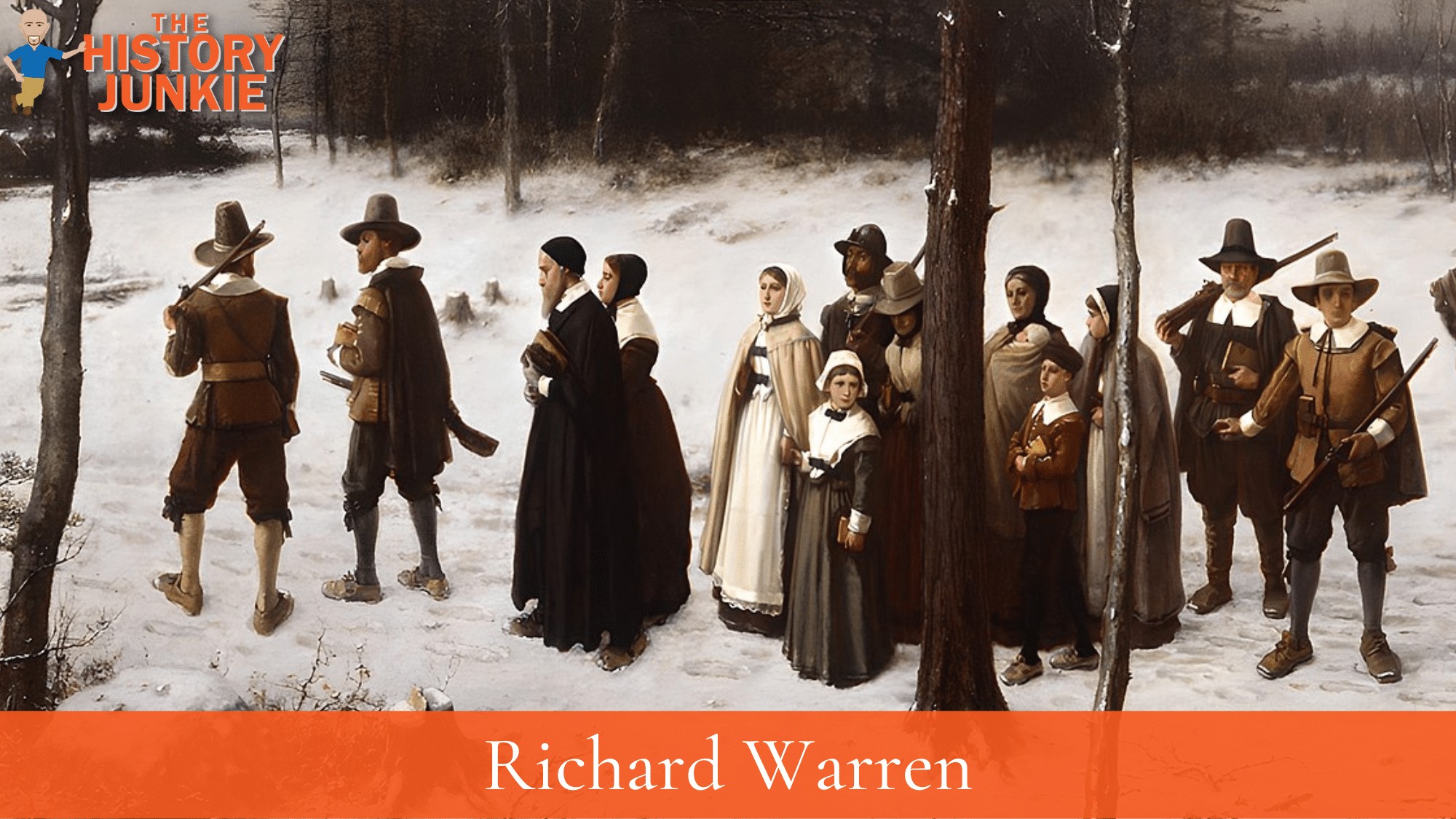 Warren was a Stranger and investor when he migrated from Holland to the New World. This suggests that he had some money to invest and would have been an influential figure when the Mayflower set sail.
Jump to:
When he arrived with the Pilgrims at Cape Cod, he would become one of the signers of the Mayflower Compact. The document was written to give the colonists an independent form of government since they would not be settling in the Virginia colony.
He arrived alone in 1620 and would survive the first winter. He participated in the first contact with the Native Americans and most likely met Chief Massasoit, Squanto, and Samoset.
His wife and five daughters would arrive aboard the Anne in 1623. He and his wife would have two sons in Plymouth.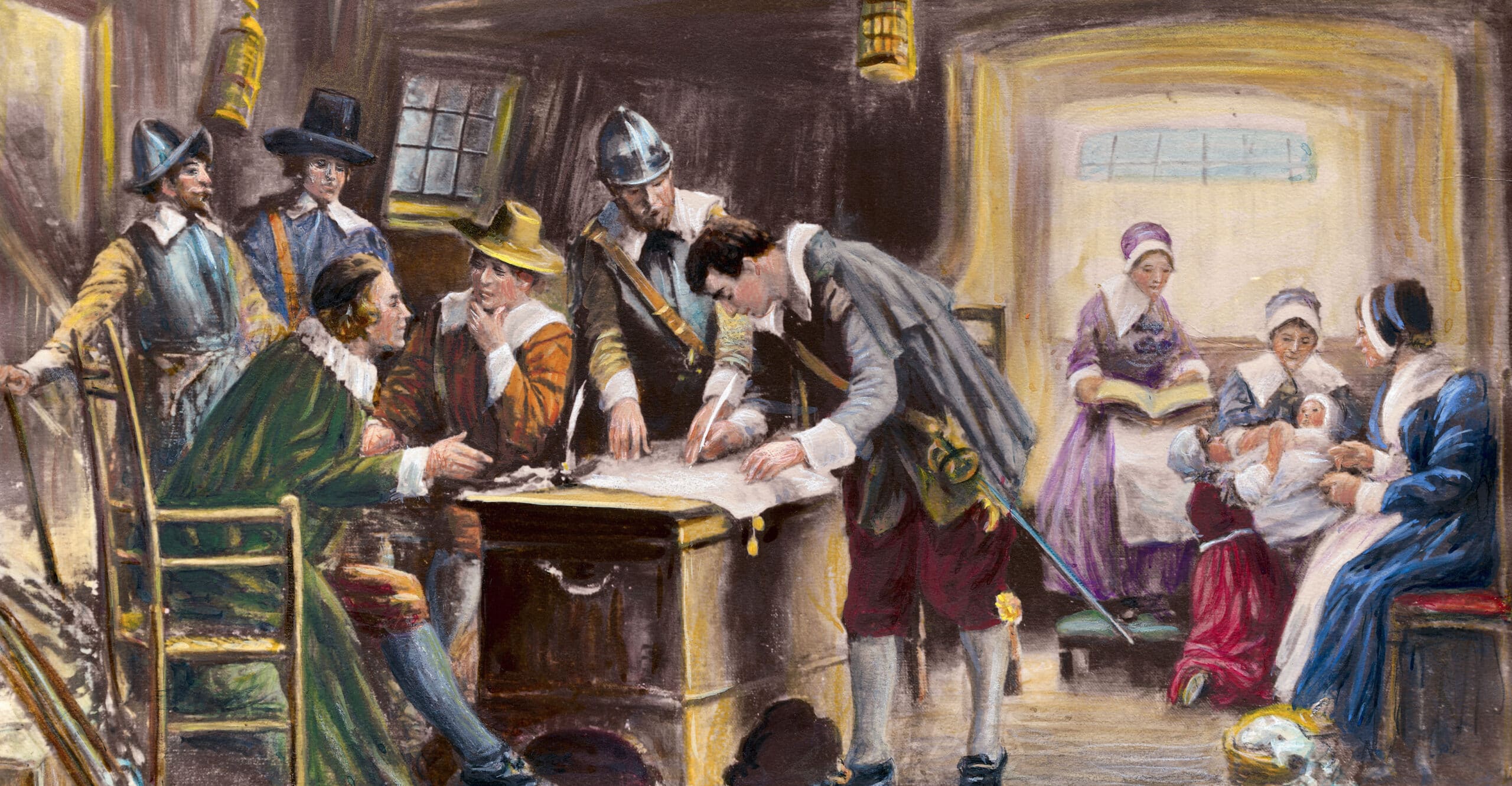 He seems to have been one of the five assistant governors from 1624-1628.
In 1626, twenty-seven Plymouth settlers, called Purchasers, were involved with the colony joint-stock company, which afterward was turned over to the control of senior colony members.
That group was called Undertakers and was made up of such as William Bradford, Myles Standish, and Isaac Allerton initially, who were later joined by Edward Winslow, William Brewster, John Howland, John Alden, Thomas Pence, and others from London, a former Merchant Adventurers. The agreement was dated October 26, 1626, and was finalized sometime in 1627.
Richard Warren may have originally been a party to the agreement, but due to his death, which may have been sometime in 1628, his name on the charter was changed to that of his wife.
Richard Warren died at Plymouth in 1628, leaving his wife and seven children. This was written by a colonist who knew Warren:
This year [1628] died Mr. Richard Warren, who hath been mentioned before in this book, and was an useful instrument; and during his life bore a deep share in the difficulties and troubles of the first settlement of the plantation of New Plimouth.
Family Overview
Richard Warren would become the ancestor of millions who trace their lineage back to the Mayflower. He and his wife would have 7 children, each having a large family that would number their descendants into the millions.
Despite the many descendants he would produce, there is little known of Richard's parents. There are some theories that give the name "William Warren" or "Richarde Waren," but nothing can be proven.
He married Elizabeth Walker, who outlived him by 45 years. She lived until the age of 90, seeing all of her children grow up, and would be a grandmother to many. She outlived two of her children as well.
The Warren name is a well-known name in Massachusetts and has a long history. They are a different line than the patriot leader Joseph Warren, who died during the Battle of Bunker Hill.
Family Tree Chart
Parents: Unknown
Spouse:
Elizabeth Walker (1583 - 1673) - She married and had 7 children. They would become the largest family that folks trace their ancestry back to in Plymouth.
Children:
Mary Warren (1610 - 1683) - She was born in England but eventually made it to Plymouth. She married and had eight children.
Anna Warren (1612 - 1676) - She married and had 9 children. Her children would lay the foundation for future generations.
Sarah Warren (1614 - 1696) - She arrived in Plymouth after the Mayflower and would also have many children.
Elizabeth Warren (1616 - 1670) - She was the fourth daughter and also had many children.
Abigail Warren (1618 - 1693) - The fifth daughter who also lived to adulthood. She also had many children who lived to adulthood.
Nathaniel Warren (1624 - 1667) - He was the first son and only lived for 43 years but had 12 children!
Joseph Warren (1627 - 1689) - He had six children and continued the legacy of his father. His children had grandkids and many descendants.